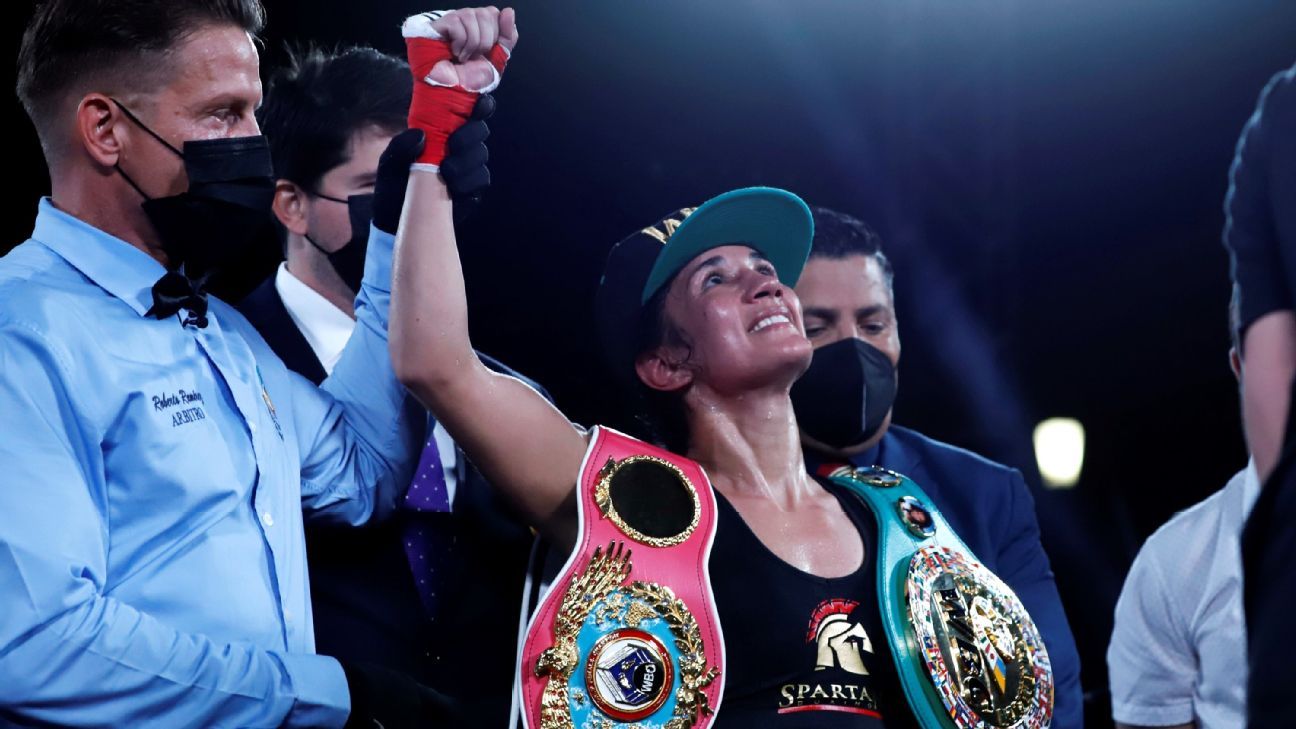 After it was all over on Saturday in Liverpool, England, Katie Taylor let out a sigh of relief. Firuza Sharipova had not been the biggest or most difficult boxing fight of her career, but she presented a different sort of problem.
Firuza was the last person Taylor needed to get past before she could turn to her potential shot at history. So as her hand was raised by unanimous decision, Taylor already knew what was next.
She had held up her end of the bargain, winning her December fight to set the stage for a potential megafight with Amanda Serrano in 2022.
On Saturday in Tampa, Florida, Serrano will try to fulfill her part by moving past her final pre-Taylor hurdle, a lightweight fight against Miriam Gutierrez.
"I was more nervous for this fight than usual because I knew it was the final hurdle before so many big fights next year," Taylor told ESPN on Monday. "And all during fight week everyone just kept talking about the Amanda Serrano fight.
"So I knew I just had to get through this fight and here we are, speaking about possibly the biggest fight in women's boxing."
In the aftermath of Taylor's win, conversations about a future Serrano fight immediately got more serious. Matchroom Boxing promoter Eddie Hearn suggested Madison Square Garden as a possible venue and called it "the biggest fight of all time in women's boxing."
One of Serrano's promoters, influencer-turned-boxer Jake Paul, told ESPN there have been discussions about a potential seven-figure purse for a fight against Taylor. Paul sees a potential fight against Taylor, ESPN's pound-for-pound No. 1 women's boxer and the 20-0 undisputed lightweight champion, as one that can raise the pay of female fighters, as well as increase the respect and attention the sport receives moving forward.
"When I turned pro five years ago I think we were making pennies in comparison to our male counterparts, and now here we are, having a conversation about a seven-figure purse for the next fight," Taylor said. "That in itself is incredible. And I don't think anybody in women's boxing would have even dreamt that we could possibly be making this kind of money.
"I think this is huge for the sport."
Before the potential blockbuster fight can occur, though, Serrano needs to beat Gutierrez on the undercard of Paul's rematch against Tyron Woodley. Serrano, ESPN's No. 3 pound-for-pound women's boxer, has been in fights like this for years. She has won titles in weight class after weight class, compiling a 41-1-1 record with 30 knockouts.
The 33-year-old has experienced pressure before, but perhaps never a situation quite like this. She's on the precipice of a moment in which so much could happen, and the kind of career opportunities that could skyrocket if she beats Gutierrez.
"Every fight I have to take care of business," Serrano said. "The pressure is on me because right now I'm one of the big names and the face of women's boxing and these women, they've lately been fighting and putting on a hell of a show, so the pressure is on.
"I got to make sure I go out and perform to the best of my abilities and continue to look good."
Fighting Gutierrez is a step up in weight for Serrano, something that's been a bit of a challenge in her career. In three career fights at lightweight, Serrano is 3-0 with three knockouts, but Serrano says she prefers fighting at 126 pounds.
Jumping back up to 135 pounds in preparation for an eventual fight with Taylor has changed her approach to training. For the first time in her career, Serrano hired a nutritionist, looking to maintain her speed while adding the right type of power.
The nutritionist cooked all her dinners during this camp, and recommended she drink at least two protein shakes a day while also increasing her running and sprinting to enhance her stamina.
Serrano consumed a lot of chicken, beef and seafood along with sweet potatoes and, for the first time in her career, as many vegetables as her nutritionist would prepare for her. This was uniquely challenging because Serrano strongly dislikes carrots.
Her sister, Cindy, a boxing world titleholder in her own right who cooked for Serrano in some of her camps, advised the nutritionist how she could get Serrano to eat them.
"[Cindy said] just make sure it's cooked in the rice or cooked in with the chicken and she's going to eat it," Serrano said. "So I've been eating the carrots. I'm like, OK, maybe my eyesight's going to get better."
While she merely tolerates the carrots as part of her meal planning, the move up in weight does allow her to have one of her favorite treats — a chocolate milkshake — more often.
Still, it's a process that requires balance. The last few times Serrano fought at 135 (and the one time she fought at 140 pounds), she didn't like how her body looked or felt. This time around, while she's not fully enthusiastic about making the change from 126 pounds to 135 permanent, everything else is where she wants it.
"I feel stronger. I feel faster. When I fought at 135 when I won the title, I was sluggish, I didn't feel great," Serrano said.
"This weight, I feel fast. Feel strong and I'm just ready."
Serrano knows she needs to not only win but prove she belongs at 135 pounds. Because if she beats Gutierrez, Serrano knows what's waiting. It's the possibility of Taylor and a main event and Madison Square Garden.
"It's going to be a huge deal," Serrano said. "Hands down has to be the biggest women's fight ever."