The past two days saw models, photographers and ex-employees call out Elan and Zaha – two renowned fashion labels helmed by designer Khadija Shah – for their 'non-payments' on social media, following which their dues were released with a few still pending.
Although it's sad to see that such a popular fashion house had to be publicly shamed to finally deliver scanty amounts to artists it had roped in months or even years ago, it's a relief to see workers and artists speak up about being exploited so their fellow artists can steer clear of working with anyone without a contract.
How it started
It all started when Abeera Riaz and Atika Gardezi, two Lahore-based models took to her Instagram to speak up about how they had not been paid by Elan and Zaha since quite a long time.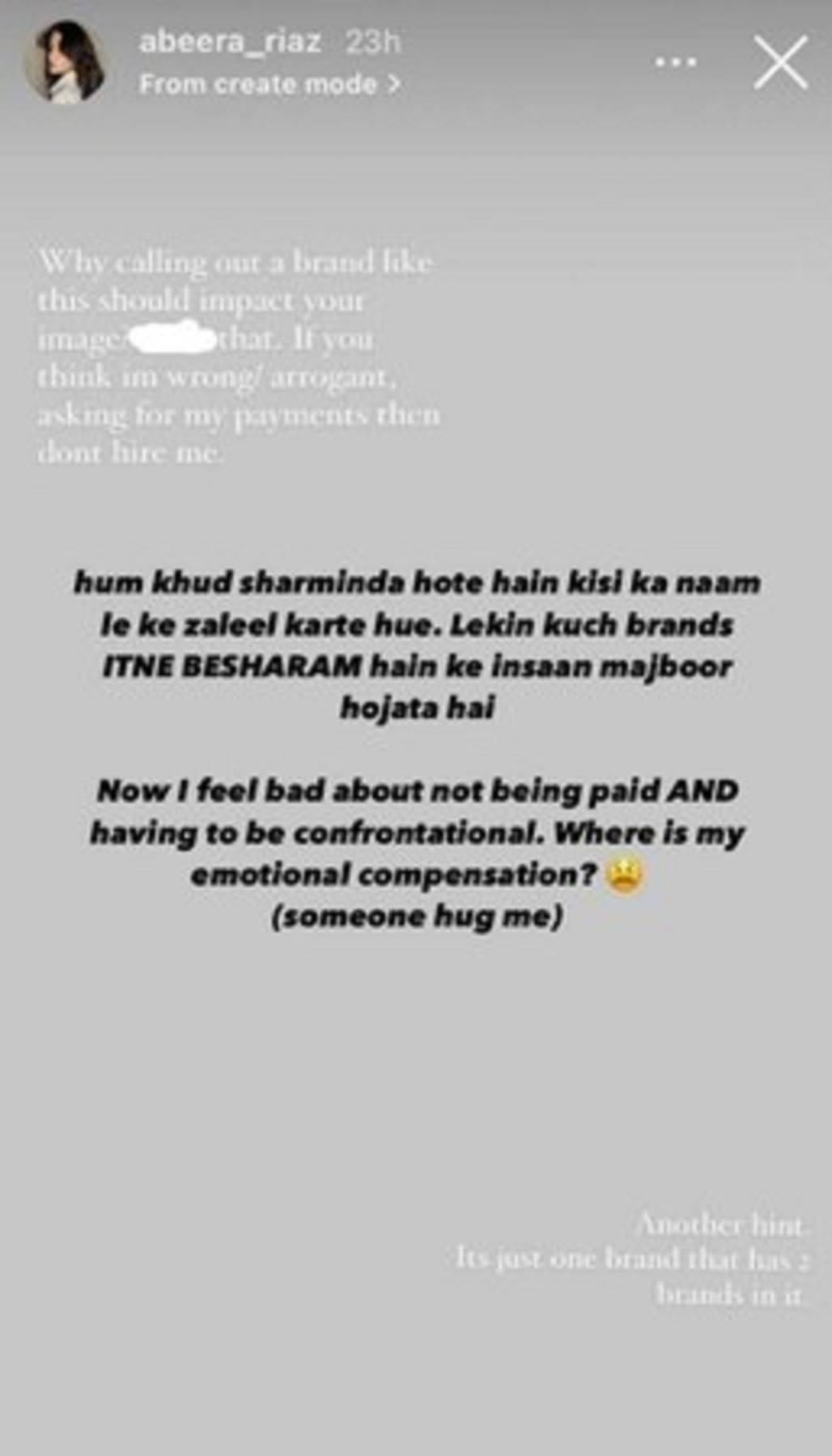 Lamenting how she feels embarrassed about defaming the brand in question, Abeera clarified that she is only doing so after being left with no choice. "Why should calling out a brand like this impact your image?" she asked on her Insta Stories. "If you think I'm wrong or arrogant for asking for my payments then don't work with me. We ourselves feel embarrassed, naming and shaming brands like this but some of them are so shameless, that they leave us with no choice. Hint, it's just one brand that has two brands in it."
On Wednesday, Atikah, who hadn't been paid by Zaha in a year, shared a photo of herself from the campaign she modeled for. "Mere paise kidher hain (Where is my money), Zaha?" she asked in the caption.
Another model, Mydah Raza, revealed that Elan and Zaha hadn't paid her in three years. "Elan, Zaha haven't paid me in three years. I know a lot of people who are in the same boat. I hope you guys speak up as well. We've been patient for a little bit too long," she wrote on her Insta Stories.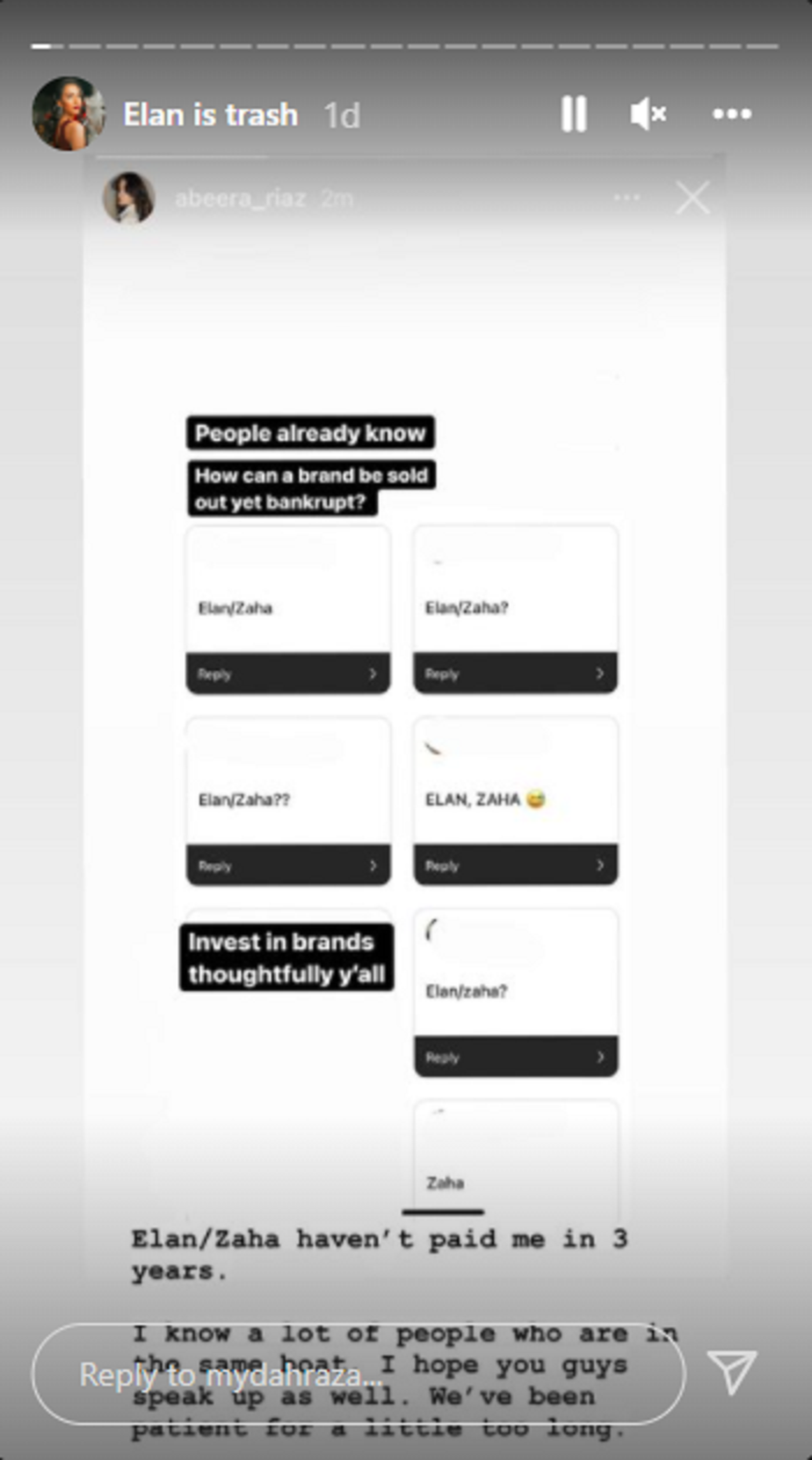 In a follow-up post, she added, "If you don't want to offer monetary payments to your models, cool. You can be upfront, let them know that this will be a collab. But to book them and then make them wait for months/years for what you rightfully owe them, and then ignore their messages is disgusting!"
The good news
Both Atikah and Mydah later revealed their payments had been released. While Atika updated her post, removing her earlier remark, Mydah left her complaint on the highlights of her Insta for people to view. She even shared a post titled, "Elan, Zaha don't pay their models, videographers and employees," irrespective of being paid.
"Mere paise milgaye (I received my money)!" celebrated Atikah. "Thank you everyone for the support, and thank you Zaha for finally giving me what was rightfully mine. For everyone else who's still waiting for their payment, hang in there. Still with you. Now, as promised I will be donating all of this money to charity so that something good can come from this uncomfortable experience. It was never about the money; it was about respect. Hoping I never have to confront someone again."
Mydah shared, "Thank you for paying me what you owed me three years ago Elan, Zaha. But I hope by tomorrow I receive the payment in full." She then spoke up on behalf of another model and photographer, "Now pay Abeer Asad Khan and Moeed Sayyam."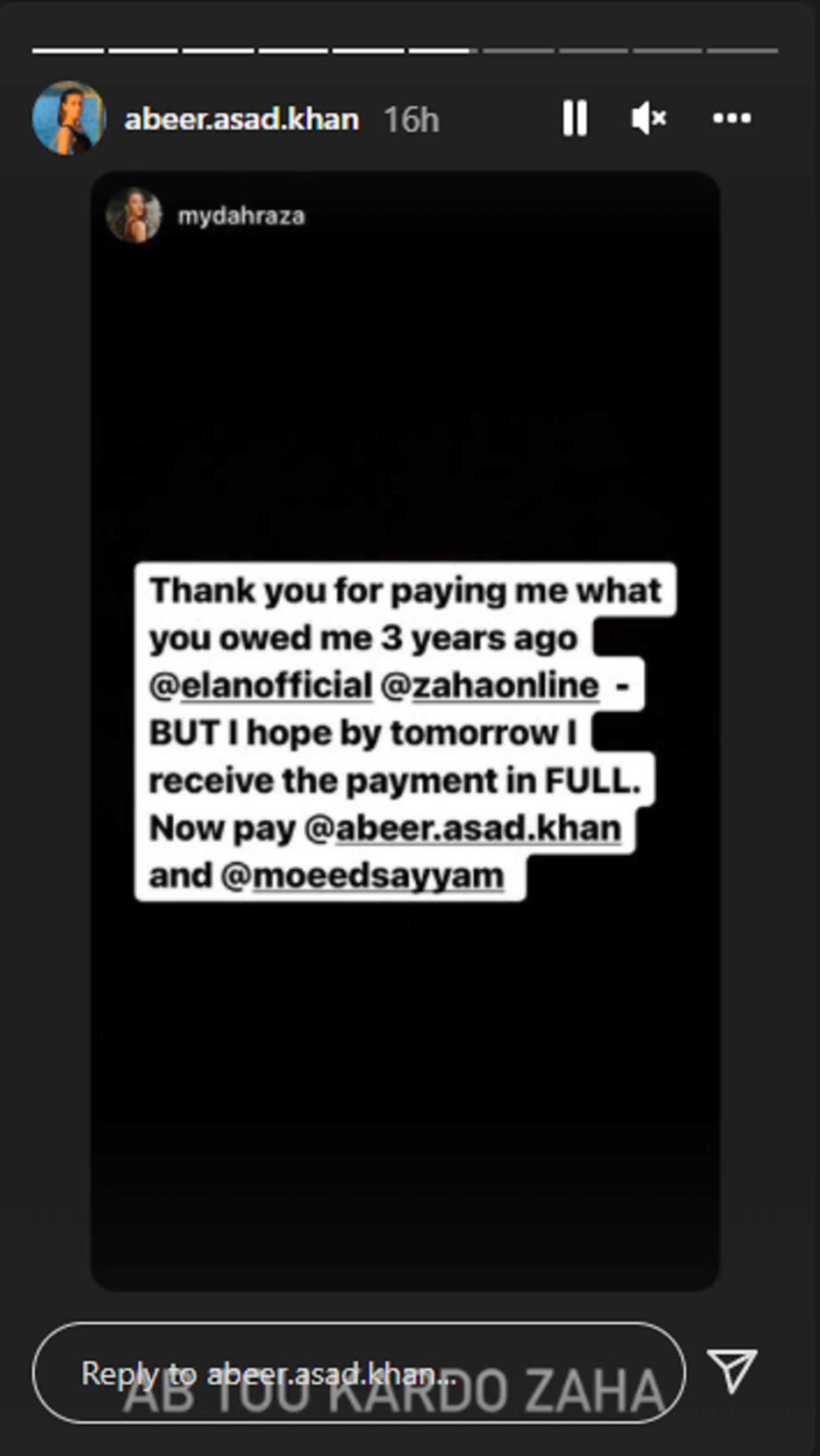 Moeed had shared on his Insta Stories, "I have worked with Elan/Zaha since 2018 and my payment for at least a year is still due. As far as I know, people who've worked with me since are also facing this. I've emailed them several times but have still gotten no response." While Abeer shared Mydah's request adding, "Ab tou kardo Zaha (At least pay me now Zaha)."
Atikah had also written a post on Abeer's behalf, recalling how she was on the same shoot as her. "I remember a particularly long 18-hour shoot, when another model walked off after 12-hours, and rightfully so. And Abeer showed up at 9PM after having just finished another shoot. She could have said no, she could have gone home to sleep. But she showed up for you. Please give her the same respect." Abeer replied to this adding, "I didn't give any of my dates after that just because of this reason."
A former employee of the brand, Hasan Iqbal Rizvi, also called out the label on his Instagram Stories. He later shared he received his pending payment too. "20 minutes back I finally received my pending payment. All it took was for one voice to start the conversation. Goes to show how much of a difference we can make."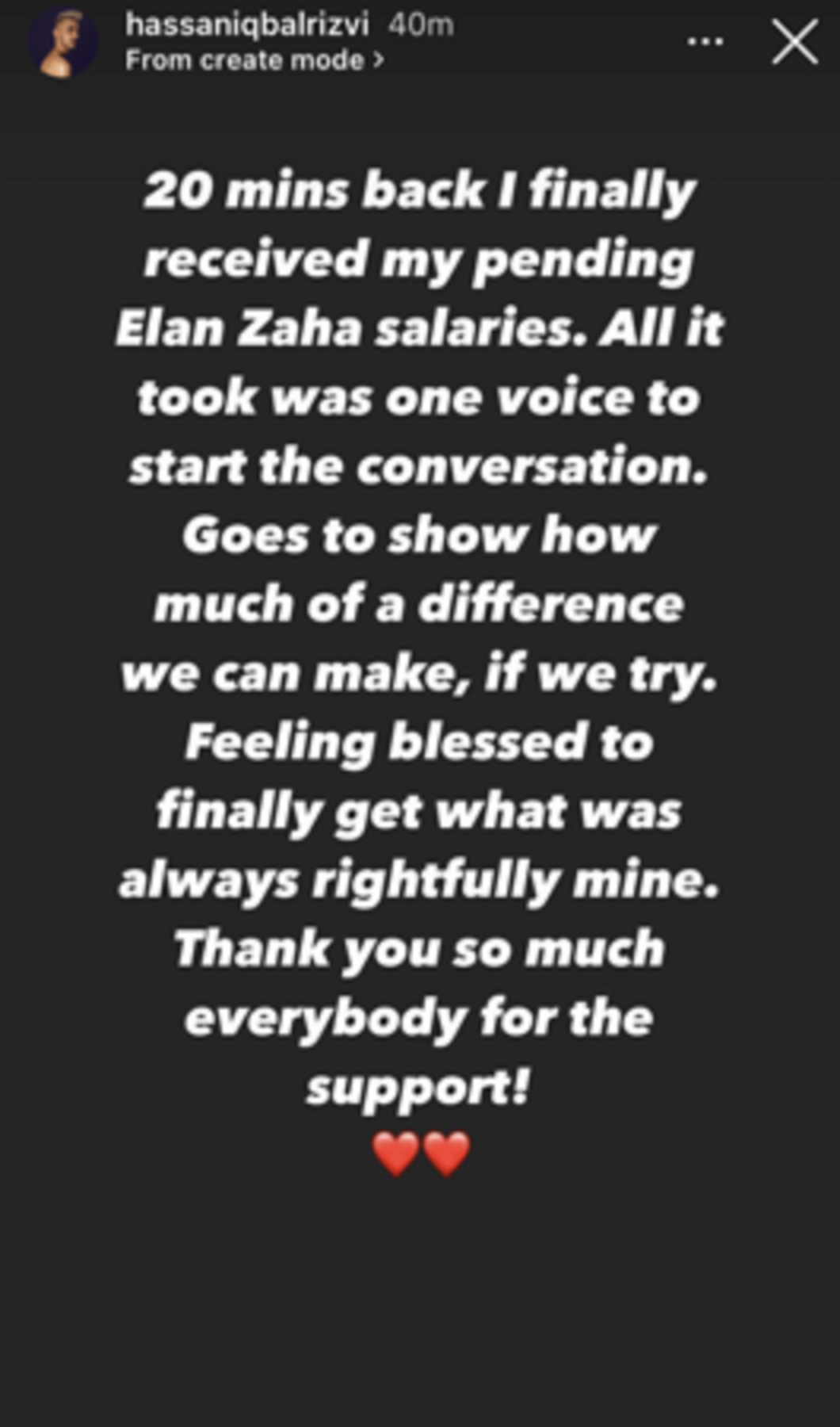 The brand apologists
Fellow model Zara Peerzada had also shared Atikah's earlier post to write, "Kudos to the people finally speaking up. You are better than most and will be berated for it. They know who they can get away with not paying because there are people who they would not have done this to. It's not accidental non-payment."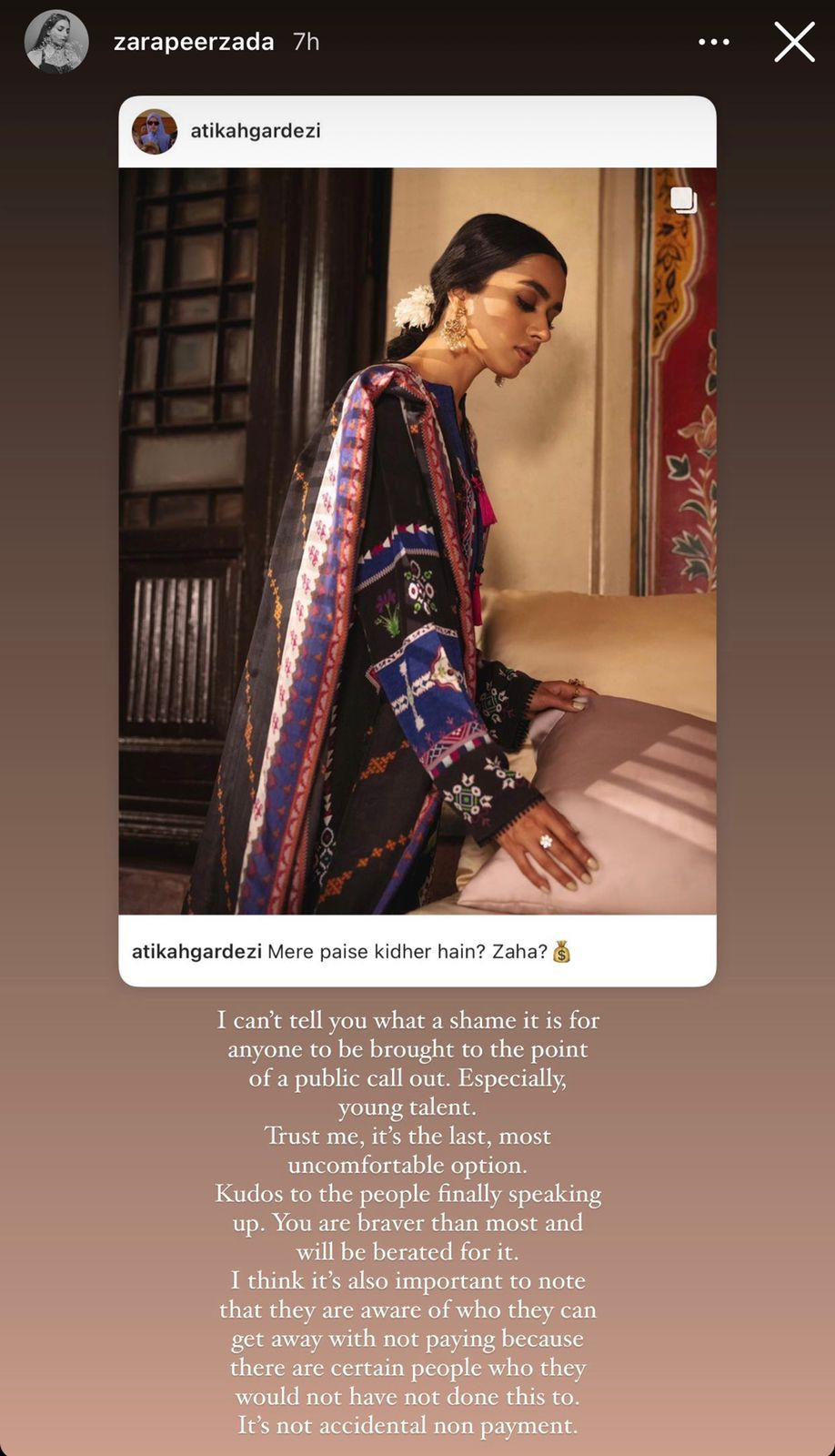 Case in point, popular model Mushk Kaleem and makeup artist Omayr Waqar, who jumped to defend the brand under a local publication's report about the same. "I've been working with Elan from the start of my career since 2018. Haven't ever had any such issues. I've always been paid on time and have always been paid right after my shoot wraps up. Elan has cleared all payments that were owed and such a post is highly unnecessary now," commented Mushk, disappointingly disregarding an issue that needed to be stressed upon while blatantly abandoning her fellow models in their struggle to get their own money.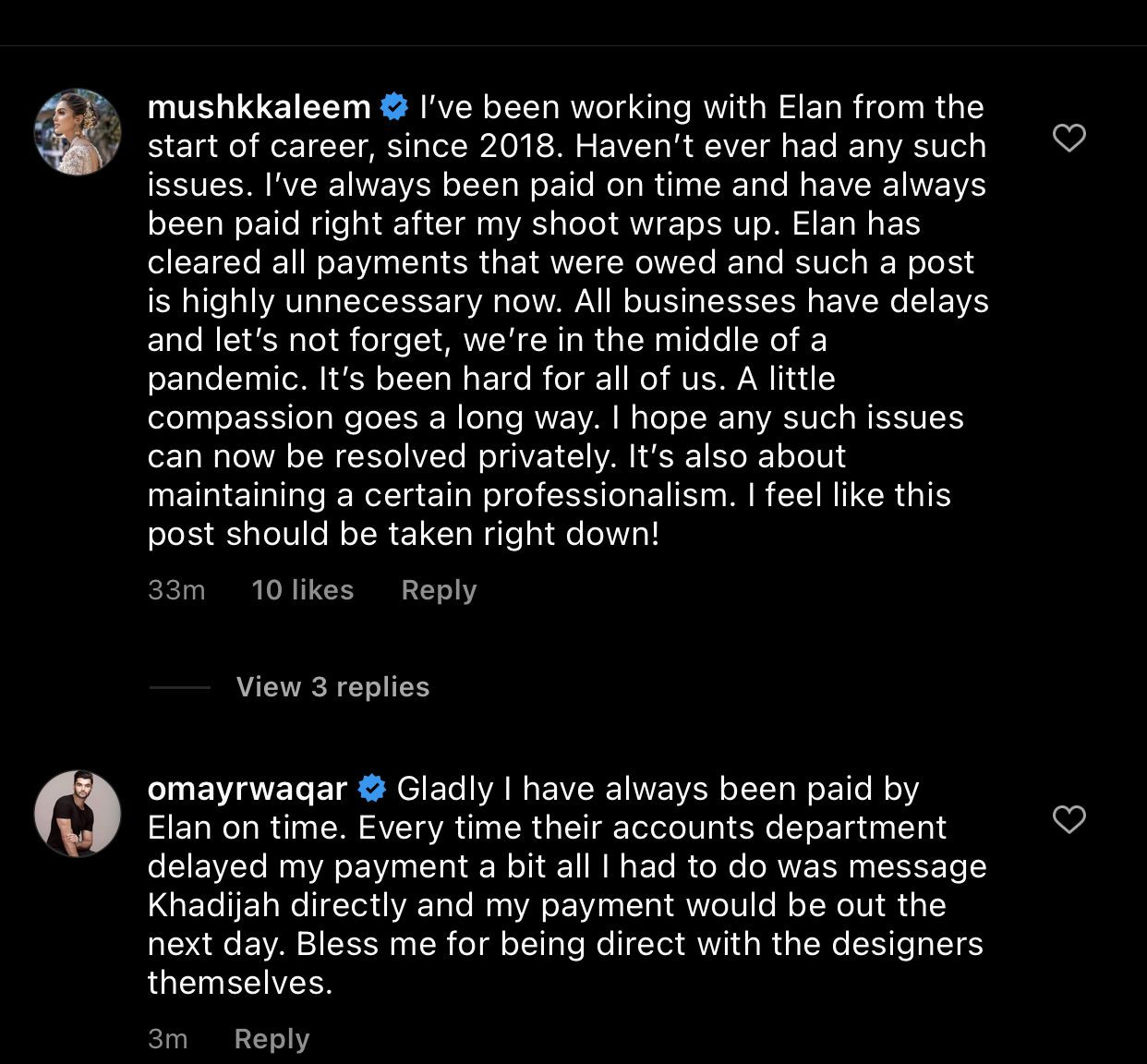 "All businesses have delays and let's not forget, we're in the middle of a pandemic," she added, knowingly or unknowingly justifying the brand for withholding its payments for three years in Mydah's case. "It's been hard for all of us. A little compassion goes a long way. I hope any such issues can now be resolved privately. It's also about maintaining certain professionalism. I feel like this post should be taken right down!" she concluded, without acknowledging how not paying artists is also not professional for a brand of such stature.
Mushk has failed to realize that her discouragement of her fellow artists exercising their right to call out labels after being 'ignored' and 'exploited' by them ironically shows her lack of compassion and apparent privilege since not everyone can afford to remain unpaid for years while being in the same boat (read, pandemic) as the designers.
Omayr, on the other hand, commented, "Gladly I have always been paid by Elan on time. Every time their accounts department delayed my payment a bit, all I had to do was message Khadijah directly and my payment would be out the next day. Bless me for being direct with the designers themselves." Yes, bless you Omayr, for not acknowledging how many complainants specified that they had emailed the respected houses and messaged numerous times before resorting to public shaming after being ignored.
The Express Tribune has reached out to Khadija Shah for a statement and is still awaiting a response.