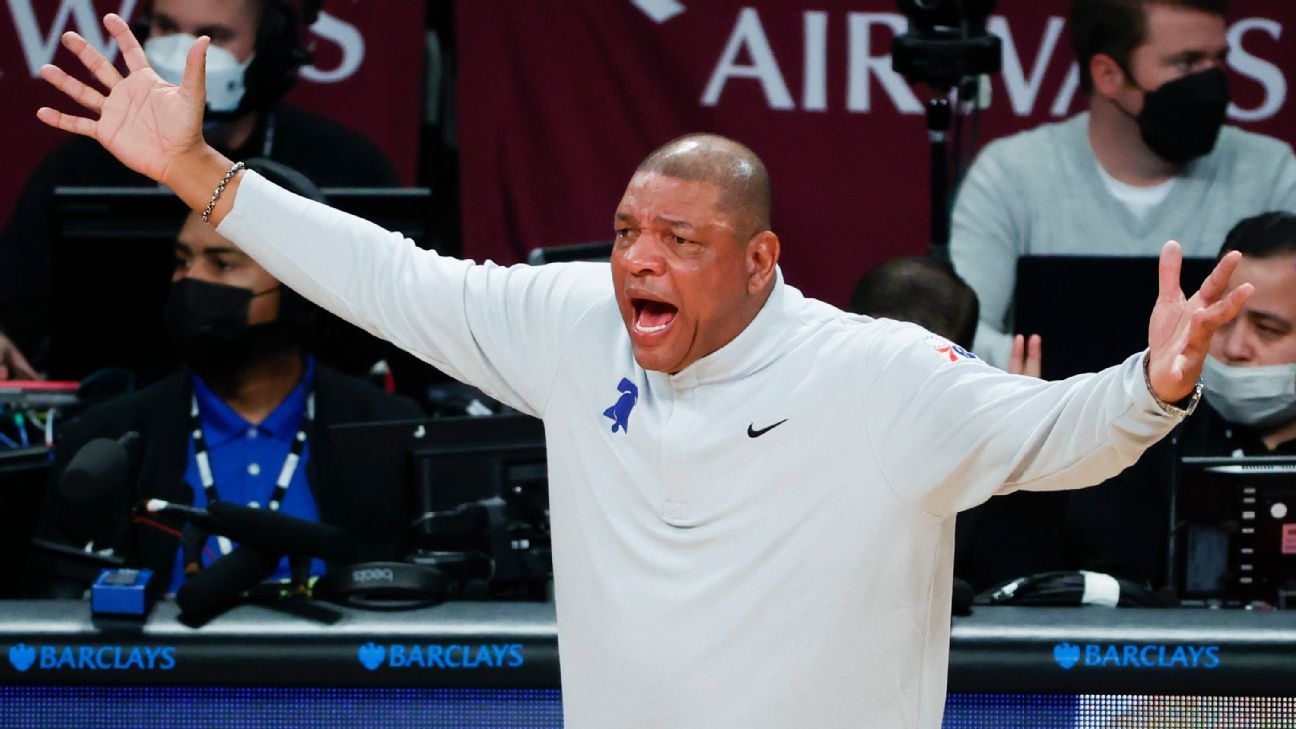 NEW YORK — With his Philadelphia 76ers trailing by nine points to the Brooklyn Nets and three seconds left in the fourth quarter Thursday night at Barclays Center, coach Doc Rivers called timeout.
His goal, however, wasn't to try to draw up a play. Instead, it was to deliver a message to the officials.
So he walked out to center court, stared at the three game officials and held up a "0" — the number of team fouls called on the Nets in the fourth quarter of what became a 114-105 Philly loss, its third in four days, all to teams missing star players.
"They needed to see that," he said.
Rivers gave the same message to the officials after the buzzer sounded. His biggest issue? Joel Embiid should've gotten more calls down the stretch.
"I thought Joel got fouled the last three post possessions, and-ones, and none was called," said Rivers, whose team is now 15-15 after an 8-2 start. "I don't know how a team can play the fourth quarter of a game where we're driving the ball and posting the ball and they have zero fouls. It's hard to play a quarter in the NBA and commit no fouls. Very surprised by that."
Embiid, who had a game-high 11 free throw attempts but none in the fourth quarter, agreed.
"I mean, they're the home team," said the All-Star big man, who had team bests in points (32), rebounds (9) and assists (6). "I thought we got fouled a few times, especially down there. But, I mean, it's frustrating when they're calling fouls for the other teams down there and you don't get any. I can see what he (Rivers) was talking about."
After getting blown out Monday in Memphis with Embiid sitting out with abdominal soreness, Philadelphia has now lost games on back-to-back nights to opponents in Miami and Brooklyn that were missing key pieces due to injury or COVID protocols.
Those losses added up to a missed opportunity in Embiid's eyes.
"It's extremely frustrating to lose," he said. "I hate losing. It sucks. We've just got to do a better job of basically not spotting the other team by 20 points every first quarter. I mean, we played pretty well after that. We just got to do a better job of starting the game out."
While Philadelphia did make a strong push to recover from an early deficit, it wasn't enough thanks to another brilliant performance from Kevin Durant, who finished with 34 points, 11 rebounds and six assists in 39 minutes. Durant hit two huge shots late in the fourth quarter after Philadelphia twice tied the game down the stretch.
"That's what he does on a nightly basis," Seth Curry (29 points) said of Durant. "We played good defense. We did a good job … couple at the end of the game he walked into, but we did a good job for the most part."
Philadelphia hasn't recovered from Embiid testing positive for COVID-19 last month, as it lost both he and Tobias Harris at the same time. Against the Nets, the 76ers were minus starting guard Tyrese Maxey (quad) and key reserves Furkan Korkmaz and Georges Niang (positive COVID-19 tests after Wednesday's loss).
"Listen, we got to get right," Rivers said. "We got to get everybody back. We played a game tonight without a point guard, and with one power forward. We're just so small. We are in general. We're a small basketball team. But you lose Georges, now Tobias is your only 4. Danny Green is playing the 4 now for us. That's difficult. You lose Tyrese and Furk, you lose a lot of ball handling on the floor."
Embiid couldn't hide his frustration with the situation after the game, not only with his team losing — the Sixers dropped into a three-way tie for eighth place in the East with the Atlanta Hawks and Boston Celtics — but with the ongoing pandemic raging around the NBA.
"We all got to protect each other," Embiid said. "Whether it's wearing masks, making sure whatever you do outside of basketball that you think about your teammate or their family or your own family. It does suck. From the beginning, even when it hit us, I was mad. I thought last year there was great precautions in place, and this year it was just all over the place, and I thought it was just unprofessional and that's where we are now."
Rivers, meanwhile, said all he can do is keep pushing his team and reminding it of how it started the season.
"You have no choice," he said. "My job right now as a coach is to keep them positive. Let's keep holding water, let's win a couple games, let's stay above .500. This stretch coming up is important if we can get healthy because we get a lot of rest.
"I think we have two days off now, we have two days off the following week, we have four days off the week after that. It's like they made us play all these games and they're gonna give us a chance to gather ourselves. But it won't matter unless we're healthy."