KARACHI:

When the pandemic erupted, it not only upended our routines but also snatched the desires that were previously sparked by our need to go out every day. We continued to shop online but a voice at the back of our minds whispered, 'Where will you wear this to?'
Even now, getting ready two days in a row feels like a crime, but at least we know we're not being completely unreasonable. And as long as the imprisonment of 2020 has passed, and the deliverance of 2021 is here, fashion should not take a back seat.
Thus, enter Fashion Pakistan Week (FPW) Spring/Summer 2021. The event took place at 'The Secret Garden' amidst lush green foliage over the weekend on February 20 and February 21. It witnessed palpable energy with a set of casually curated collections, some of which took home the glory of leaving a strong impression, while others struggled to leave a mark. The red carpet may have buzzed with the creme de la creme of fashion, but did the runway raise the style quotient?
FPW day one witnessed a trove of silhouettes and varying hemlines. What did not vary, however, was the approach to design.
Umsha by Uzma Babar
Collection: Silhouette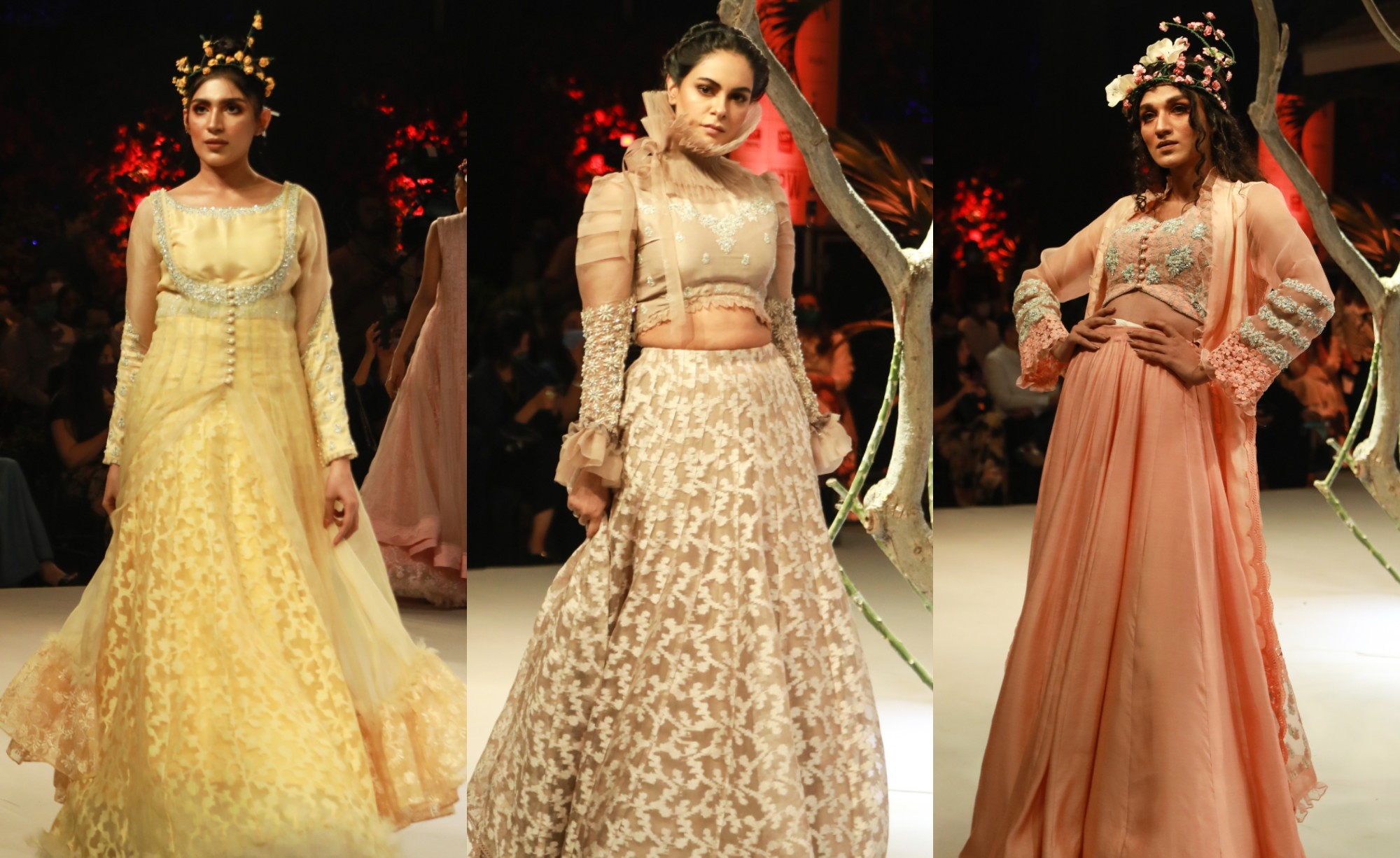 Photo: Jaffer Hasan
US Secretary of State Antony Blinken speaks speaks during a visit by US President Joe Biden to the State Department in Washington, US, February 4, 2021. PHOTO: REUTERS
Opening with Umsha by Uzma Babar's 'Silhouette', the collection did not raise the benchmark as much as it raised questions. What happened to fitting, fabric, innovation and fashion?
'Silhouette' was meant to explore the majestic craftsmanship of traditional artistry, a "festive yet contemporary collection that embodies effortless charm, old world glamour and timeless elements." Adopting the classic pastel palette, the designer embellished her outfits with Swarovski crystals, pearls, and ornate stonework. But some ill-fitted ensembles with layers of lace juxtaposed on chiffon, coupled with dresses that looked like night-gowns featuring ruffles on the hem, could not collectively translate to high fashion.
There were, however, interesting floral head pieces that complimented the outfits, followed by Dum Mastam actor Amar Khan walking as showstopper, but nothing could save the evening for this designer.
Kalah by Mubashra
Collection: The Lotus Pond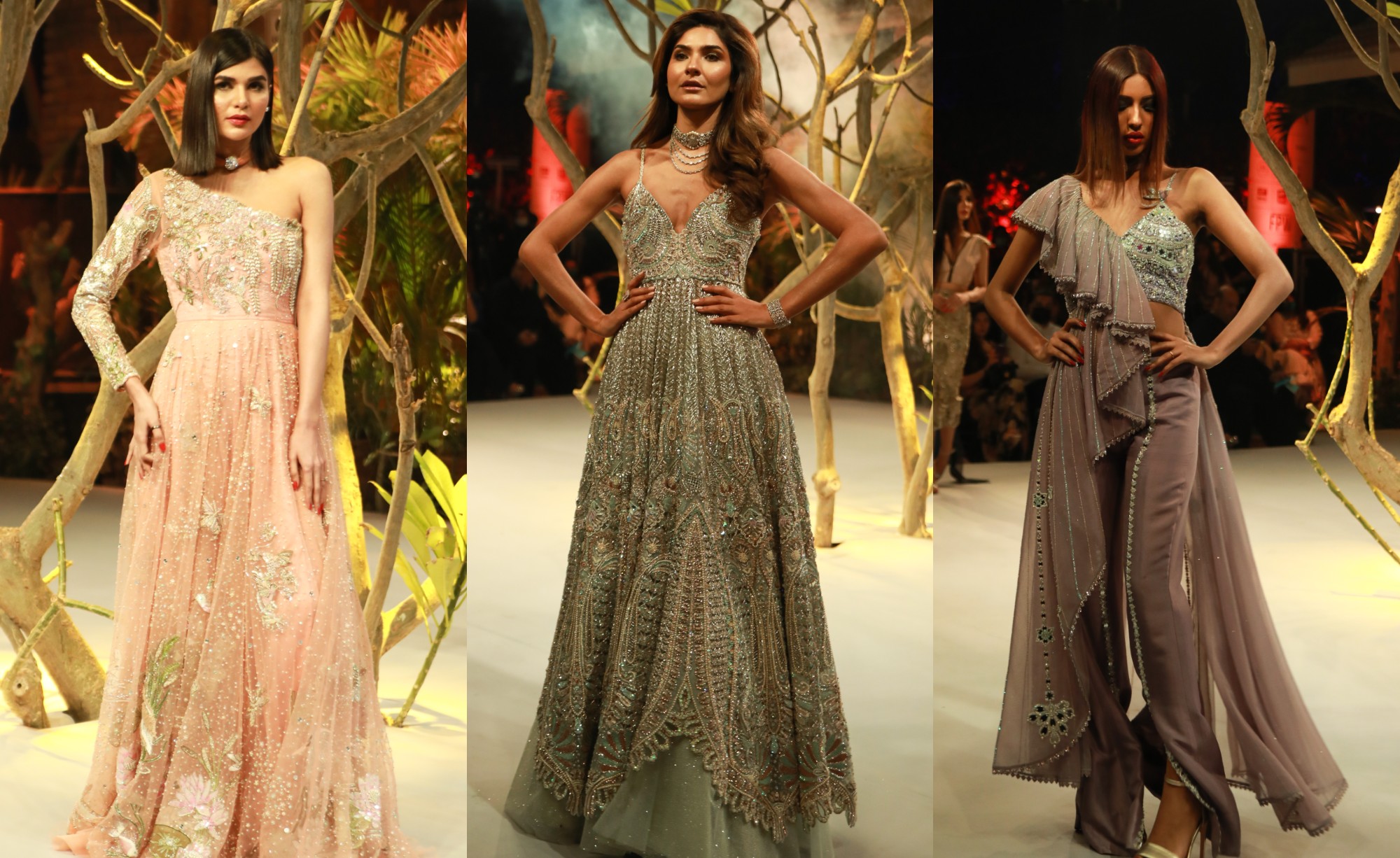 Photo: Jaffer Hasan
Mubashra played with asymmetrical silhouettes, layering, cuts, embroidery, studded mirror work and much more. Taking inspiration from the serene waters and scenic sights of a whimsical water body, the designer produced a delicate collection that featured an array of motifs, colour palettes and embellishments.
The showcase impressed with its twists in saris and a particular peachy cold shoulder outfit that comprised pretty swans at its hem. Supermodel Kiran Malik walked as the showstopper for the brand donning an intrinsic faint green and shimmery silver gown, the sparkle of which did not fade like the silver dreams of the previous collection.
Diners Pakistan
Collection: Mirum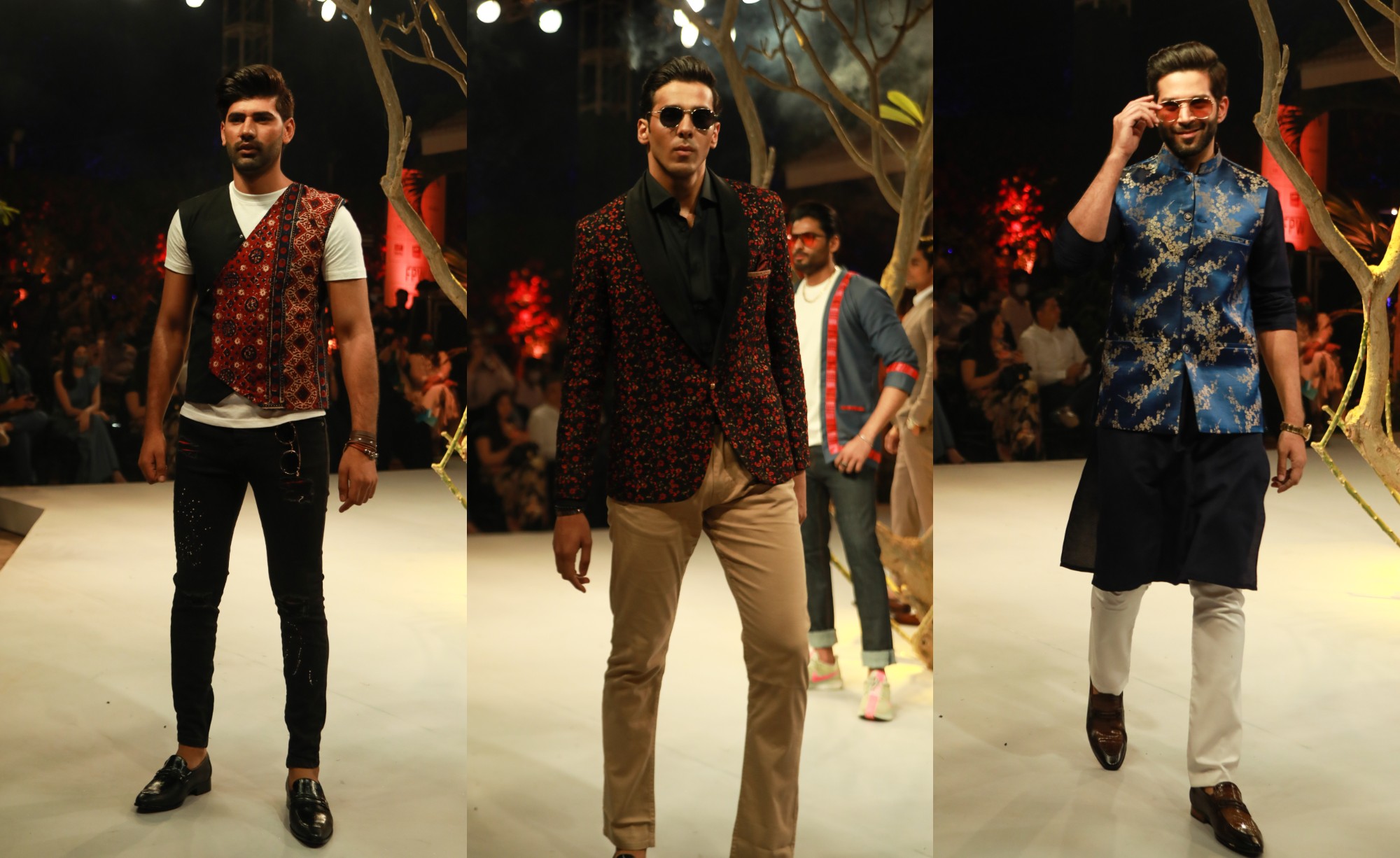 Photo: Jaffer Hasan
Diners' 'Mirum' was decent, with some male models looking dapper while others struggled to project a positive impression out of their ill-fitted and unimpressive waist coats. The sherwanis hit the mark with their immaculate tailoring but the Ajrak waistcoat on a white tee looked too forced. The striped kurti paired with a yellow neck scarf and shoes made for an interesting ensemble, but the rest of the offerings were not as revering as they could have been.
Sadaf Malaterre
Collection: The Flow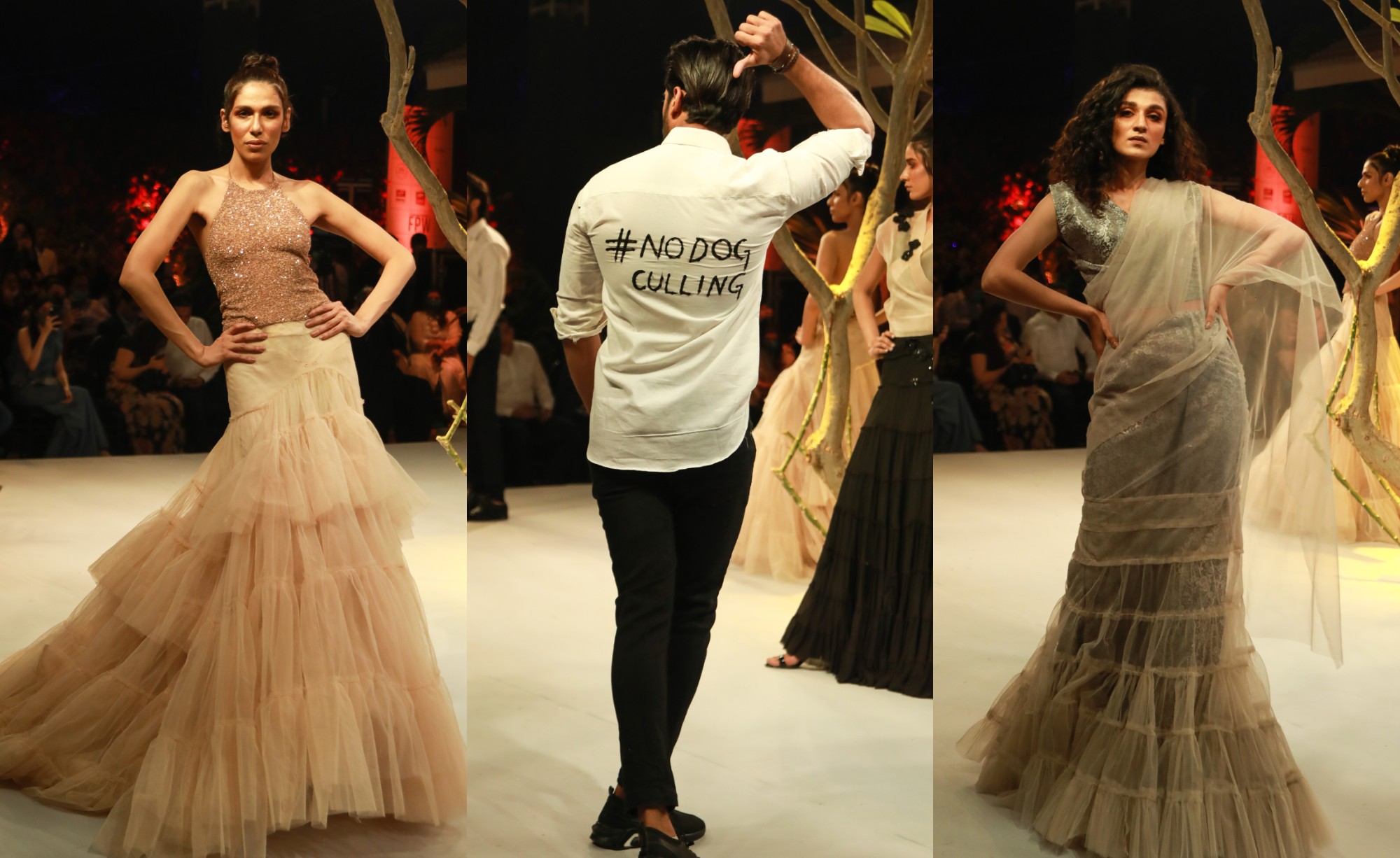 Photo: Jaffer Hasan
Avant-garde designer, Malaterre's line inculcated Chinoiserie and fleurette, as she intertwined her mix of eclectic and classic ensembles, contrasting structure and fluidity by taking inspiration from the universe. She also debuted her menswear collection, which made a strong statement for animal rights, emphasising on 'no dog culling'.
Playing in trumpet and A-line silhouettes, the designer combined sequins with ruffled net on one ensemble and frills with an assortment of layers on what appeared to be hybrid between a sari and gown, which failed to impress. Aside from making a strong statement, the collection was ordinary to say the least.
Aleena and Fareena
Collection: Karachi by Night

Photo: Jaffer Hasan
Designer duo Aleena and Fareena's collection 'Karachi by Night' showcased their top picks from two collections that incorporated a jewelled tone colour palette which brightened up the runway with dewy silvers, rich golds and monochromatic hues inspired by the bustle of the metropolis.
Structured jackets and capes led the pack, but a black ensemble with white lace and ill-fitted bottoms, along with another embellished trouser took us back to 2011. There was one more sparkling silver and black outfit with a tail-end that proved, not everything that glitters is gold. However, most of the other taffeta and tulle outfits made for a spectacular sight.
Tabassum Mughal
Collection: Eclectic Regalia

Photo: Jaffer Hasan
Royal as always, Mughal's collection stole the show on day one of FPW 2021. The designer paid homage to the regal and opulent courts of Europe and the Subcontinent of the past several centuries, which were buoyed by the might of feminine empowerment and innate elegance. She brought forward an intricate and versatile collection titled 'Eclectic Regalia'.
Using rich and organic fabrics in a mesmerising array of shades including royal gold, deep crimson with a smattering of blush pink and soft-grey, Mughal's collection stood out.
A scrunched net veil, heavy floral umbrellas which could have been made lighter, velvet in spring and a visible cancan along with certain fitting fallouts, called for a wardrobe malfunction. But even with their vices, the designer's ball gowns managed to transform into impressive eastern wedding wear. She incorporated dramatic and voluminous court-style silhouettes with luxuriously rich embroidery, including an encrusted overlay of floral motifs and pearl-work juxtaposed with Baroque swirls using the intarsia weaving technique.
Sundus Talpur
Untitled collection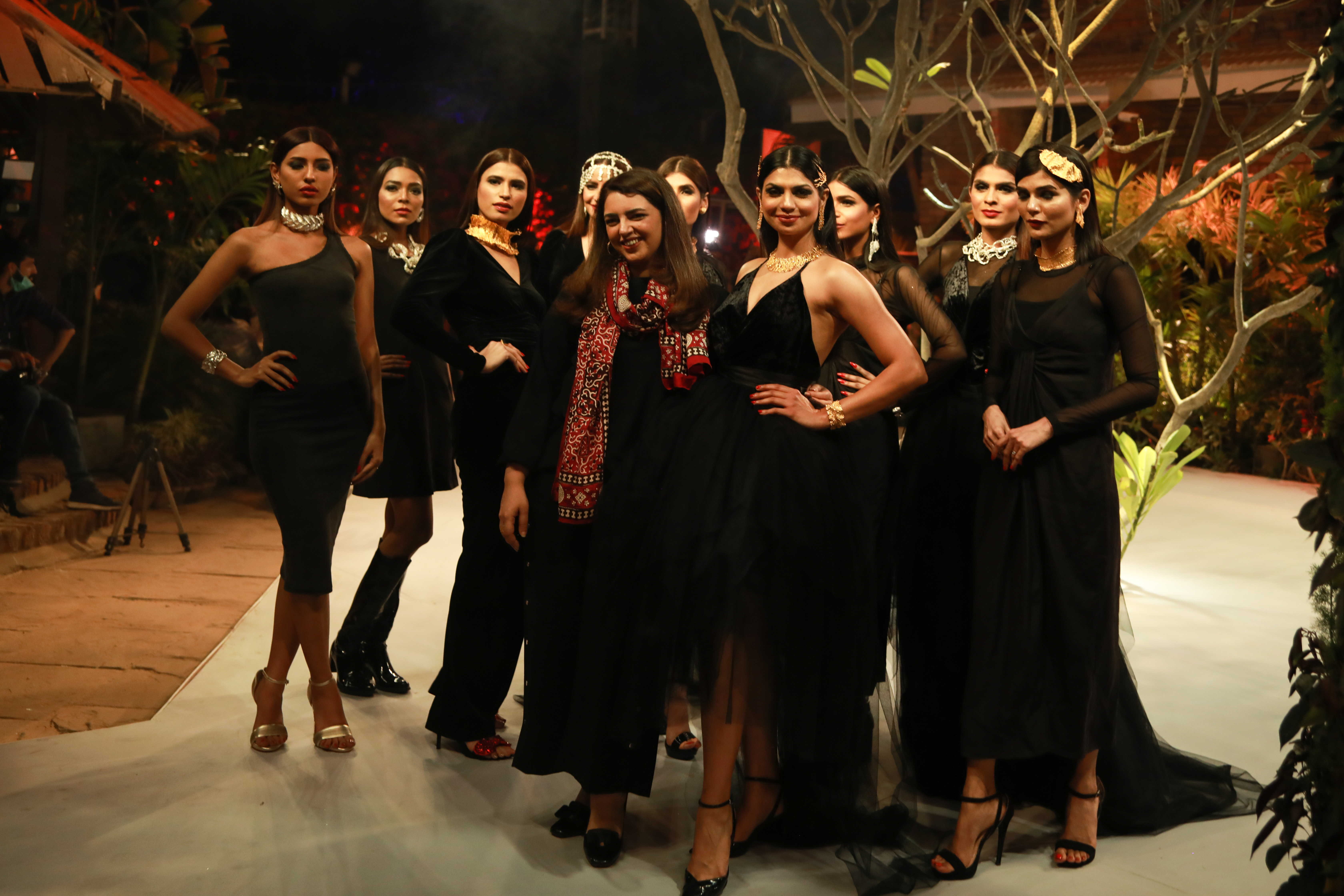 Photo: Jaffer Hasan
Talpur's contemporary collection explored the art of hand-sculpted jewelry.The designer displayed her talent by bringing forth a solo collection of accessories which were a sight to behold. From interesting head-wears – which by the way, were seen in abundance this fashion week – to necklaces and statement pieces, the collection was in sterling silver and gold that gave the perfect end to the first night of the show. The striking pieces were inspired by female empowerment, strength and resilience.
Have something to add to the story? Share it in the comments below.