KARACHI:

The New Year commenced with Chanel taking over the ramp with its signature spring/summer styles, and other brands such as Fendi, Zimmermann, Valentino and Dior following suit. As the Western hemisphere attempted a return to pre-pandemic fashion shows, so did we. Fashion Pakistan Week (FPW) Spring/Summer 2021 took place over the weekend, with seven designers showcasing their latest on day one and day two each. There was glitz, there was glamour – albeit, with SOPs in tow. But the pieces displayed fell short.
Day two offered more bridalwear and less haute couture than day one but hardly anything managed to leave much of a mark. Here's who wore what at Sunday's fashion extravaganza.
Shamsha Hashwani
Collection: Surriya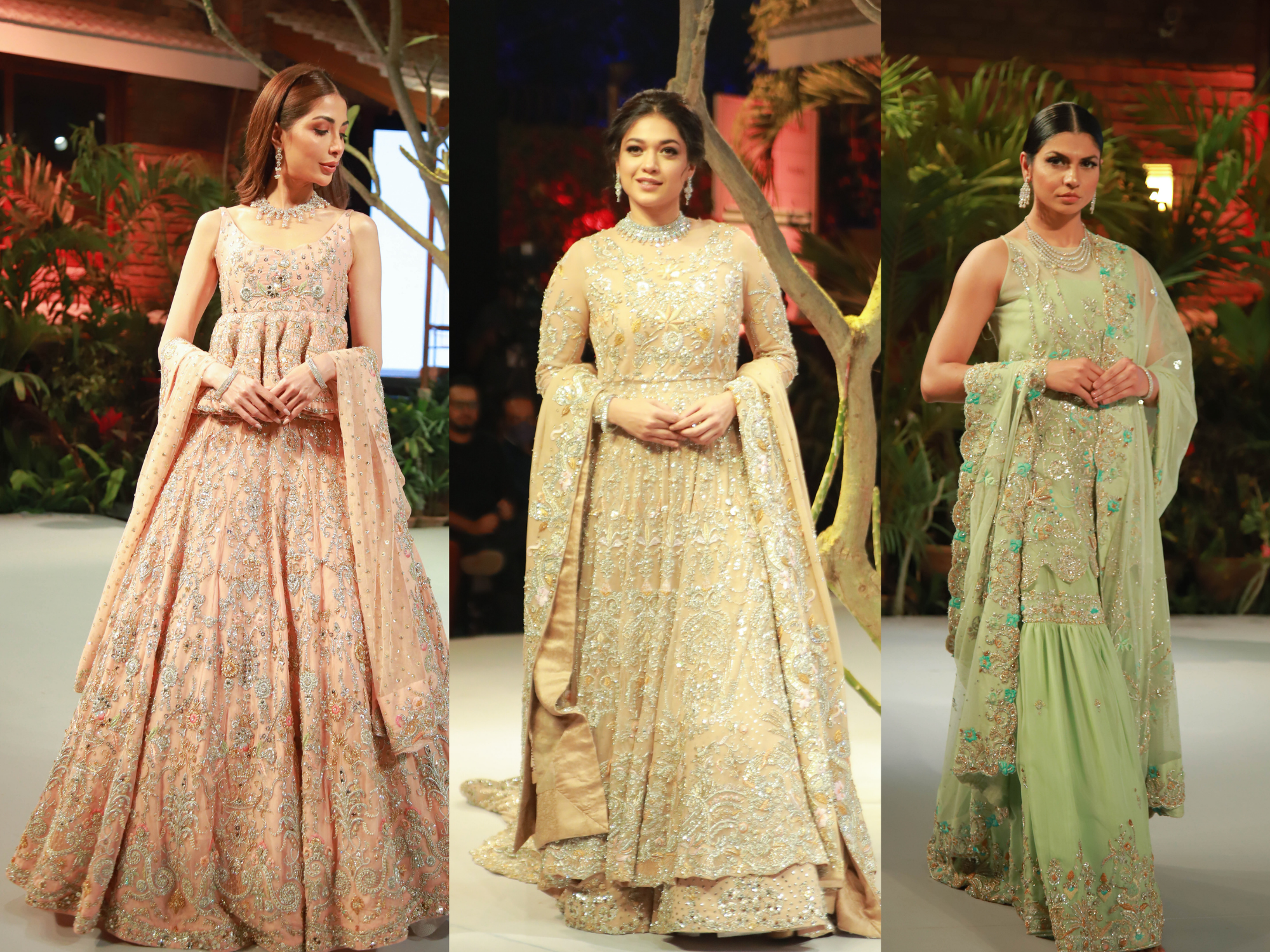 Hashwani opened day two with a line that paid tribute to heritage and the undying artistry. From traditional silhouettes to innovative designs, she gave a twist of her own. A pastel colour palette and crystal embellishments on luxurious fabric remained the main focus of her collection. Actor Sanam Jung walked as the showstopper, donning a cream-based mesh lehenga, complete with silver and coral embroidery.
Zaaviay by Fatima Hassan
Collection: Zehnaseeb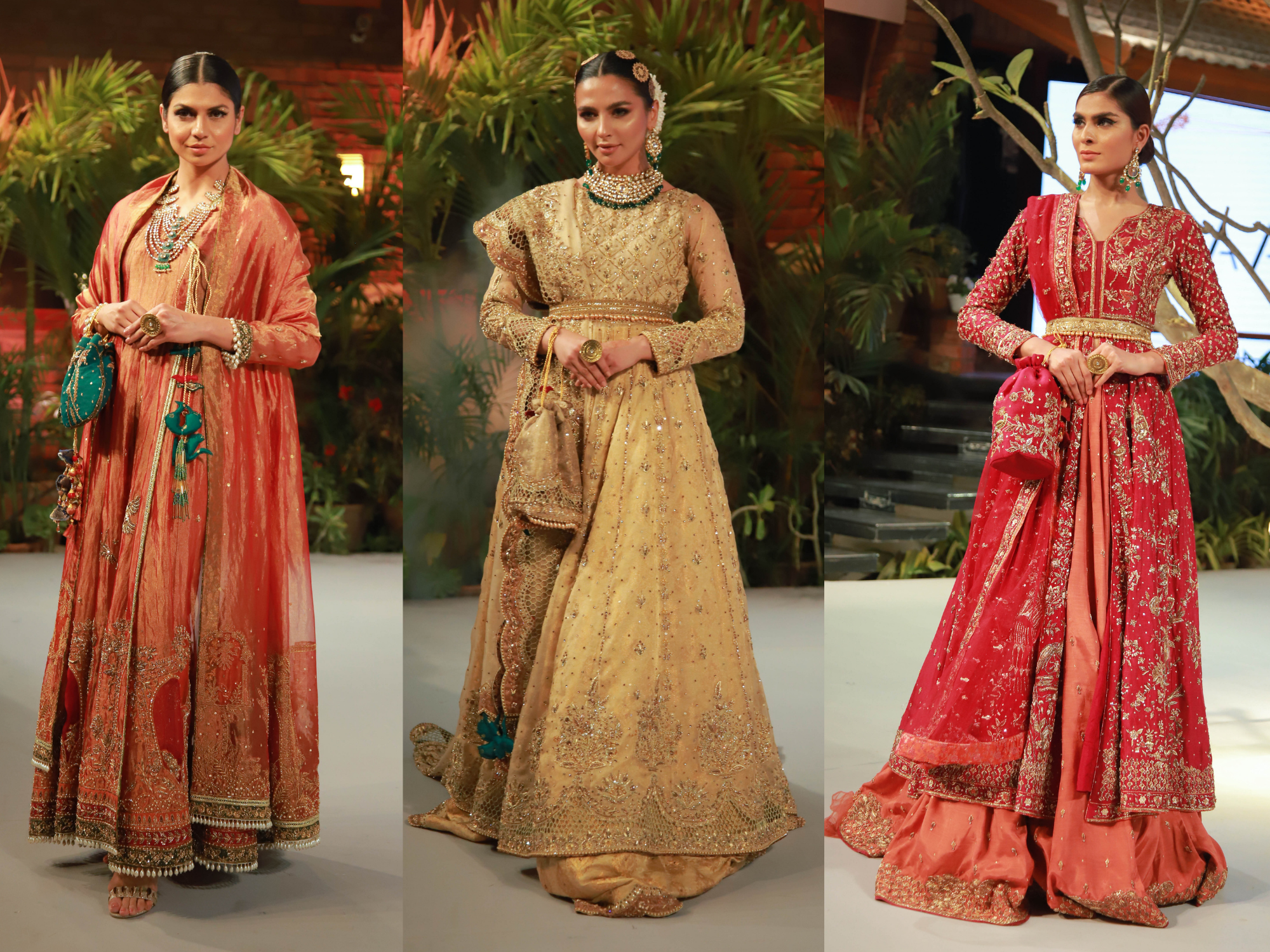 Staying true to its name, Zehnaseeb comprised classic bridals with peafowl prints, zardozi work and finely embroidered sequins. While her collection channelled a bride who is about to start a new chapter in her life, the colour palette incorporated the same, ranging from bright crimson and scarlet to beige tones. Model Yasmeen Hashmi closed the show in a swoon-worthy ensemble, floral bun and gold jewellery.
Delphi by Nida Tapal
Collection: Colour Me Delphi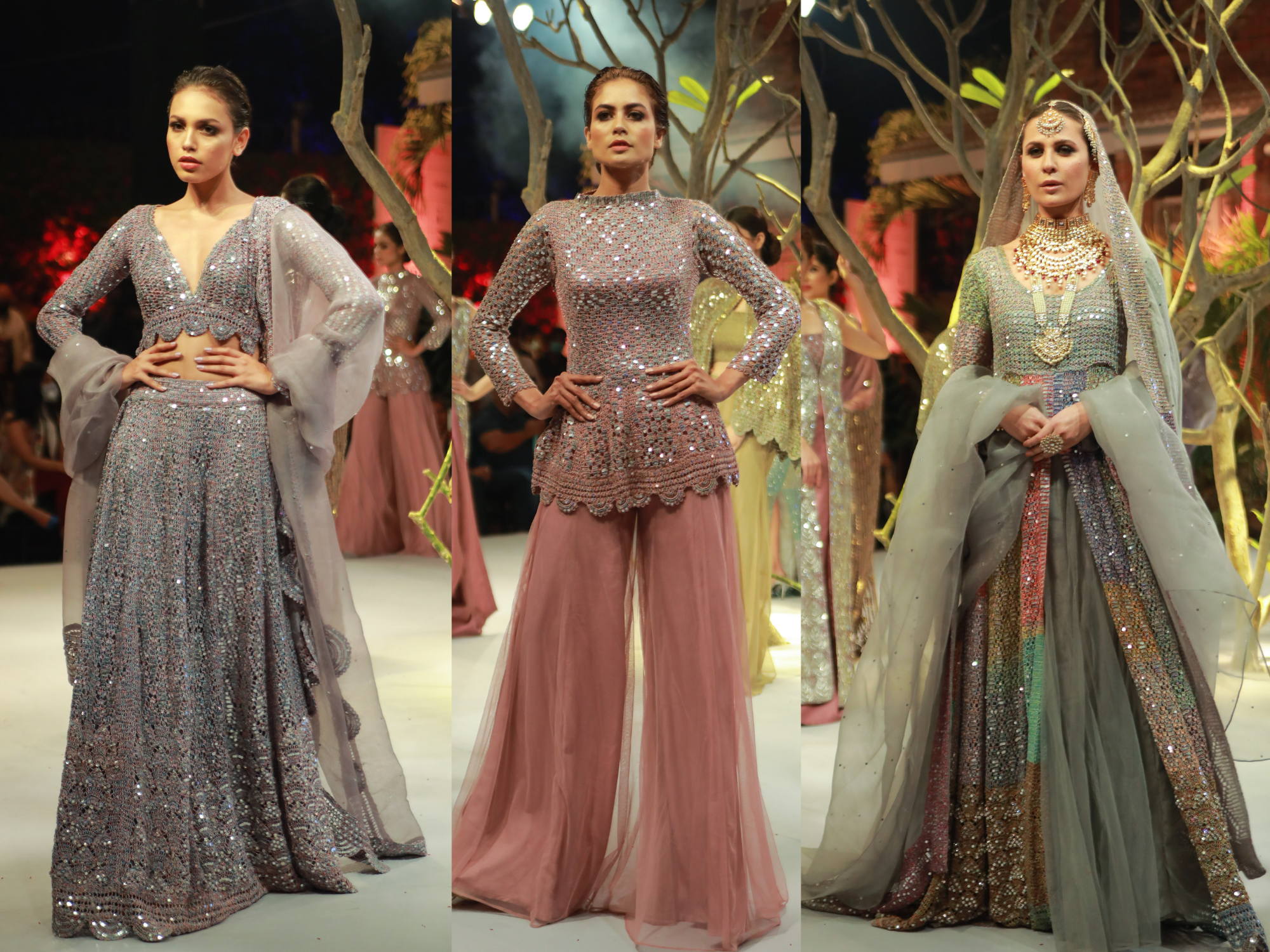 This was hands down one of the better collections of the night. The designer took the lead with a never-seen-before colour palette, textured fabric such as crochet and lustrous beadwork. Once again, the display was a mix of western fusion and typically eastern bridal gowns. However, much to our dismay, the cuts and frills seemed too overdone.
Model-cum-actor, Nausheen Shah walked the ramp in a grey gown complemented with colourful patchwork at the hem.
Gogi by Hassan
Collection: Desert Rosette – The Fauna's Imaginative Orchard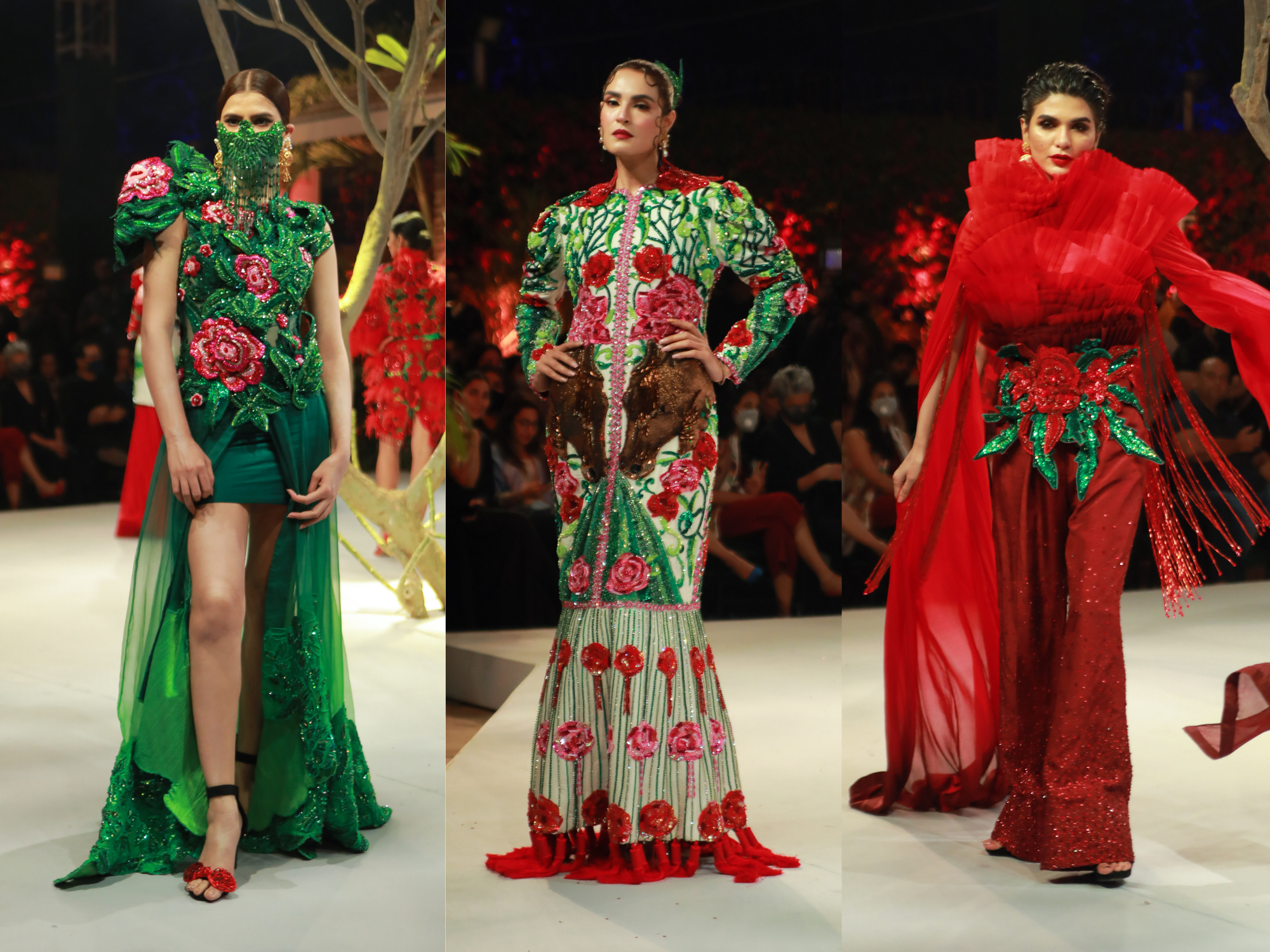 The collection brought forth a perfect haute couture display with creations fit for a fashion show. It featured sharp silhouettes, modern cuts and flora and fauna depictions on flamboyant silk and tulle fabric. The dresses featured some experimental embellishments, reminiscent of the ones seen at the Met Gala over the past few years. The offerings focused more on the 'Desert Rosette' theme, hence the crimson hues. Wrapping up the collection, beauty mogul Nadia Hussain walked the runway in a white floor-length gown with crystal embellishments and funky velour stallions embroidered all over.
Maheen Khan
Collection: Amnesia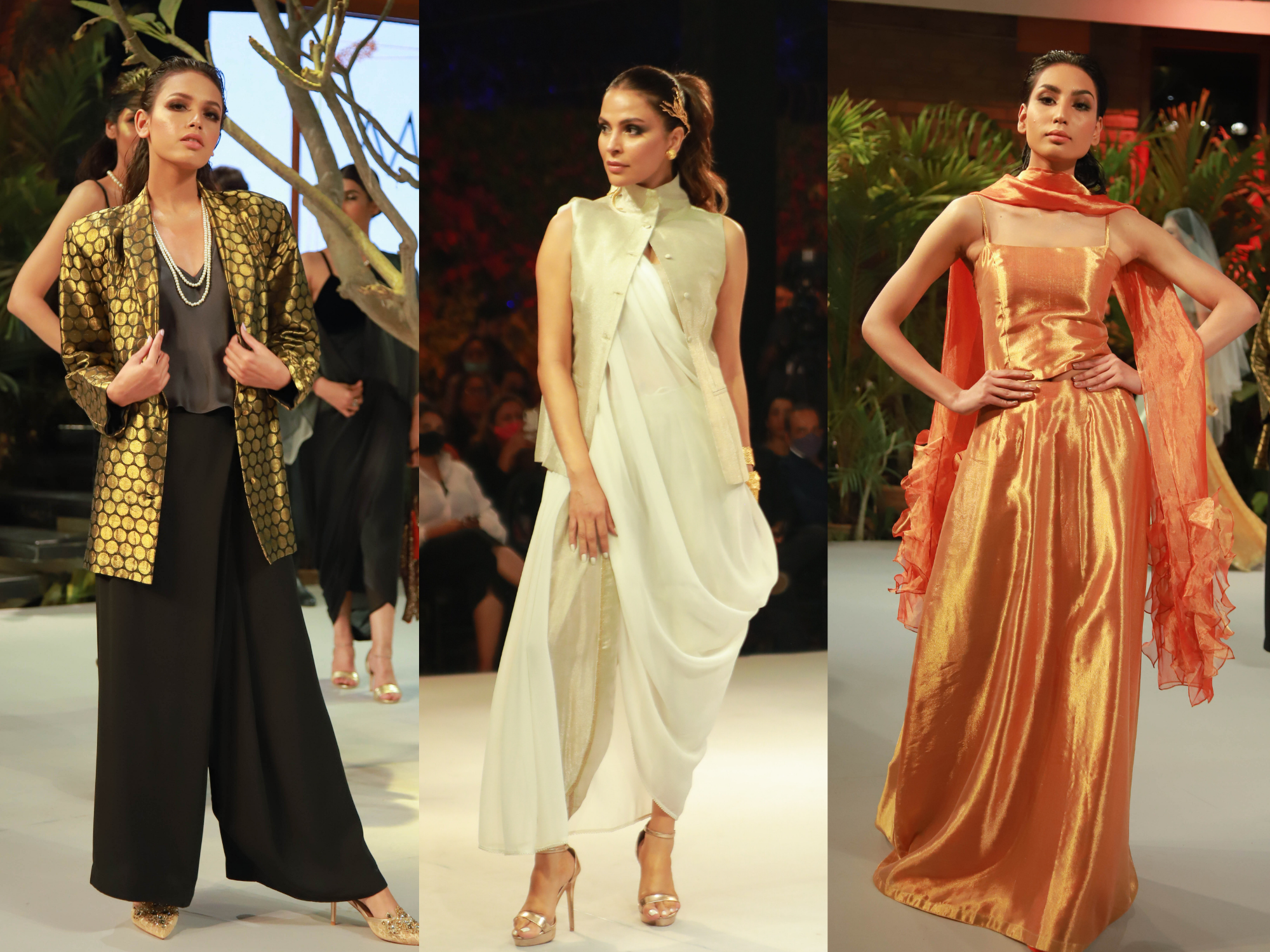 Khan's collection attempted to revive the age-old tradition of hand-woven silk in Pakistan. She presented an entirely silk collection in black and olive hues. Flowy silhouettes, each crafted with well-finished edgy cuts, added an extra spark to a futuristic collection. Supermodel Fouzia Aman turned showstopper in white and gold jasmine-like harem pants.
Sana Abbas
Collection: Gulnaz
Known for meticulous designs and patterns, Abbas' showcase comprised festive wear in a typical bridal colour palette, complete with jewel hues. The collection featured everlasting traditional silhouettes made on classic fabrics such as maisuri, silk and jaamawar. Intricate embellishments such as dabka, marodi, zardozi and block print were witnessed on the runway. Actor Kinza Hashmi walked for the brand in a daisy-white lehenga filled with pearl and sequin work.
Sameer Sain
Collection: Meraki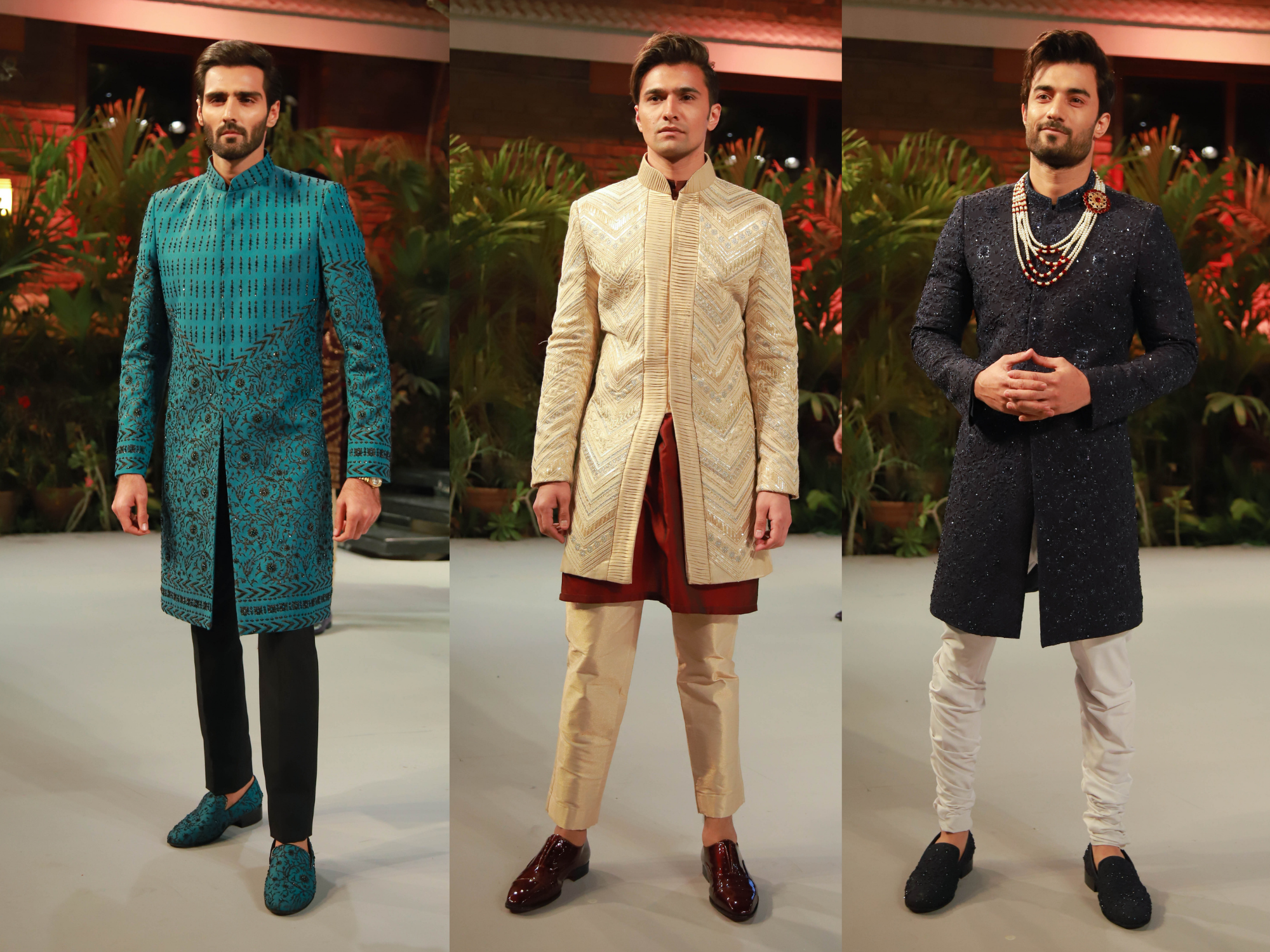 Sain's pieces were a representation of innovativeness and techniques that prelude modern history. His collection represented the fashionable man who can pull off varying designs and embellishments. The bespoke designs were exquisitely crafted for a festively-inclined clientele. The colour palette consisted of solid hues including beige, black and a mix of blue, purple and maroon. Supermodels Shahzad Noor and Hasnain Lehri walked the ramp, with the duo opening and closing Sain's showcase.
Have something to add to the story? Share it in the comments below.