After starting the women's college basketball season with what was expected to be unprecedented depth on the UConn roster, the Huskies have lost three guards to injury in eight days. On Dec. 1, the Huskies announced freshman Azzi Fudd, the nation's top-ranked 2021 recruit, will miss at least two weeks because of a foot injury. On Tuesday, UConn lost sophomore Paige Bueckers for six to eight weeks due to a tibial plateau fracture in her left knee. And on Wednesday, coach Geno Auriemma said a foot injury could sideline sophomore Nika Muhl for several weeks.
As UConn (5-1) prepares for an extended period without Bueckers, the reigning consensus national player of the year, what are the keys to the Huskies' success? What must they do on the court Thursday against Georgia Tech (7 p.m. ET, ESPN2) to set the tone going forward? What are the potential roadblocks on the schedule? And in the Big East, where the Huskies rolled to an 18-0 record last season, winning every game by double digits, will it be business as usual — or are the Huskies ripe for an upset?
ESPN senior writer and injury analyst Stephania Bell also takes a closer look at Bueckers' injury and the treatment the UConn star might face over the next couple months.
Take care of the ball
In a matter of about a month, the Huskies went from having seven guards to three, due to injuries and a transfer (freshman guard Saylor Poffenbarger announced she was entering the transfer portal on Nov. 15). And of all the guards, Bueckers stood out most in taking exceptional care of the ball, with 37 assists to just nine turnovers. She had no turnovers through UConn's first two games of the season.
Seniors Evina Westbrook and Christyn Williams have combined for 36 assists to 23 turnovers, while freshman Caroline Ducharme has no assists to four turnovers. But this trio has to be the primary ball handlers for the foreseeable future, and they have to expect opposing defenses will look to apply pressure in a way they might not have if Bueckers were also on the court.
Georgia Tech has forced an average of 14.3 turnovers in its eight games this season, but the Yellow Jackets also have committed the exact same amount of giveaways. Georgia Tech is a team that wins with defense; the Yellow Jackets are averaging 61.5 points and allowing 46.3. They will try to put a lot of pressure on the Huskies to keep them from establishing their offense.
With all of the experience of Westbrook and Williams, the Huskies should be prepared for this.
"You're not asking them to do something that they're not capable of doing, or asking them to do something they haven't already done at other times in their career," Auriemma said. "So I think that should be some sort of confidence-builder, or a sense of reassurance." — Voepel
Establish the frontcourt
So far this season, forwards Olivia Nelson-Ododa and Aaliyah Edward have combined for 42 field goals, which is 12 less than Bueckers has made. The Huskies simply have to take control in the paint, and that's not going to be an easy task against Georgia Tech.
The Yellow Jackets have a plus-12.8 advantage on the boards this season, with Lorela Cubaj leading the way, averaging 12.3 rebounds per game. Cubaj is a 6-foot-4 senior with a professional build who, along with 6-5 junior Nerea Hermosa (7.5 RPG) and 6-2 senior Digna Strautmane (5.1 RPG), will provide a strong challenge to the Huskies inside.
It also means it's time for Dorka Juhász, a 6-5 senior forward who transferred from Ohio State, to show she can be the kind of player for UConn that she was for the Buckeyes. She is averaging 3.0 points and 4.3 rebounds, after 14.6 and 11.1 last season with Ohio State. — Voepel
Offensive flow and execution
At seemingly every media availability, Auriemma has commented on the stagnation of the Huskies' offense. This was a problem before Bueckers' injury, but not having their primary facilitator on the floor has the ability to further compound the issue.
Part of this problem is driven by UConn guards not being able to get into the lane and create. Doing so disrupts defensive pressure, allowing for open shots on the perimeter or taking advantage of a collapsing and rotating defense for easy layups on the interior. From where Auriemma sits, none of that is happening at a rate that he prefers.
"Obviously getting in the lane is a huge priority for us," he said after UConn's victory over Notre Dame. "And when it does happen, good things happen. Why doesn't it happen enough? Not getting my point across, I guess, to them."
The results show in the Huskies' stat sheet as well. Outside shooting has been an issue to start the season. If UConn is going to weather this storm, more 3-point shots have to fall.
Williams is shooting just 31.6% (6 of 19) from beyond the arc, and Westbrook is at 39.1% (9 of 23). Ducharme, who is a very good shooter, is hovering around 43%, but she has taken just 7 3-point attempts. All three players are likely to take more shots, especially Ducharme, and the Huskies' will need those to fall consistently to get the offense humming. I expect to see Williams driving more and kicking to her open teammates to help make those shots less contested. — Barnes
Defensive effort
UConn's defense has almost always been exceptional and is a key part of what has gotten this program 11 national championships. But as much as there is pressure on the guards to perform offensively, it's going to be just as important for them to be aggressive on defense.
Bueckers has shown she is both a strong defender in UConn's system and also individually in forcing turnovers. Even if the Huskies without her aren't getting as many steals, they have to make it hard for opponents to initiate offense. Getting in the passing lanes, anticipating, having energy from the tip — these are things Westbrook and Williams have proven they can do.
Ducharme is 6-2, Westbrook 6-0 and Williams 5-11, so they have plenty of size on the perimeter. — Voepel
What are the biggest challenges on UConn's schedule? And what happens in the Big East, where UConn won 14 games by 25 or more points last season? Will it be more of the same, closer scores or more losses?
The two games beyond this weekend that I'm interested in are Louisville on Dec. 19 and then a rematch with Seton Hall on Jan. 21. These first two games against Georgia Tech and UCLA will be challenging in their own right with how depleted UConn is, but Louisville is a challenge a level above what's right in front of the Huskies. Even if UConn survives these next two games, No. 7 Louisville will provide a measurement of where this team is against one of the top programs in the country. Louisville (7-1) has won seven consecutive games, including an impressive 70-48 win over then-No. 12 Michigan. This game will likely reveal how competitive this version of UConn can be down the stretch while missing so many key players.
The other game I'm watching is the Seton Hall rematch. Though the Huskies comfortably beat the Pirates on Dec. 3, it was a tense matchup that wasn't reflected in the 74-49 score. The Pirates were also without second-leading scorer (and former Husky) Andra Espinoza-Hunter. By the time this game is played in January, UConn could have almost everyone (if not everyone) back in the lineup and it could be a moot point, but if the injury bug is still in Storrs, this could be a game that pushes UConn to the brink.
In general, I wouldn't be surprised if UConn loses multiple games over the next couple of months, which could affect seeding come March (though I'll let Charlie Creme handle the details of that speculation). The margin for error is just so small that a single player in foul trouble or one person having an off night could be the difference between a win and a loss. Teams that I would have UConn beating by double digits might play the Huskies much closer, or could pull off an upset. It's going to be a volatile next couple of weeks. Though, watch UConn run the table and make us all look dumb. — Barnes
Part of the issue for UConn is that its opponents are aware the Huskies don't have a lot in the way of reserves. It's not that the Huskies haven't played well with low numbers in the past; they have. However, it means they can't afford to get in much foul trouble, and they need to establish the pace in games regardless of possible fatigue.
The Huskies have not lost a regular-season conference game since 2013, their last year in the old Big East. They didn't lose to a league foe in seven seasons in the American Athletic Conference and ran the table in the revamped Big East last season.
The closest conference game UConn had was a 63-53 victory over Marquette on March 1, although the Huskies won the rematch 73-39 a week later in the Big East tournament championship game. Big East opponents now are bound to have a little more confidence facing a Huskies team without Bueckers and the other injured players. — Voepel
Inside Paige Bueckers' knee injury and road to recovery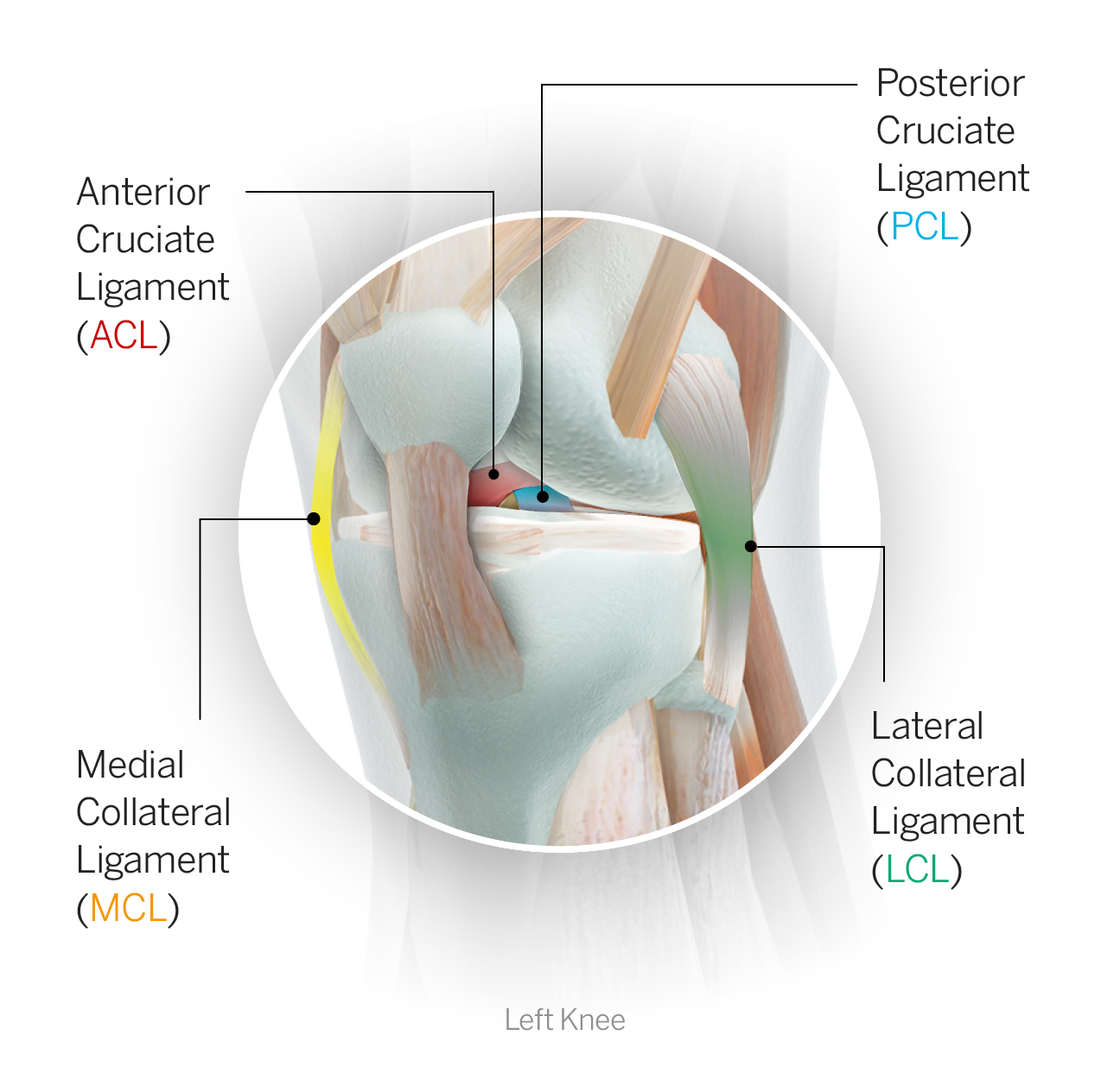 What is a tibial plateau fracture?
Let's start with the basics: The knee joint is formed where the bony ends of the femur (thigh bone) and the tibia (shin bone) meet. There are two cartilage discs (menisci) in the joint that offer both cushion and stability during weight bearing. Within the knee joint are ligaments that are essential for stability and control — such as the ACL (anterior cruciate ligament) and PCL (posterior cruciate ligament). Outside the joint there are other supportive ligaments and soft tissue structures as well as the muscles that control knee motion.
A tibial plateau fracture can be the result of a hyperextension injury at the knee, and after video analysis, that appears to be the case with Bueckers. While dribbling up the court, she took a step where her left ankle appeared to wobble as it contacted the ground, and her left knee was quickly thrust into hyperextension. When that occurs, the soft tissue structures both inside the knee joint and in the back of the knee are under threat of injury due to the strain, which is why there's an immediate fear of ligament damage.
In some cases, however, the soft tissues stretch but don't visibly tear, and there were no reports of ligament damage for Bueckers. Still, the hyperextension force results in a momentary positional shift of the femur relative to the tibia. The round bony ends (condyles) of the femur can knock against the relatively flat upper surface — or plateau — of the tibia, resulting in a spectrum of injury ranging from bone bruising (a phenomenon commonly observed in conjunction with ligamentous injuries to the knee) or, in some cases, an actual crack or fracture of the tibial plateau. — Stephania Bell, ESPN injury analyst
What will Bueckers' rehab look like?
The location of the fracture on the plateau can dictate treatment and the athlete's progression. In order for bone to heal, it is critical not to overload it. If the injury is in a high load-bearing location within the knee, the athlete might be non-weight bearing for multiple weeks. If the break is located away from high contact loading points in the joint, the weight-bearing progression can be quicker. The latter would appear to be the case for Bueckers, given her projected recovery time.
Even while operating under load restrictions, the athlete can still engage in cardiovascular training to maintain conditioning, along with range of motion and strengthening activities for the knee. The athlete can also continue to work on hip strengthening and core work. Maintaining upper extremity strength as well as specific exercises incorporating the basketball (such as dribbling, modified shooting) help keep the athlete's neuromuscular system engaged for ball handling.
Generally speaking, fractures take approximately six weeks to fully heal, presuming good blood flow and normal bone quality. In the case of tibial plateau fractures, the activity program can be progressed to gradually increase loading as symptoms resolve. Repeat imaging is sometimes done to look for fracture healing, but an MRI can take several months to return to normal after these types of injuries and is not always helpful in determining progression.
Beyond eliminating symptoms, perhaps the most critical element in returning to activity is regaining full strength and neuromuscular control. Demonstrating dynamic stability at the knee and maintaining it while performing elite athletic maneuvers will no doubt be a focus for Bueckers as her rehab progresses. It is no secret in the sports medicine world that female athletes are at increased risk for ACL injuries as compared to male athletes. In basketball, in particular, studies have shown female collegiate basketball players to be nearly eight times more likely to suffer a torn ACL than their male counterparts. Because Bueckers has already experienced a noncontact hyperextension injury, protecting against a repeat event — one that could have even greater consequence — becomes more imperative.
If the healing process for Bueckers is uneventful, the six- to eight-week timetable for her recovery certainly seems reasonable. As long as her process is not rushed, Bueckers should return to pre-injury form and should not have future complications from this injury. As Auriemma said Tuesday, "I'm not interested in how fast we can get someone back; I'm interested in what's best for them long term. Every decision made will prioritize what's best for Paige and her career." — Stephania Bell