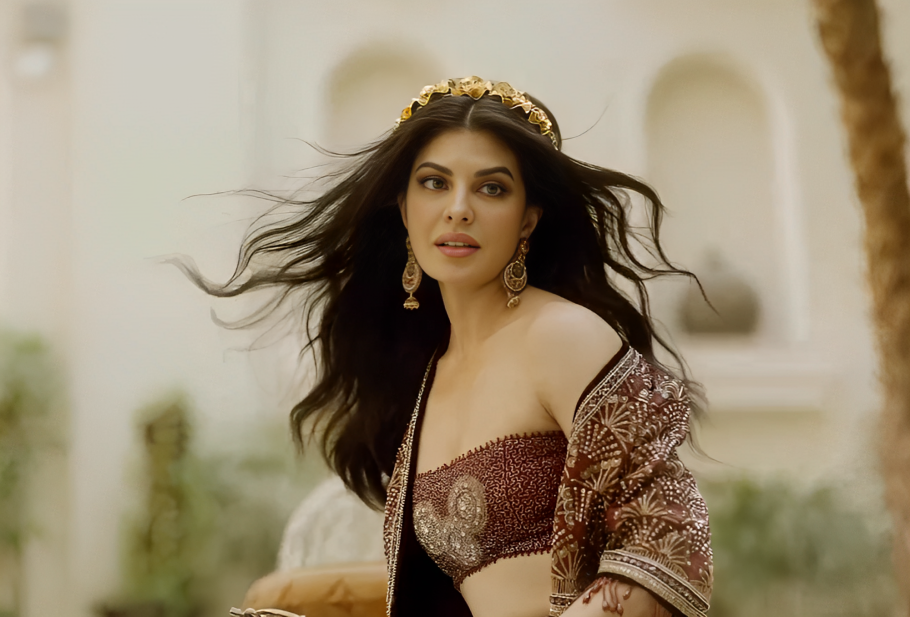 Debuting with Aladin in 2009, Bollywood actor Jacqueline has since established a noteworthy career in Indian cinema. While she has landed herself in a fair share of controversies – the most recent being the INR200 crore money-laundering case involving alleged conman Sukesh Chandrashekhar – that has not stopped her from chasing film projects and staying at the peak of her professional career.
Wrapping up 2022 with four films in her kitty, Jackie's latest and last release of the year was the Ranveer Singh-starrer Cirkus. Talking to Masala! she weighed in on her professional life, what keeps her motivated and the challenges she has faced as an outsider in Bollywood.
"Work has been crazy busy. I've just released a film called Cirkus. This is my fourth film of the year. Releasing four films in a year can be pretty chaotic, and in the middle, we keep shooting for brands, reading scripts and training for films," said Jacqueline. The actor is now looking to take things slow before signing her next project, details of which she did not reveal.
Having been a part of the showbiz industry for 12 years now, when she looks back to the time she kick-started her career, Jacqueline feels a lot has changed. "The Bollywood I was in 10 years ago was extremely different compared to now. We didn't have social media. Right now we have strong access to social media, OTT platforms and hashtags to name a few. We are discovering so many new stories, different people and different lives. Bollywood is getting more creative at storytelling. We're also discovering so many new talents, more discussions and new debates." She feels Indian cinema is evolving, and only for the better.
Being an outsider in an industry rife with competition, what were the challenges she had to overcome? "When you come in, you come in very wide-eyed, naive and vulnerable. You don't know anybody or anyone — or if the advice you are getting is the right advice. You tend to make a lot more mistakes as compared to, let's say if you were protected by a strong support from the industry. They would be able to guide you on what's what, who's who, how it works, what you need to do or what you don't. So, these are challenges that I faced too, until I navigated my way through them," shared Jacqueline.
Interestingly, the Kick actor did not think she was going to be in India forever. She only stayed back because the film industry and its people were welcoming and encouraging. "Being young back then and what I would like to think as happy-go-lucky helped me take every challenge positively."
The B-town diva weighed in on the three designers she admires across the border and who she would love to collaborate with in the future. "I really like what Dhruv Kapoor is doing. I think he is setting the standard high up with unique designs that are international yet Indian at the same time. Someone that I've always turned back to pretty much my whole career have been Falguni and Shane Peacock. Even Manish Malhotra! His creations really make you feel like an Indian process. He understands Indian wear so well and he also studies the fashion and the female body type with great interest. I also want to bring special spotlight one of my all-time favourite designers from Sri Lanka — her name is Darshi and she makes beautiful Batik saris. Also, an overall observation is that the world is turning a lot to Middle Eastern designs for beautiful red-carpet moments. Their gowns and wedding dresses are so admirable. To name a few, Zuhair Murad and Elie Saab are my favourites."
And if there is one Bollywood veteran whose style she loves, it is none other than Rekha. "I think when it comes to the styling game, a lot of people come to my mind. But one that has stuck with me is Rekhaji. Even back then, her photoshoots were so creative! So inspiring and ahead of her time. Fast-forward to now — those saris that she wears are die for. The way she accessories herself, the way she carries her attitude. It's so admirable."
From the current crop of actors, Jackie admires Sonam Kapoor and Deepika Padukone's sartorial choices. "She not just carries herself so elegantly but she also introduces the Indian space to so many international designers that we had no idea about. And credit to Rhea Kapoor too — they make a great team together. I even love the way Deepika Padukone dresses."
She then concluded by talking about what she believes her sex appeal lies in. "To be frank I've never seen myself as someone with sex appeal. I know in the roles I play in movies, or the songs I perform in can exude that, but our audience can mistake it for what our real personality is. You lose your appeal when you push things a bit too much or try too hard. For me, that fact that I've fully accepted what I am, and how I can be, is honestly where my sex appeal lies," Jacqueline noted.
Have something to add to the story? Share it in the comments below.