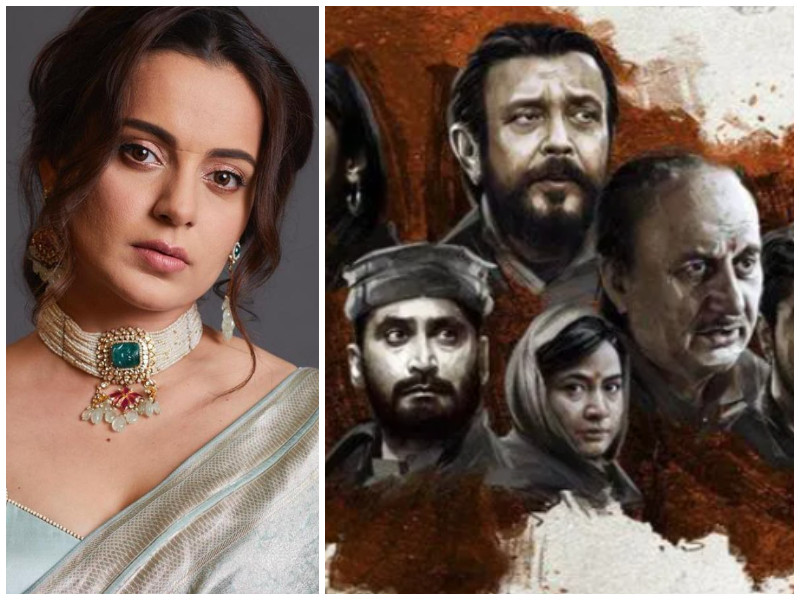 Kangana Ranaut took to social media on Sunday morning to call out Bollywood for not praising The Kashmir Files, a film based on the exodus of Kashmiri Hindus during the Kashmir Insurgency.
The recent release stars Anupam Kher, Darshan Kumar, Mithun Chakraborty and Pallavi Joshi. While several Indian publications found the film to have made a compelling case for Kashmiri Pandits and wrote in praise of its cinematography, realist depictions, non-mellowed take on historic events and showered praises on cast performances, Shubhra Gupta of The Indian Express, called it a work of propaganda aligned with BJP's discourse that only aimed to stoke the "deep-seated anger" of Pandits while tapping into the grief of a displaced community.
Kangana maintained, "Please notice the pin drop silence in the film industry about #thekashmirfiles, not just content, even its business is exemplary. It also broke many myths about theatres being exclusive for big budgets, event films or visual/VFX spectacles post pandemic. It is breaking every myth and preconceived notion that was there and bringing back the audiences to the theatres, 6am shows in multiplexes are full, it's unbelievable!"
Terming Bollywood, 'Bullydawood' she continued, "Bollywood bullies and their cronies are in shock. Not a word, sari duniya dekh rahi hai inko lekin phir bhi (the whole world is watching them yet) not a word. Their time is up!"
Kangana has praised The Kashmir Files earlier as well, calling it 'The most important film of the year'. Rahul Desai, reviewing for Film Companion, found The Kashmir Files to be a "fantasy-revisionist rant lacking in clarity, craft, and sense, where every Muslim was a Nazi and every Hindu, a Jew. With an unconvincing screenplay and weak characters, it was propaganda that strove only to tune in with the Hindu Nationalist mood of the nation."
The Kashmir Files started strongly at the Indian box office despite a limited release. On its opening day, it grossed just over INR3.5 crore, and on Saturday, it improved that number substantially to make INR8.5 crore on the day, as per Hindustan Times. Its total earnings stand at INR12 crore from the first two days.
Have something to add to the story? Share it in the comments below.