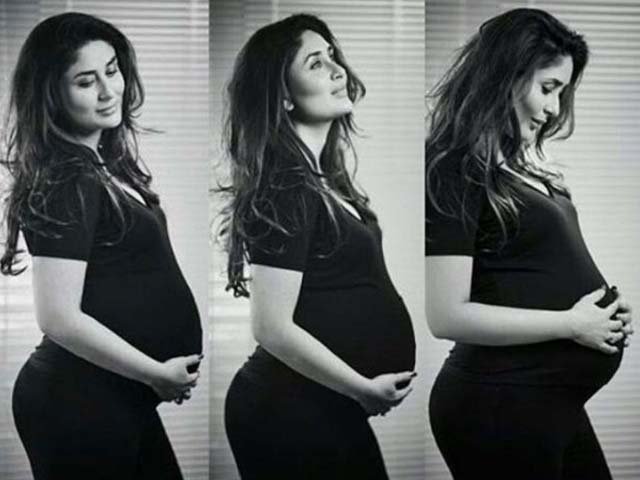 Actor Kareena Kapoor Khan gave birth to her first son Taimur Ali Khan in 2016. Now, a mother-of-two, the starlet took a trip down memory lane in an interview with The Guardian, recalling her first pregnancy, emergency C-section and more. "There I was: scarred, chubby, puffy, tired," she said of the time she delivered her first baby. "I saw the baby bulge, the dark circles, the dressing bandage of my C-incision. I cannot describe how I felt," added Kareena.
Having spent 20 years in the limelight has not stopped Kareena from being open about parts of her life that most celebrities keep hidden. Her book Pregnancy Bible is shaped around her experience of giving birth to her two sons. "Nobody wants to talk about belching and swollen feet and not feeling sexy enough, or hair loss, or getting such bad mood swings you don't even feel like talking," she mentioned.
Kareena continued, "That's why we talk about sex in the book. Most women in India get scared to address this issue. But these are things that we should be talking about." When the Ki & Ka star became pregnant with her first child, she felt that the unspoken expectation was that she, as a woman in the public eye, would hide away for the next nine months or so.
Instead, she went "guns blazing, full throttle" into a very public pregnancy. "Most Bollywood actors, when they get pregnant, don't leave the house because they are stressed about how they look, that they are no longer this glamorous diva, worried if they put on some weight that people will judge them. There's still a lot of those taboos," she said. "But I just wanted to own it."
Kareena recounted how she put on 4st (26kg) during her first pregnancy, having "misused it as an excuse to eat all the pizzas and whatever I wanted". But despite her fears of how it would affect the Bollywood career she was determined to continue after giving birth. Kareena posted photos on social media of her struggling to fit into jeans. She continued working on film projects and shot various advertising campaigns, as well as being clicked by the paparazzi on multiple occasions.
Her book, she says, was an attempt to answer the questions that a lot of Indian women are too afraid to bring up at home, often because they live with their husband's parents. "A lot of the time, they can't talk about their emotions, they don't open up, because in our society a lot of things are not really addressed, especially for women," she concluded.