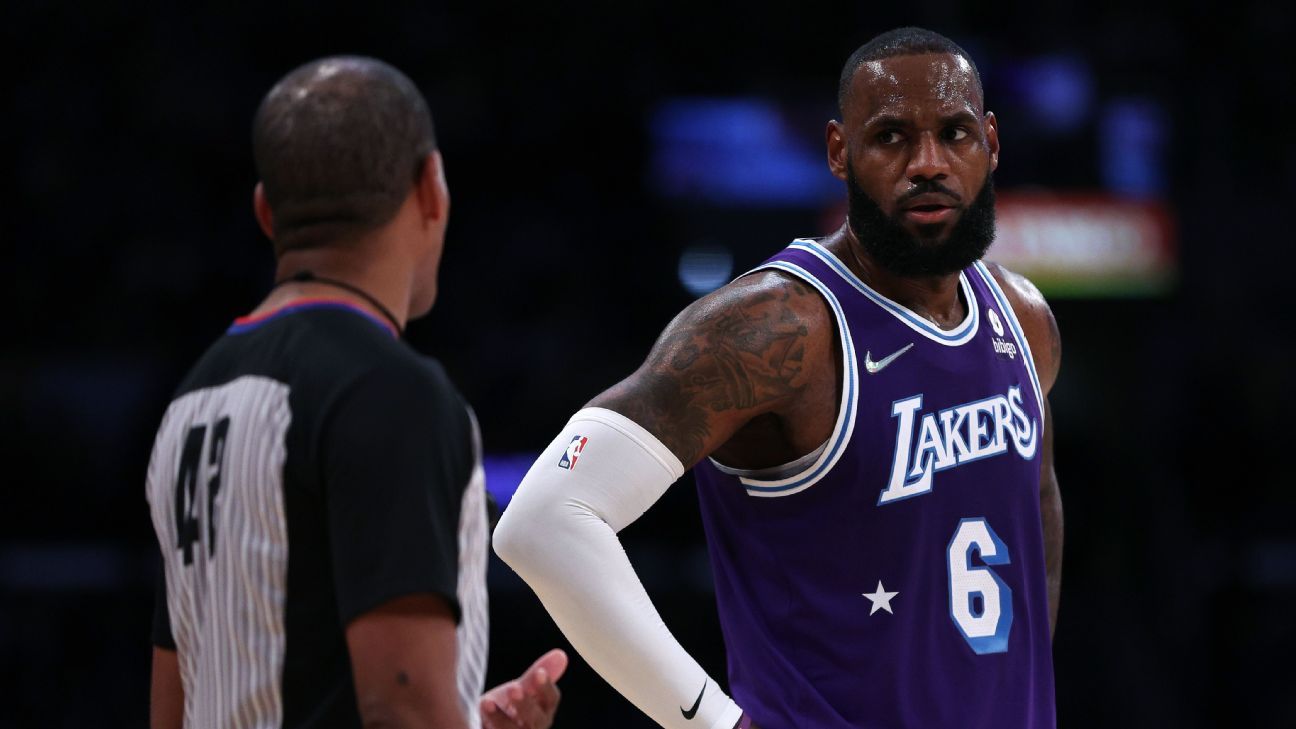 LOS ANGELES — LeBron James said his brief stint in the NBA's health and safety protocols left him feeling "confused," "frustrated" and "angry" after his first game back in the Lakers' 119-115 loss to the LA Clippers on Friday night.
James missed the Lakers' game against the Sacramento Kings on Tuesday after returning a positive test for COVID-19 on Tuesday morning that required him to isolate from his team and fly back to L.A. solo on a plane chartered by the team.
"I knew I was going to get cleared because I never, ever felt sick at all," James said after finishing with 23 points, 11 rebounds, 6 assists and 2 steals against the Clippers. "I just thought it was just handled very poorly."
James said he initially tested negative on Tuesday and then tested positive in a follow-up test. The league reintroduced more rigorous testing to its teams following Thanksgiving, hoping to catch any cases that could have arisen from players expanding their circles around family and friends for the holiday.
"Usually when you have a positive test, they'll test you right away to make sure," James said. "There was not a follow-up test after my positive test. It was straight to isolation and you've been put into protocol. That's the part that kind of angered me. I had to figure out a way to get home from Sacramento by myself. They wouldn't allow anyone to travel with me, no security, no anything, when I traveled back from Sacramento.
"And then I had to put my kids in isolation for the time being, the people in my household in isolation for the time being, so it was just a big-time inconvenience. That was the anger part."
James was cleared to return to the lineup on Thursday afternoon after returning a second negative PCR test within a 24-hour window. James returned eight negative tests in total from the time he returned to L.A. until he was cleared on Thursday, sources told ESPN.
Much like how the league did not require its players to receive the COVID-19 vaccine but enforced stricter testing and social-distancing rules for those who were unvaccinated compared with those who were, the NBA will be rolling out similar enforcement later this month when it comes to COVID-19 booster shots, The Athletic reported on Friday.
James gave a roundabout answer when he was asked if he had received a booster shot and if the process he went through over the past several days affected his thinking on getting the booster shot if he hadn't yet.
"No, this process … we've all been doing exactly what the protocols have told us to do and taking the tests and things of that nature," he said. "It's unfortunate when you get a false positive and you get put right into isolation. That's just the unfortunate part. But we'll see what happens."
Meanwhile, the Lakers saw their meager two-game winning streak snapped against a Clippers team that came into the night having lost six of its previous eight games.
James, who said he didn't pick up a basketball from the time L.A.'s game against the Detroit Pistons ended on Sunday until shootaround on Friday, admitted his rhythm has been affected by the stop-and-go nature of his season. He played in the Lakers' first three games, then missed two games because of an ankle injury. Then he played in the Lakers' next three games after that, then missed the next eight games because of an abdominal strain. Then he played two games before missing a game because of the first suspension of his 19-year career. Then he played three games before he missed the Kings game.
"Going into Sacramento, I was getting into the rhythm — a really, really good rhythm — like offensively, defensively," James said. "It's just been very frustrating either dealing with the groin or the abdomen, and then having to deal with the false positive that knocked me out a game, then knocked me off the floor and not being able to keep my rhythm. It's just … it's been a very challenging year to start a fourth of the season for myself. But, only good things ahead."
Friday's loss dropped the Lakers to 12-12, seventh in the Western Conference, with their next game coming Tuesday at home against a Boston Celtics team that beat L.A. soundly at TD Garden on Nov. 19.
"It's just tough when you're in and out of the lineup, especially when you, I guess, don't really have a reason to be out," Anthony Davis said, looking back at the James saga. "We were playing well. So it's just frustrating a little bit, but no one is feeling sorry for us. We're not feeling sorry for ourselves. We got to go out there and play basketball games with whoever is available."