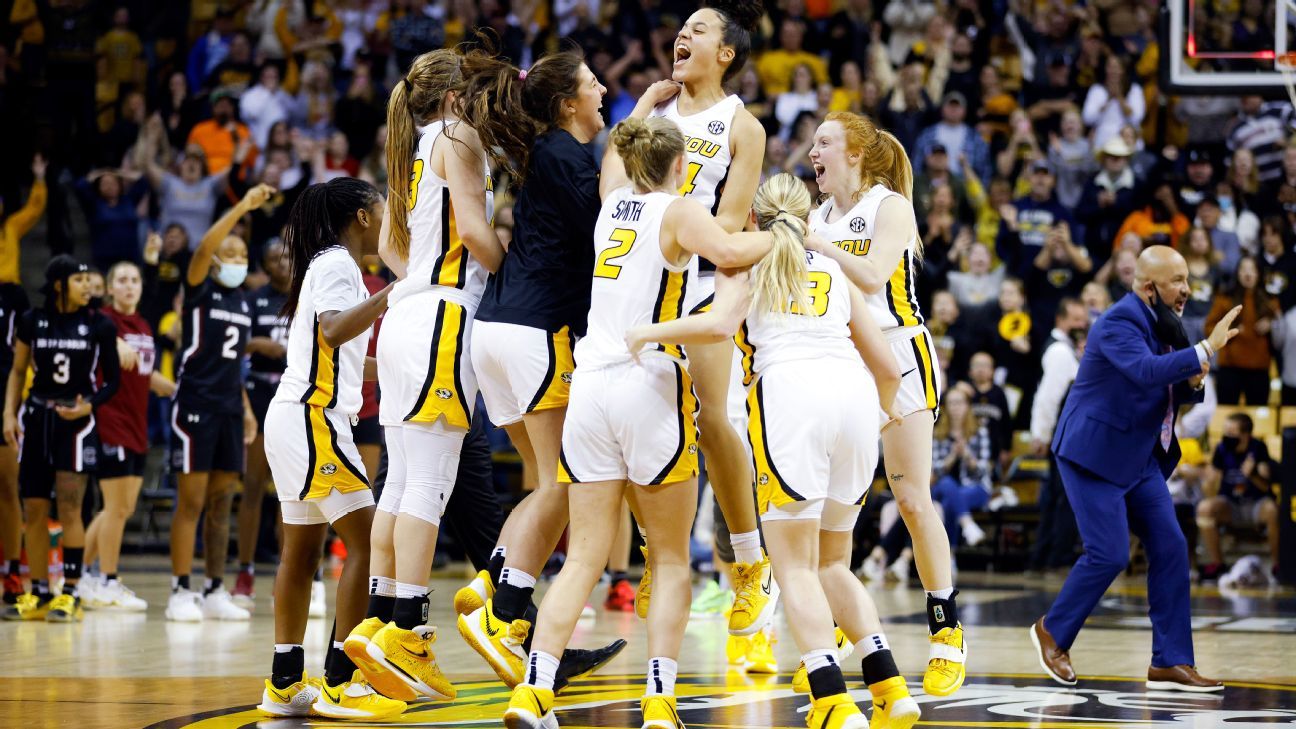 COLUMBIA, Mo. — Unranked Missouri stunned No. 1 South Carolina on Thursday with a 70-69 overtime victory. It marked the Gamecocks' first loss of the 2021-22 women's college basketball season, and ended their 43-game win streak against unranked opponents, which was the longest active streak in Division I.
Junior guard Lauren Hansen hit the game-winning layup with 0.1 seconds left in the extra period to lift Missouri to its first victory over the No. 1 team in the AP Top 25. And the Tigers did it without Aijha Blackwell (16.6 PPG, 12.7 RPG), their leading scorer and the SEC's top rebounder who is in COVID-19 protocol.
Despite Missouri (12-2) using just seven players, South Carolina (12-1) struggled offensively throughout the game, shooting just 32.8% from the field. Aliyah Boston, a national player of the year candidate, notched her sixth consecutive double-double, but was one of just three Gamecocks in double figures.
How did Mizzou topple South Carolina? What does the Gamecocks' loss mean for the national championship race, the rankings and Bracketology? We take a closer look at the upset.
What went wrong for South Carolina? What did Missouri do to topple the No. 1 team?
Creme: The Gamecocks lacked any sense of urgency right to the very end. They played most of the game like the expected course of events would just take care of themselves. To be fair, I thought the same thing while watching the game. It just didn't make sense that Missouri, with its depleted roster, would have enough in the tank to finish the job. Turns out, the Tigers did.
South Carolina's lack of urgency manifested itself in its perimeter defense. The Gamecocks guards were a step slow trying to contain Missouri's penetration. Hansen's game-winning, driving layup was the most notable, but certainly not the only example. She was able to turn the corner and use a screen to get all the way to the basket because South Carolina's perimeter defenders were a step slow. That was the way it was all night.
Hansen and Mama Dembele were able to turn the corner and get into that lane, which was the key to the Tigers' offense. That created space for the Tigers to make nearly half of their 3-pointers (7-of-15). South Carolina just doesn't normally allow that kind of dribble penetration. And on the rare occasion the Gamecocks do, Boston and Kamilla Cardoso are usually there to shut down any layups. Missouri's strategy pulled South Carolina's bigs away from the basket, and on Thursday, those open lanes also often turned into layups.
It was just a bad night overall for the South Carolina backcourt. Zia Cooke, Destanni Henderson and Destiny Littleton combined to shoot 7-of-35 from the field and totaled 20 points. Hansen, with 21 points, outscored them all by herself.
Missouri played sound, selfless, execution-focused basketball for 45 minutes. The Tigers didn't allow themselves to get crushed on the boards — although South Carolina still had a plus-10 rebounding advantage — and they only turned over the ball eight times. Missouri was undermanned and outsized, two areas that could have been devastating. But because of coach Robin Pingeton's game plan, and her team's belief in it and ability to execute in key moments, nothing got to be too much for Missouri to handle.
This was the classic case of a much more talented team letting a huge underdog stay too comfortable and hang around long enough to let the confidence build. Once that happened, even the five-point deficit Missouri faced in overtime wasn't too much to overcome.
Voepel: Missouri showed it had the grit to hang with a top team when the Tigers nearly upset Baylor in Waco, Texas, on Dec. 5, losing 70-68. Hansen missed a shot at the end of that game, but she made the game-winner Thursday.
Hansen started her career at Auburn before transferring to Missouri last year and averaging 6.5 PPG in 2020-21. She has had some big games this season, including a career-high 34 points at Lehigh on Nov. 28. But nothing was bigger than Thursday's game.
It hasn't been an easy last couple of years for the Tigers, who went 9-22 in 2019-20 and 9-13 last season. But behind Blackwell and Hayley Frank, two junior standouts, the Tigers have come around this season. And somehow, even without Blackwell, they toppled No. 1.
Redshirt senior forward Ladazhia Williams had 12 points and 12 rebounds, and was able to do a solid job defensively.
"I told them, 'Let's make sure we empty our tanks, and put our heart out there and just let it all hang out,"' Pingeton said. "When you go for something, you're not playing in fear. You're not stuck in mud. You're just playing."
Will we see a new No. 1 in the Top 25 rankings come Monday?
Creme: We shouldn't. South Carolina is still the best team in the country, and frankly, it isn't close. The Gamecocks' margin for error in holding onto the top spot is significant. Any change at the top of the rankings would be silly. Who would elevate ahead of them? Louisville? The Cardinals have one win against the NET top 25; South Carolina has six. NC State? South Carolina beat the Wolfpack. The same applies to Stanford. I hope the voters will not get caught up in the moment and instead see the season for all it has been so far. The Gamecocks have clearly still earned the right to be tabbed No. 1.
Voepel: I agree with Charlie: I don't think this loss should change South Carolina being No. 1, but voters might feel like they have to move them off the top spot. I think even the Tigers would say that nine out of 10 times, the Gamecocks would have taken this one. But that's not what happened.
Is there some good to it for South Carolina? I think so. The Gamecocks will be irritated by this loss in a good way. They can watch film and see how they let the Tigers get to the basket too much, didn't force enough turnovers to get into transition and got off to a slow start. Those are things they can work on.
South Carolina has been the heavy favorite this season. How does Thursday's result change the national championship race?
Creme: I still think South Carolina is the best team, and they remain my favorite to win the national championship.
What Thursday night did show is some South Carolina vulnerability. The Gamecocks are a team built on defense first. When an opponent finds the softness in the Gamecocks' defense, like Missouri did, South Carolina is beatable. The Gamecocks can get away with poor perimeter shooting. That has never been a strength with this group anyway. What Thursday showed is they can't get away without maximum defensive effort AND poor shooting. I would expect that coach Dawn Staley cleans up the lack of defensive intensity pretty quickly.
Voepel: Staley said earlier this season that this is probably the best defensive team she has ever had, considering its depth. But the Gamecocks didn't look that way Thursday. That's fixable.
I don't think anything changes in regard to South Carolina being the national championship favorite, but this loss at least shows teams there is a way to beat the Gamecocks.
For what it's worth from a historical perspective, when South Carolina lost at Missouri on a last-second shot back in February 2017 — the Tigers' Sophie Cunningham made that one — that ended up being the final game the Gamecocks lost that season, as they won the national championship.
Following Missouri's first program win against a top-seeded team, Robin Pingeton breaks down the game-winning play to defeat No. 1 South Carolina in OT, 70-69.
Where do the Gamecocks and Tigers go from here? What's next for each team — and how does this affect the SEC?
Creme: This win helps Missouri far more than it hurts South Carolina. The Gamecocks no longer have an undefeated season to shoot for, but they still have the ability to win the SEC comfortably. I expect South Carolina to regroup. Part of me feels a little sorry for for Ole Miss on Sunday when the Rebels head into Colonial Life Arena.
The Tigers now should have the confidence to know they can play with anyone and should be considered a threat to finish in the SEC's top four. They did this with their best player watching the game on television. When Blackwell is back on the court, the Tigers should feel like the possibilities are endless. Missouri already nearly knocked off Baylor. Now the Tigers have a win over the best team in the country. The NCAA tournament résumé just got a major boost.
Voepel: This was a game where I thought Blackwell would get a national television audience, which she deserves with her talent. Instead, because of COVID-19 protocol, she had to watch on TV, too, but was so excited for her teammates. But Blackwell has the ability to be a WNBA player, and it will be great to see how the Tigers build on this when she's back in the lineup.
It wasn't the only upset on Thursday, either, as another group of Tigers — Kim Mulkey's No. 19 LSU squad — beat No. 13 Georgia on the road. So just one night into SEC season, the league already has had some big moments.
How does Mizzou's win over South Carolina — the current overall No. 1 team in Charlie's latest projection — impact Bracketology?
Creme: With all of those quality wins, South Carolina has built up so much collateral that nothing changes: The Gamecocks remain the No. 1 overall team. As mentioned, the Gamecocks have six wins against the NET top 25. The next-best is Stanford and NC State with three apiece. The margin between South Carolina and the rest of the country was wide. Thursday made it a little smaller, but it is still substantial.
Missouri was a No. 9 seed in last week's bracket projection. When our new projection is posted Friday, this win will take the Tigers to at least a No. 7 seed. The Tigers have steadily climbed the board with their 11-2 start to the season entering Thursday. Much work is still to be done just one game into the SEC season, but the upset of South Carolina, especially under the circumstances, will be a massive boost come selection time.