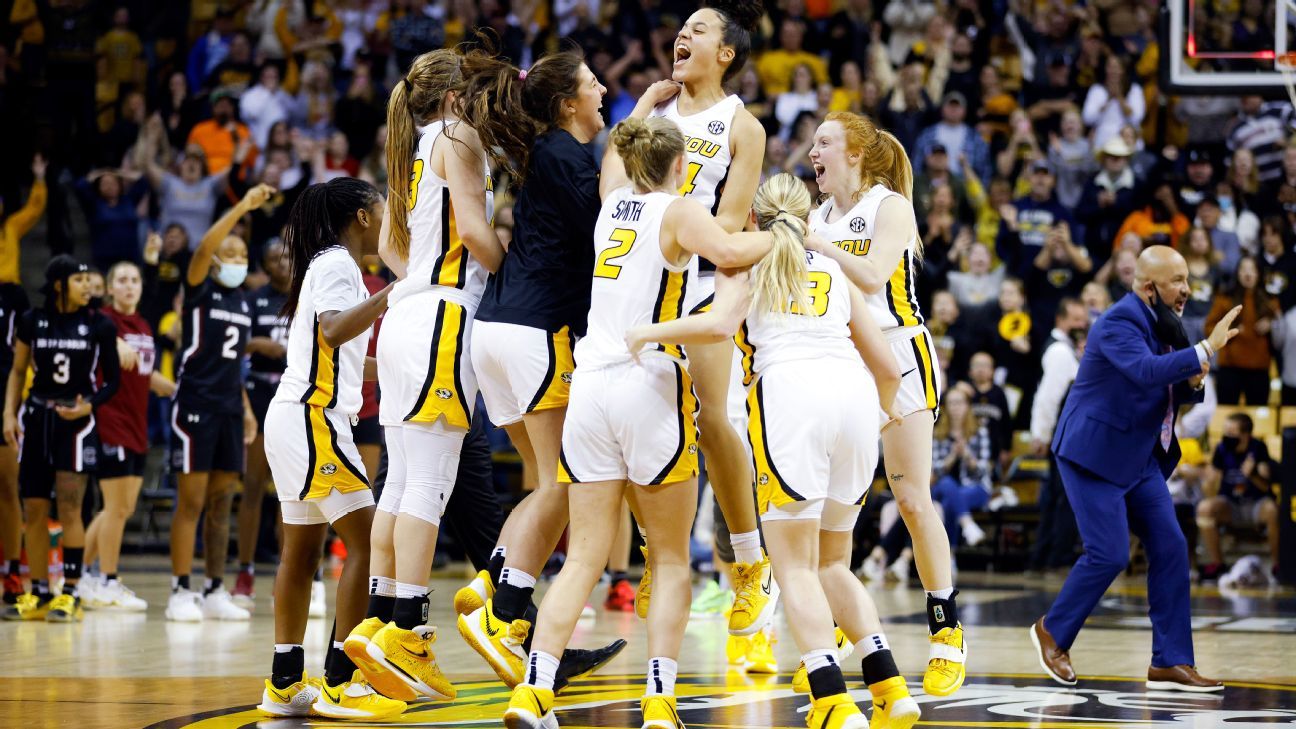 COLUMBIA, Mo. — The top-ranked South Carolina women's basketball team lost its first game of the season, falling 70-69 in overtime at Missouri on Thursday in both schools' SEC opener.
It was the Tigers' first win over a No. 1 team in the Associated Press poll; they previously were 0-8 in such matchups.
The Tigers won despite a limited roster because of COVID-19 protocol. The absent Tigers players included Missouri's leading scorer and rebounder Aijha Blackwell, who averages a double-double (16.6 PPG, 12.7 RPG). Just seven Tigers played Thursday night, led by forward Haley Frank and guard Lauren Hansen with 21 points each.
Hansen hit the game-winning layup with 0.1 of a second left in overtime. The junior came into the game averaging 10.5 PPG. Both teams called timeouts before the final tick of the clock, and the ball was lobbed inside to South Carolina's Aliyah Boston. Her layup went in, but it was after the buzzer and the Tigers and their crowd celebrated.
"Happy New Year!" Mizzou coach Robin Pingeton told the fans at Mizzou Arena. "I've got nothing but respect for Dawn Staley and South Carolina. That is one hell of a great team."
But the Gamecocks (12-1) struggled offensively all game, making just 32.8% of their shots. National player of the year candidate Boston led the Gamecocks with 17 points in 28 minutes.
"We really take a hit when she is not on the floor — 28 minutes is a lot of minutes, but not enough minutes," South Carolina coach Dawn Staley said of Boston. "Our team can learn from this and they listen the most after losses."
Mizzou finished 7-of-15 from 3-point range (46.7%) and shot 43.1% overall from the field.
South Carolina, considered a big favorite to win the SEC, had defeated six ranked opponents in nonconference play, five who were in the top 10 when the Gamecocks faced them: UConn, Stanford, NC State, Maryland and Oregon. They also beat then-No. 15 Duke.
The Gamecocks had not lost since the national semifinals last season when they fell to eventual champion Stanford 66-65 in San Antonio.
Missouri is now 4-8 in its all-time series with the Gamecocks. The Tigers (12-2) nearly knocked off then-No. 5 Baylor, but fell 70-68 on Dec. 4. Missouri's other loss was at in-state rival Missouri State 79-51 on Dec. 10. The Tigers are undefeated at Mizzou Arena this season.