Umar Riaz's documentary film 'Some Lover to Some Beloved' was screened at NAPA on Thursday evening

KARACHI:

It was a houseful. People sitting on the floor, stairs, and even the light room—Thursday evening saw a room full of enthusiasts and literature lovers gather at the National Academy of Performing Arts (Napa) to watch Umar Riaz's documentary Some Lover to Some Beloved; a feature-length film exploring the lives of an actor, Zia Mohyeddin, a poet, Faiz Ahmed Faiz and a scholar, Daud Rahbar and how their shared love for a language tied them together. 
With Urdu as the beloved, they became lovers like never before. The film leaves you with an incredible aftertaste; you walk out thinking what it means to love, to be loved, and the search for it that ties us all together– revolving around the lives of three great minds and their literary affair with one another. 
Ocean waves appear on a large screen paired with an instrumental that simultaneously soothes you and builds urgency on what's to come. The narrator introduces ghazal as a product of the "rare" deeply romantic nature of South Asians and especially those that have experienced the multi-faceted beauty of Urdu language. 
And with that captivating introduction, the screen shifts to the master thespian, actor Mohyeddin. The film walks you through his journey to The Zia Mohyeddin Show and the realms of Pakistani and American television and film. It hints at his personal relationships with all his three wives, and shows glimpses of his professional life as a teacher at the academy.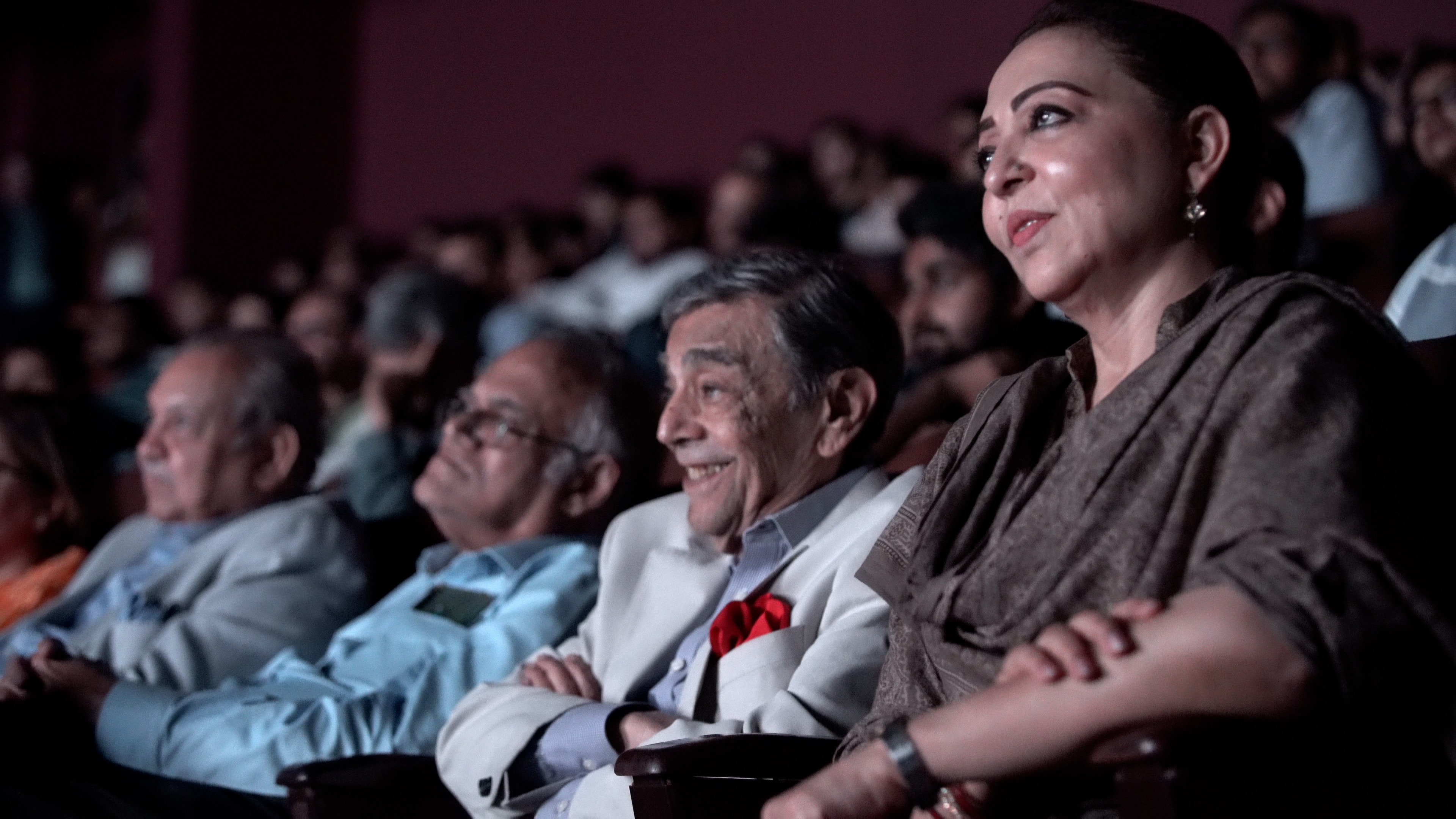 Photo: Murtaza Kaiser, NAPA Karachi
Divided in three parts, it takes its time to unfold each of their lives in the most nuanced ways possible. Whether we talk about loneliness, longing, grief, despair, happiness– every emotion is backed with verses of poetry straight from the treasure Faiz left us with. You cannot, for even a minute, take your eyes off the screen. It's captivating, emotional and in many ways, relatable. 
Home
When asked to describe himself, the 90-year-old actor shares, "I am a man of details, particularities if you may call it. At times I wonder who I am. I am a bundle of contradictions and confusions." He goes on to say, "I was unlike most family men. I didn't give much time at home. I'm not close to my children. They're not close to me. In a sense, I'm a loner." Thinking of traditions and values, he added, "When I look back, some of my values are still the ones inherited from my father that are engraved in me. And yet it's not me." 
When describing a home, he pauses and adds, "At random times of the day, I'd walk in the theatre and if it's empty, that's where I really, really feel at home–provided that no one else is there. I really feel at home there. I imagine these characters I've played, characters I could play, characters I wish to play and I know I never will and that's enough. It's strangely intoxicating."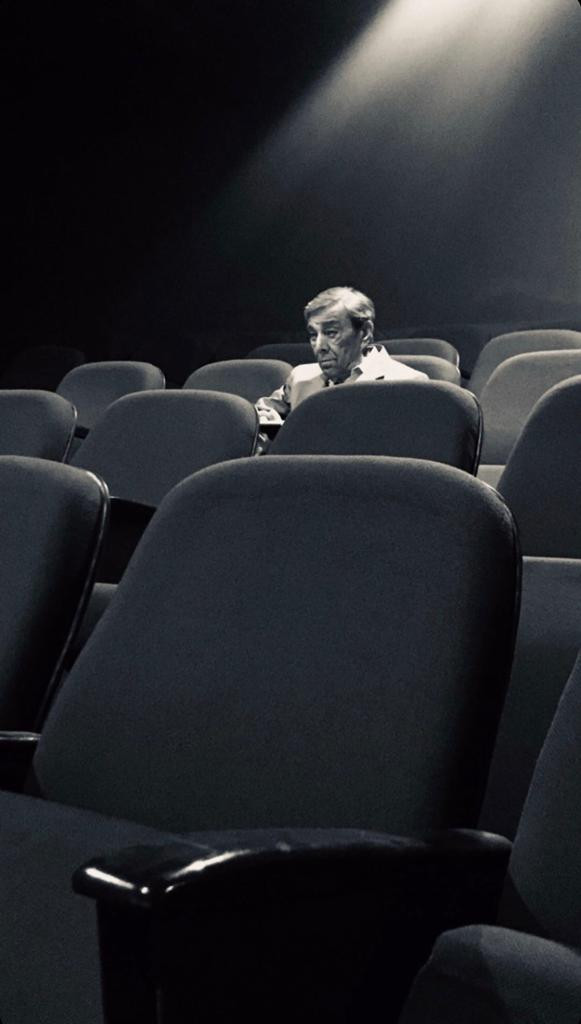 Photo: Mira Sethi/Instagram
The documentary itself is so engaging in a way that it shows Mohyeddin watching interviews of his former wives as well as Faiz's daughters, but it is his reactions and expressions that say more than words ever could. 
All three of his wives lament his perfectionism. "Zia truly works like a machine. He never wore a watch but wanted everything in his day to be on time. Even seconds were crucial for that man. This one time, Monis [their son] saw a stray straw on the carpet. He picked it up and went to the bin, looked at his father, smiled and put it in the bin. Imagine the idiosyncrasies he has for it to be evident in a one-year-old."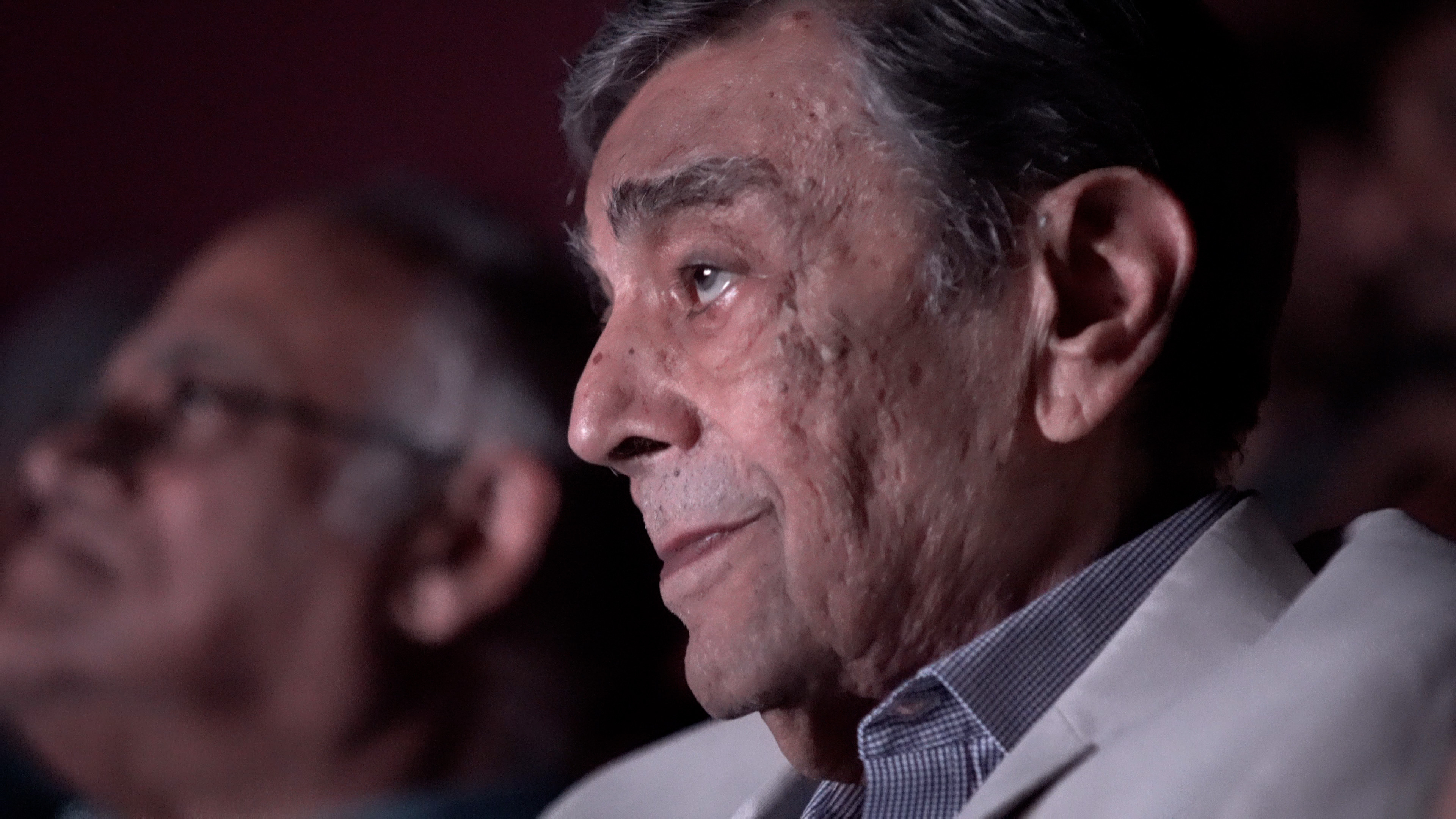 Photo: Murtaza Kaiser, NAPA Karachi
The machine was unfolded and broken down into his many flawed human parts that evening. "As a person, I was never good at coping with situations which, as an actor, I could." 
chalo phir se muskurāyen
chalo phir se dil jalāyen 
With the glimpse of Mohyeddin sahab reading the first verse, the scene shifts to his face watching the same interview with his face in his hands, wiping away the tears that don't seem to stop. 
Soulmate 
"Every creative person craves for a beloved they cannot achieve," echoes Mohyeddin's arresting voice. According to his ex-wife, Sarwar Zemani, Daud Rahbar became his soulmate. Mohyeddin shared that he used to refer to Rahbar as his Guru Dev but Rahbar insisted on eliminating the formality, the difference. "He told me 'If you think of me as a guru then our friendship will go stale.'" 
Rahbar was a Pakistani scholar of comparative religions, Arabic, Persian, Urdu literature and Indian classical music. "I learned a great deal about language from him. However, I disagreed with him on one thing. He believed that real intimacy comes with one's native language. I don't agree with that." Talking about Rahbar's last days, a very distraught Mohyeddin says, "I owe him such a lot. Afsos ki baat yeh hai ke he died in agony. A lot of doors have closed for me since then." 
Regrets 
Mohyeddin holds a reading every New Year's night at the Alhamra Arts Council in Lahore. He has dedicated nights specifically to honour Faiz and has repeatedly revisited his works during those readings. Why, you may ask? "Ishq ho gaya tha zubaan se. I regret that I couldn't do this in his presence." 
Another regret that he holds is how far away today's generation is from their language. "They don't know the correct way to read poetry. The dramatic reading is the height of badmizagi," he says. "Nowadays, if they come close to the language, it's when they visit it like an exotic animal trapped in a zoo. They never take it home with them." 
The year is 2013 and the film nears its end with Mohyeddin taking to the roads in Lahore to spot the Zia Mansion, Faiz's kothi and Daud's house. Looking at the changed landscape of the city, his face echoes disappointment and regret. "I'm ashamed to see it in this way. There used to be fourteen jamun trees right here. They've cut them, only three or four are here," he tells of Daud's residence. 
"Do you want to know what I regret? This [trip down the memory lane)," concludes a teary eyed Mohyeddin. 
Applause
Amidst a loud standing applause, a man, dressed elegantly in a beige suit with a pop of red in the pocket, gracefully walked to the centre of the stage exuding an infectious smile that held way too many emotions. At a loss of words, Mohyeddin concluded, "I watched this film for the first time here and as always, I'm ashamed."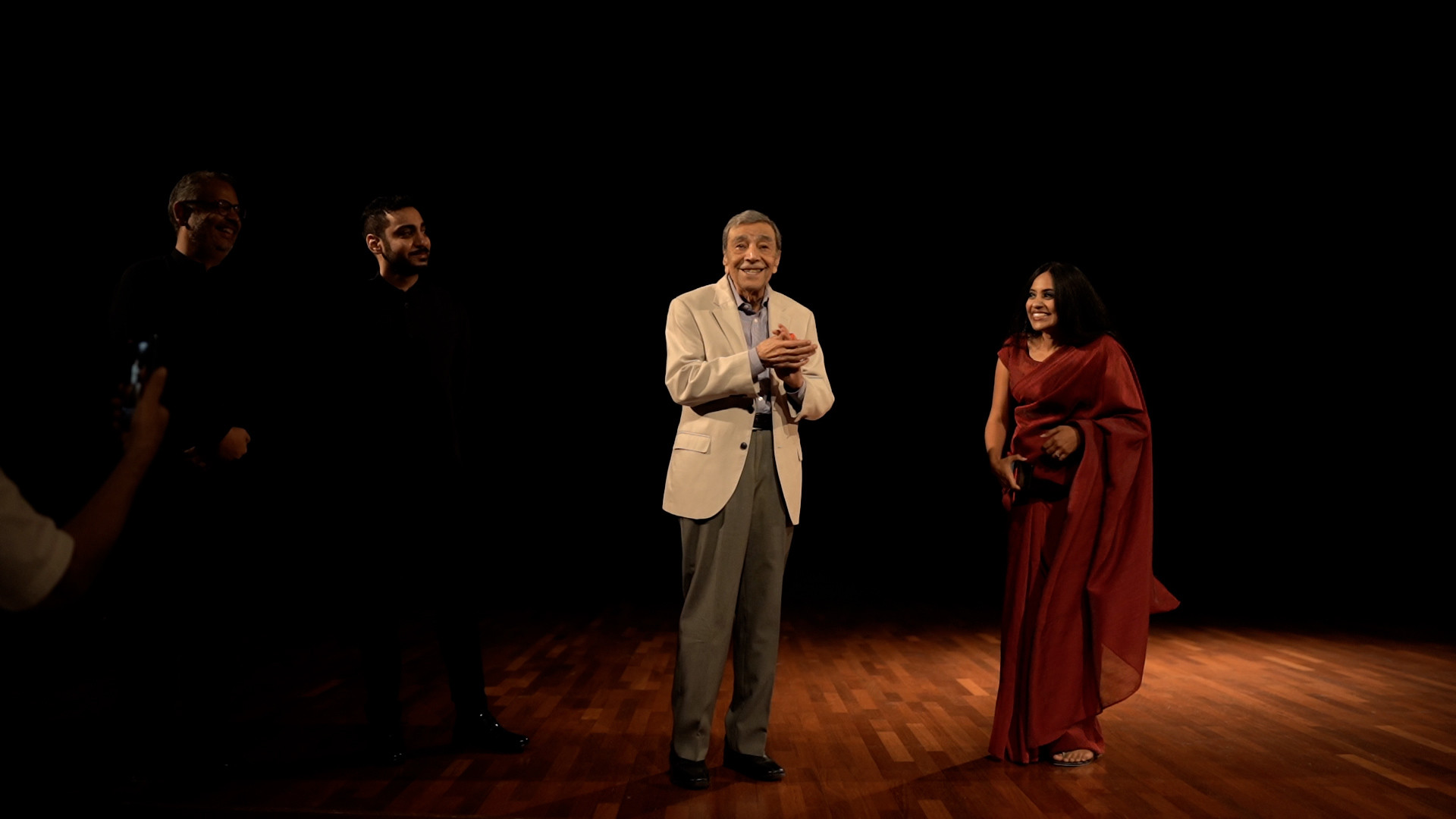 Photo: Murtaza Kaiser, NAPA Karachi
Riaz, the grandnephew of Mohyeddin, created this beautifully heavy film in seven long years. It was scheduled to screen in cinemas a week before the pandemic hit. After several efforts of screening this film, last night was a rewarding experience for Riaz– one that he craves for to happen more. 
Have something to add to the story? Share it in the comments below.