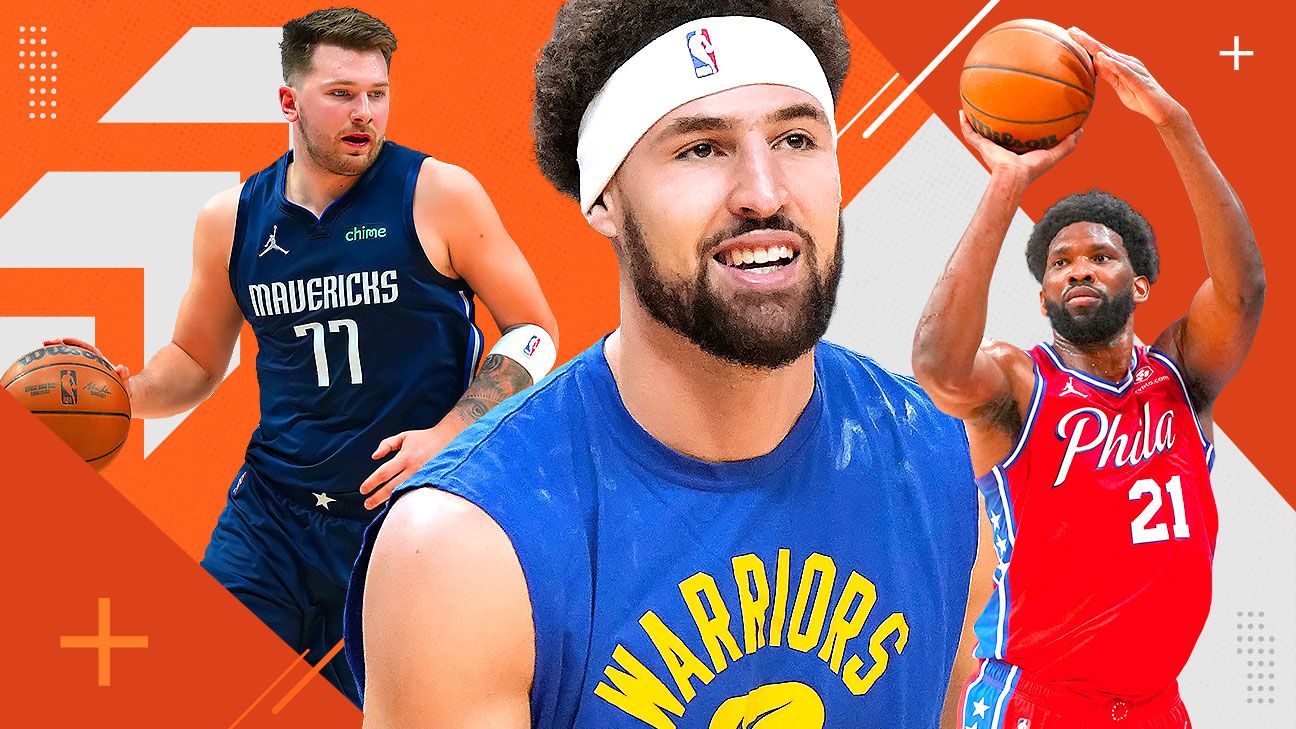 Klay Thompson returned after 941 days away from the court. The Golden State Warriors Splash Brother, who hadn't played in an NBA game since the 2019 Finals due to ACL and Achilles injuries, made his much-anticipated season debut with 17 points in 20 minutes during the Warriors' win over the Cleveland Cavaliers on Sunday.
How dangerous are the Warriors now, as the co-owners of the league's best record and bona fide title contenders return another offensive weapon?
Meanwhile, outside of San Francisco, the Memphis Grizzlies own the league's longest active win streak. The Grizzlies' run now sits at nine games thanks to a win over the Los Angeles Lakers, which included this epic block by Ja Morant.
In the East, the conference-leading Bulls saw their nine-game winning streak snapped Sunday to the Dallas Mavericks. The longest active streaks in the conference now belong to the Philadelphia 76ers and Toronto Raptors, who each take a six-game run into the week.
See where all 30 teams stand now.
Note: Throughout the regular season, our panel (Tim Bontemps, Jamal Collier, Nick Friedell, Andrew Lopez, Tim MacMahon, Dave McMenamin and Ohm Youngmisuk) is ranking all 30 teams from top to bottom, taking stock of which teams are playing the best basketball now and which teams are looking most like title contenders.

1. Golden State Warriors
2021-22 record: 30-9
Previous ranking: 1
After two and a half years, Klay Thompson is back. The former All-Star provided exactly the kind of jolt Steve Kerr & Co. were hoping to see in his return game Sunday night, scoring 17 points in 20 minutes in a win over the Cavs. The Warriors have to hope the good vibes can keep rolling this week during a tough four-game road stretch that includes games against the Grizzlies, Bucks and Bulls. — Friedell
---
2. Phoenix Suns
2021-22 record: 30-9
Previous ranking: 2
Since his return from a hamstring injury on Dec. 19, Devin Booker's field goal percentage has taken a dip. He's shooting 40.8% overall in his past 11 games, but his 3-point percentage has gone up in that time. He was shooting 40.3% in his first 21 games and he's up to 42.0% in his past 11. His 41.0% overall mark for the season would be a career high, besting his mark of 38.3% from 2017-18 and a big jump from the 34.0% he shot from deep last season. — Lopez
---
3. Chicago Bulls
2021-22 record: 26-11
Previous ranking: 3
The Bulls lost for the first time since Dec. 11 on Sunday night, snapping their nine-game streak. They are about to be tested this week, when they host two of the top teams in the NBA: First up is a matchup with the Nets on Wednesday night followed by a meeting with the Warriors on Friday. The Bulls are 2-0 against Brooklyn this season, but dropped their lone meeting with Golden State earlier in the season. — Collier
---
4. Utah Jazz
2021-22 record: 28-12
Previous ranking: 4
The Jazz had been the only team in the league that hadn't been hit by COVID-19 this season, but Utah is in the midst of an outbreak with four players currently in health and safety protocols, including perennial All-Star center Rudy Gobert. Hassan Whiteside has thrived as Gobert's backup, but the Jazz are 0-2 with Whiteside in the starting lineup, and Saturday's loss in Indiana was an especially disappointing defensive performance. — MacMahon
---
5. Memphis Grizzlies
2021-22 record: 28-14
Previous ranking: 8
Nobody has played better than the Grizzlies over the past six weeks. Memphis has won 19 of 23, racking up the most wins in the league during that stretch, and has a net rating (plus-13.1) that is almost four points better than that of any other team. For all the flash of Ja Morant's many high-flying highlights, the foundation of the Grizzlies' success has been the NBA's stingiest defense in that six-week span (101.8 points per 100 possessions). — MacMahon
---
6. Milwaukee Bucks
2021-22 record: 26-16
Previous ranking: 5
If Milwaukee's path back to the NBA Finals is likely to include another series with the Brooklyn Nets, then the Bucks have to be encouraged by their first two meetings this season. The Bucks are 2-0 against the Nets, with victories on opening night in Milwaukee and last week in Brooklyn. Winning by an average of 18 points per game is a reminder that the path to winning the Eastern Conference still goes through them. — Collier
---
7. Miami Heat
2021-22 record: 25-15
Previous ranking: 7
Tyler Herro and Duncan Robinson combined for 60 points in Saturday's win over the Suns, as Miami rattled off its second straight win to cap its West Coast swing. With Jimmy Butler still dealing with an ankle injury, the Heat have a nice break until Wednesday's game against the Hawks to get in some rest and rehab. — Friedell
---
8. Brooklyn Nets
2021-22 record: 25-13
Previous ranking: 6
Brooklyn may have Kyrie Irving back, but something's not right with the Nets. They've lost four of their past six, with only a big fourth-quarter comeback against Indiana and a near collapse against San Antonio separating them from a six-game losing streak. There's obviously plenty of time to get it right, but this is not the version of the Nets the world expected to see this season. — Bontemps
---
9. Philadelphia 76ers
2021-22 record: 22-16
Previous ranking: 9
Philadelphia is 19-8 with Joel Embiid in the lineup this season, and 3-8 without him. With a month to go until the trade deadline, the question remains for the 76ers: Will Ben Simmons be traded by the deadline, giving Embiid some reinforcements for the stretch run and the playoffs, or will this saga drag on until the summer? — Bontemps
---
10. Dallas Mavericks
2021-22 record: 22-18
Previous ranking: 16
The Mavs' season-best six-game win streak features convincing victories over the Warriors and Bulls. Dallas has held five of its six opponents under 100 points during the streak, when the Mavs are allowing only 93.0 points per game. Dallas has jumped to fifth in the league in defensive efficiency (107.1). — MacMahon
---
11. Cleveland Cavaliers
2021-22 record: 22-18
Previous ranking: 10
Cleveland lost for the fifth time in its past seven games in Klay Thompson's return game for the Golden State Warriors on Sunday. New Cavs guard Rajon Rondo has made an immediate impact, however, averaging 13 points, 4 rebounds and 4 assists in his first two games with the franchise. — McMenamin
---
12. Denver Nuggets
2021-22 record: 20-18
Previous ranking: 11
Even with Michael Malone in health and safety protocols and Jamal Murray and Michael Porter Jr. out, the Nuggets won on Sunday for the fifth time in seven games. Nikola Jokic continues his MVP tear. He has averaged 25.7 points and 16.7 rebounds in those seven games, despite defenses throwing what they can at the MVP. The Nuggets are trading Bol Bol to Detroit for Rodney McGruder and could sign DeMarcus Cousins to a 10-day soon to try to give Jokic a little more help. Denver's next six games are against the Clippers twice, Blazers, Lakers, Jazz and Grizzlies, so they could find out where they stand in the West even more during this stretch. — Youngmisuk
---
13. Los Angeles Lakers
2021-22 record: 21-20
Previous ranking: 14
The Lakers won four in a row against four teams that are a combined 24 games under .500, then fell down by as many as 29 in Sunday's loss to a Grizzlies team that's 14 games over .500. With L.A. set to play a back-loaded schedule full of similarly tough opponents, Russell Westbrook was asked what the Lakers have to do to compete in those games. "I don't have the answer to that one," he said. — McMenamin
---
14. Toronto Raptors
2021-22 record: 20-17
Previous ranking: 18
That the Raptors, winners of six straight, are now three games over .500 when their best three players — Fred VanVleet, OG Anunoby and Pascal Siakam — have played only nine games together is a sign of their upside if they can keep their team healthy over the second half of the season. — Bontemps
---
15. Charlotte Hornets
2021-22 record: 21-19
Previous ranking: 13
Charlotte continues to prove that it can score with anybody — as evidenced by the 254 combined points scored in two straight wins over the Pistons and Bucks. In those wins, Terry Rozier tallied 44 points, 10 assists and 7 rebounds. The larger issue for the Hornets remains the same: Can they defend at a high enough level? Over their first four games this month, the group has given up an average of 118.5 points per game. — Friedell
---
16. Minnesota Timberwolves
2021-22 record: 20-20
Previous ranking: 19
Although Timberwolves guard D'Angelo Russell has posted a career-low shooting percentage from the field (39.3) and is shooting several points below his career average from 3 (33.7% compared to 35.8% in his career), Minnesota has undoubtedly benefited from having him on the floor this season, outscoring opponents by 16.7 points per 100 possessions with Russell on the floor. The Timberwolves are 17-12 when he plays and 2-8 this season when he sits. — Collier
---
17. LA Clippers
2021-22 record: 20-21
Previous ranking: 12
The Clippers spoiled Lou Williams' return and got a much-needed victory over the Hawks on Sunday. It halted some of the bleeding that saw the Clippers go through a stretch in which they lost nine of 12 games. The Clippers are slowly getting some bodies back. Besides getting Lue back on the bench from health and safety protocols last week, Ivica Zubac was cleared from protocols, while Nicolas Batum also was able to make his way back from injury. But with Paul George (elbow), Luke Kennard (protocols) and Isaiah Hartenstein (ankle) still out, Lue has his work cut out to keep the Clippers from sinking further out of the playoff race. — Youngmisuk
---
18. Washington Wizards
2021-22 record: 20-20
Previous ranking: 15
Washington continues to play .500 ball, but reinforcements are here. Rui Hachimura is finally back after missing nearly half the season due to personal reasons. Montrezl Harrell is out of health and safety protocols and Thomas Bryant is nearing a return. Kyle Kuzma also is playing some of the best basketball of his career, fresh off a 27-point, 22-rebound effort to help Washington win at Orlando. At 20-20, Washington hovers around a playoff spot, currently at ninth in the East. — Youngmisuk
---

19. Boston Celtics
2021-22 record: 19-21
Previous ranking: 17
Boston continues to underwhelm and has been unable to get its offense going consistently no matter what combination of players has been available this season. One possible sign for optimism, however, is that the team has its core healthy for an extended stretch for the first time this season. — Bontemps
---
20. New York Knicks
2021-22 record: 19-21
Previous ranking: 21
New York has managed to go 7-5 in its past 12 games despite a rash of COVID-19 cases and injuries, including missing Kemba Walker, Evan Fournier and Derrick Rose for Saturday's loss in Boston. For the Knicks to take any further steps forward, however, they'll need RJ Barrett and Julius Randle to start shooting closer to what they did last season, when they were over 40% from 3-point range, as opposed to the low 30s they find themselves at this season. — Bontemps
---
21. Atlanta Hawks
2021-22 record: 17-22
Previous ranking: 20
On Jan. 3, Trae Young had 56 points and 14 assists in a loss to the Trail Blazers. His 14 assists were the most in any 55-plus-point game in NBA history. He also became the third-youngest player in NBA history (23 years, 106 days) to have a 50-point, 10-assist game, behind Kevin Porter (20 years, 360 days in 2001) and LeBron James (23 years, 66 days in 2008). — Lopez
---
22. San Antonio Spurs
2021-22 record: 15-24
Previous ranking: 22
Dejounte Murray missed five games for San Antonio due to the league's health and safety protocols and reconditioning. As soon as he was back in the starting lineup, the Spurs snapped a four-game losing streak. In three games since his return, Murray is averaging 22.7 points, 11 assists, 7.7 rebounds and 2.7 steals per game. — Lopez
---
23. Sacramento Kings
2021-22 record: 16-26
Previous ranking: 23
Sacramento dropped its fourth straight to fall 10 games below .500, getting blown out by Portland on Sunday. The Kings were 6-11 when head coach Luke Walton was fired and have gone 10-15 since. — McMenamin
---

24. Indiana Pacers
2021-22 record: 15-25
Previous ranking: 24
Lance Stephenson had a triumphant return to Indiana this week in his third career stint with the Pacers and first games with the franchise since 2018. In four games, he averaged 14.3 points and six assists on 55.8% shooting, including a 30-point game off the bench on Wednesday against Brooklyn, helping inject some life into Pacers fans with whom he long ago formed a special connection. — Collier
---
25. Portland Trail Blazers
2021-22 record: 15-24
Previous ranking: 25
Already without Damian Lillard (abdomen) and CJ McCollum, the Blazers lost Norman Powell to health and safety protocols. But Anfernee Simons scored 31 points to help Portland beat Sacramento and at least give the Blazers something to feel good about. Portland entered Sunday having lost 16 of its previous 21 games. After a home game against the Nets and a fresh Kyrie Irving, the Blazers hit the road for six straight. It will continue to be the Simons show if Lillard and McCollum don't return anytime soon. — Youngmisuk
---
26. New Orleans Pelicans
2021-22 record: 14-25
Previous ranking: 26
Josh Hart has scored in double figures in 12 consecutive games, the longest streak of his career. His previous high was nine, when he was with the Lakers, and his previous best with New Orleans was just four games. In those 12 games, Hart is averaging 15.8 points, 9.2 rebounds and 5.3 assists while shooting 55.4% from the field and 35.6% from deep. — Lopez
---
27. Oklahoma City Thunder
2021-22 record: 13-26
Previous ranking: 27
The Thunder are 0-for-2022, losing all four games in January, but rookie Josh Giddey has been quite a bright spot. Giddey is averaging 12.8 points, 10.0 rebounds and 8.3 assists during the four-game losing streak. For the season, the teenager leads all rookies in assists (6.4 per game), is third in rebounds (7.5) and is eighth in scoring (11.1). — MacMahon
---
28. Houston Rockets
2021-22 record: 11-30
Previous ranking: 28
The Rockets are 3-14 since their stunning seven-game winning streak was snapped. Houston's defense has been especially horrific during that span, as the Rockets have allowed 122.8 points per 100 possessions, the primary reason that 11 of the 14 losses have been by double-digit margins. — MacMahon
---

29. Detroit Pistons
2021-22 record: 8-30
Previous ranking: 30
A roller-coaster week for the Pistons began with an upset victory over the defending champion Milwaukee Bucks, back-to-back blowout losses to Charlotte and Memphis by a combined 59 points, and a victory over the Magic in a matchup of the league's two worst teams. — Collier
---
30. Orlando Magic
2021-22 record: 7-34
Previous ranking: 29
Orlando has lost nine in a row and is struggling to find any rhythm at all. A small bright spot? Gary Harris is averaging 20 points per game over his first five contests of 2022. — Friedell