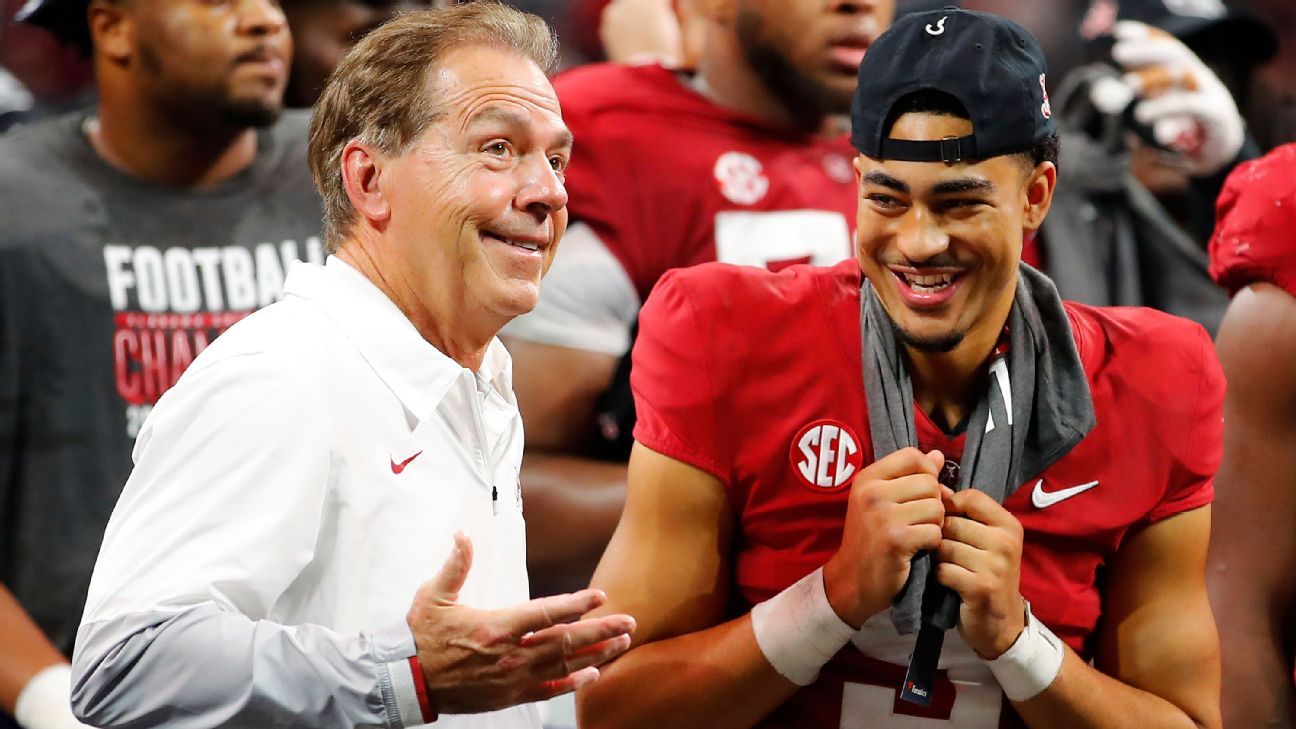 "The greatest trick the devil ever pulled was convincing the world he didn't exist." – Keyser Soze
"The rat poison you put out there this week was yummy." – Nick Saban
Imagine, an entire college football world, spending a week assuming Nick Saban was done. Imagine Saban's glee listening to all that doubt.
So, here we are, Alabama inexplicably cast in the role of David, slaying a Goliath whose entire history pointed to exactly this outcome. It was Saban's greatest trick, and he lapped up that rat poison like it was Dreamland's dry rub. Bryce Young threw four touchdowns, and Alabama dominated Georgia 41-24 — and all the things we assumed we understood about college football in 2021 were erased by the man who pretty much always authors the final narrative.
We'll call it an upset. But this is Alabama. This is Saban. It was deus ex machina, a relentless force lulling us into a comfortable sleep before it struck with righteous fury.
It's as if the entire season was scripted to bring us here, to the twist ending we should've seen coming. It was Bruce Willis' ghost, a sled named Rosebud, a coach playing the part of humbled loser, when he was clearly Keyser Soze all along.
Think of the nearly ceaseless carousel of surprises in 2021. Clemson slumped. Oklahoma swapped QBs, lost two games, then lost its coach. Both Michigan, which beat Iowa for the Big Ten title on Saturday, and Cincinnati, which thwarted Houston in the AAC championship game, are in line for playoff berths, while their hated neighbor, Ohio State, watches from home. (Or, you know, Pasadena. Not a bad consolation prize.) It was a year in which top-10 teams lost on a nearly weekly basis, when unranked foes knocked off heavy favorites so frequently the AP poll should've installed a revolving door. This season was so full of the ridiculously sublime that Kansas beating Texas wasn't even the funniest thing to happen to the Longhorns in 2021.
And so, of course, we assumed things would be different for Alabama too.
Fools. All of us.
They say there are only two certainties in life: death and taxes. But a good accountant can get you out of a hefty tax bill, and there's at least a 5% chance Elon Musk will figure out a formula for immortality. Nick Saban in the College Football Playoff though? That's etched in stone.
Oh, it's not as if we didn't have good reason to doubt him. Georgia had dominated all comers this year. The Bulldogs' defense surrendered just eight touchdowns in the regular season. The Bulldogs weren't just the No. 1 team in the country; they were the leader by a mile. Kirby Smart was just killing time until he could hoist a trophy. But Georgia fans have seen this movie before. Deep down, they must have known the ending.
This Alabama team was so — well, un-Bama. There was the loss to unranked Texas A&M. There were myriad close calls, the narrow escapes against the likes of Florida and LSU and Arkansas. Just a week ago, the Tide's O-line was devoured by Auburn, and only a miracle drive led by Young saved them from a second defeat. (Well, Young's drive and Bryan Harsin's indefensible decision not to go for two in overtime.) This Alabama team was more Harry Houdini than David Copperfield — all escape acts and few grand spectacles. But Saban tried to warn us — tried to tell the self-absorbed masses how dumb they sounded complaining about close wins. Deep down, we must have known the ending too.
It wasn't as if Saturday didn't provide us with other drama.
Baylor survived the Big 12 title game after a historic goal-line stand. It was a gut punch for Oklahoma State, which ran 17 plays inside the Bears' 10 in the game and came away with just one touchdown. The loss knocked the Cowboys out of the playoff conversation, and while Baylor's pitch to the committee is a good one — three quality wins, revenge against one of the teams it lost to — Alabama's victory makes it nearly impossible to envision a path for a two-loss team to make the top four.
Cincinnati endured a month of criticism for its own close wins, only Luke Fickell never offered a Saban-esque retort. Instead, the Bearcats turned on the afterburners down the stretch, beating SMU, ECU and, on Saturday, Houston — all by double digits. And perhaps Cincinnati could've been the signature storyline of this year's playoff, the first Group of 5 team to make the cut. But alas, there's no overshadowing Alabama, the team the Bearcats are most likely to see in the College Football Playoff semifinal.
A year ago, Jim Harbaugh was on the outs. Michigan fans wanted a change after a dismal 2-4 campaign. The lone bright spot from 2020 was that the annual drubbing by Ohio State was canceled due to COVID-19. But Harbaugh stuck around, built a championship foundation on defense and hard-nosed running, and, in the process, rose from the ashes — a phoenix in pleated pants. Michigan dominated Iowa in the Big Ten championship game, 42-3, ruining what might've been a nice little Saturday at Home Depot and the feed store for Hawkeyes fans forced, instead, to witness the Wolverines' defense toy with Iowa's inept O like a cat swatting a mouse. Harbaugh might be coach of the year, but that's not the type of trophy Saban is looking to add to his case.
Over the next 3½ weeks, we'll talk about the playoff, and that conversation will rightfully begin with Alabama. But we're gluttons for punishment, and so we'll build a case for why Michigan's pass-rushing tandem can be the ultimate Bryce Young antidote — or tell a Cinderella tale for Cincinnati or, perhaps, a revenge fantasy for those beleaguered Bulldogs. We'll have to do this because we don't want to admit we already know the ending.
So, go ahead and dream. Dream of all the ways this won't be Nick Saban's year — again.
It's important to have hope. Just know that Saban thinks every ounce of it tastes absolutely delicious.
The year of the turnaround
Saturday's championship game slate started with a win by Northern Illinois to take the MAC title. Baylor followed that with a stunner against Oklahoma State to secure the Big 12 championship. Then it was Utah State's turn; the Aggies dominated San Diego State to win the Mountain West. Michigan topped it all off with a victory in the Big Ten title game.
What do all those conference champions have in common? They were all terrible last year.
NIU went from 0-6 to 9-4. Baylor went from 2-7 to 11-2. Utah State jumped from 1-5 to 10-3. And Michigan went from a miserable 2-4 to 13-1 and a likely playoff berth.
Chalk it up to the wild impacts of COVID-19, which created havoc for first-year coach Dave Aranda at Baylor; to better health, like Aidan Hutchinson's return from a season-ending injury at Michigan; or to a smart coaching hire, as Blake Anderson turned around Utah State.
Whatever the magic formula was, when you add it all up, it's a combined improvement of 38 wins between them.
Kenny Heisman
Bryce Young might have wrapped up the Heisman Trophy with his astounding performance against Georgia (421 yards, three TDs), but Pitt's Kenny Pickett certainly deserves a spot among the finalists when the award is presented.
Pickett finished Saturday's 45-21 win over Wake Forest with 253 passing yards and three total touchdowns — bringing his season total to 47.
Pickett — now in either his fifth or 50th season at Pitt — opened the ACC championship game with a savvy veteran move, faking a slide before running 58 yards.
Kenny Pickett fools the Wake Forest defense and takes it 58 yards for Pittsburgh's opening TD.
He followed that with two touchdown passes that pushed him ahead of Dan Marino for the most in school history (80) and then Deshaun Watson for the most in a single season in ACC history (43).
Not bad for a day's work.
As opposed to Young's heroics in each of the past three weeks for Alabama, Pickett's season lacked a true Heisman moment. But even in the Panthers' two losses, Pickett was brilliant, throwing six TDs against Western Michigan and racking up 519 passing yards against Miami. Moreover, Pickett never had a genuinely bad game. He finished with less than 300 yards of total offense just twice in the regular season — both in easy wins when Pitt spent the bulk of the second half running down the clock — and his total on Saturday was only limited by a few big sacks and Pitt's dominant second-half defense.
In other years, that consistency might be enough to win the award. In 2021, it'll likely have to be enough for Pickett to know he bested Marino and Watson and won Pitt's first outright conference title in program history and that he will get a chance to play in a New Year's Six bowl — and also that he has arguably the best hair in the sport, which, if we're being honest, is far more impressive than a Heisman.
A Rising star
Utah wrapped up the Pac-12 title by squashing Oregon Ducks for the second time in three weeks on Friday, and the Utes will head to the Rose Bowl as arguably the hottest team in the country. The biggest reason: QB Cameron Rising.
Utah opened the season with Baylor transfer Charlie Brewer at QB, and it didn't go well. After beating Weber State in the opener, the Utes dropped games at BYU and San Diego State. Brewer was benched midway through the loss to the Aztecs, and Rising finished the game with three TD passes in a comeback that fell just short.
What might have been if Rising had been on the field all along?
Utah is 8-1 in Rising's starts, and he has racked up 23 touchdowns and five picks.
Credit to Brewer, whose departure seems to have inspired both Baylor and Utah to New Year's Six appearances. It's rare someone leaving generates so much happiness outside of Florida head coaches.
Rising has 18 touchdown passes this season, with a bowl game yet to be played. At Utah, that's an impressive tally. No Utes QB has topped 20 in a year since 2008 — which just so happens to also be the last year Utah played in a BCS or New Year's Six bowl and the last time it finished ranked in the top 10.
Napier goes out a winner
Billy Napier is off to Florida, where a battered Gators team and — if history is any indication — a hefty buyout in three years await. But before he departed Louisiana, he left the Ragin' Cajuns with one last milestone win.
Emani Bailey ran for 117 yards and a touchdown, and in what has to be at least his 11th season at Louisiana, quarterback Levi Lewis had a TD through the air and one on the ground, as the Ragin' Cajuns toppled Appalachian State in the Sun Belt title game.
Napier finished his run at Louisiana with 29 wins in his last 32 games, but this marked his first Sun Belt championship after losing to App State in the 2019 title game and seeing last year's championship tilt nixed due to the coronavirus. Indeed, this was Louisiana's first outright conference title in school history. It's a heck of a parting gift.
Napier now moves on to Florida, and his tenure there will invariably be compared to Brian Kelly's at LSU, the in-state school that eschewed hiring the local guy in favor of a coach who is occasionally ragin' but most certainly not Cajun.
Analyzing the playoff hopefuls
The eighth College Football Playoff is upon us, but before we find out what Gary Barta and the rest of the gang decide, let's dig in on each of the contenders and get some insight from new LSU coach Brian Kelly, who was gracious enough to take some time out of his busy schedule getting acclimated in his new home.
Alabama Crimson Tide (12-1)
Championship Week result: People doubted Nick Saban. That was a bad idea. Saban's Crimson Tide demolished the once-indestructible Georgia defense, reminding the entire world that this sport belongs to Alabama, and if there's ever any doubt, that's just Saban toying with all of us.
Playoff pitch: Alabama doesn't need to state its case. In fact, the Tide would like the committee to simply give them a first-round bye.
Kelly's take: "Dadgum, that Bryce Young is spicier than my mama's crawdaddy gumbo. Hoo boy."

Georgia Bulldogs (12-1)
Championship Week result: Like all the other big games against Alabama, only this time the Tide didn't have to go to a backup QB to win it. Somehow, that feels worse.
Playoff pitch: Georgia has been at the top of the heap all year, and one bad game against Saban certainly shouldn't overshadow that. And so what if it might set up an inevitable rematch with the Tide in the national championship. How dramatic a storyline would it be for the Dawgs to get revenge on an even bigger stage? On the other hand, how much more suffering can UGA fans be expected to endure if they don't?
Kelly's take: "Allow me to echo the cries of my ancestors and simply say: South-Eastern-Conference! South-Eastern-Conference! Am I doing that right?"
Michigan Wolverines 12-1
Championship Week result: Demolished Iowa 42-3, making the Hawkeyes wonder if they might've been better served punting on first down.
Playoff pitch: It will make Ohio State fans really mad. Sure, Michigan would like to win a national title and all, but really, this is about inflicting pain on Ohio State.
Kelly's take: "I just can't respect a coach who wears khakis. For me, it's swamp waders or nothin'."
Notre Dame Fighting Irish (11-1)
Championship Week result: Due to a previous engagement, Notre Dame was unable to attend Championship Week. It sends its sincerest regrets.
Playoff pitch: Notre Dame didn't lose to a Power 5 team all season. No follow-up questions, please.
Kelly's take: "Well, sir, I'll tell ya what my old grandpappy told me when he came home from a yearlong stretch out on the oil rig: 'I'm married to the sea now, and you just bring back too many hard memories.'"
Cincinnati Bearcats (13-0)
Championship Week result: Desmond Ridder threw three touchdowns, Jerome Ford ran for 187 yards and the Bearcats' defense held Houston in check after the first quarter. Combined with Georgia's loss to Alabama, the win means Cincinnati is the last remaining undefeated team in the country.
Playoff pitch: Cincinnati hasn't lost a regular-season game in two years. Saturday's impressive win over Houston only cemented the Bearcats' status as a legitimate playoff conten… you're already writing in "Notre Dame" aren't you?
Kelly's take: "I do love me some of that Skyline jambalaya they got up in them parts. Down here, when I asked them to serve my jambalaya over a nice linguini, they done laughed in my face."
Baylor Bears (11-2)
Championship Week result: Beat Oklahoma State 21-16, pulling off a dramatic goal-line stand to secure the win. Oh, and they did it without their starting QB.
Playoff pitch: Baylor has three wins over top-15 teams. It avenged one of its two losses by beating the Cowboys on Saturday. And seriously, do you really want to put two SEC teams in?
Kelly's take: "This Dave Aranda fella used to coach right here in the great state of Lou-zee-anna but then went and skedaddled over to Baylor, quittin' on his team. Why, I find that just reprehensible."
Ohio State Buckeyes (10-2)
Championship Week result: OK, so the loss to Michigan knocked Ohio State out of the Big Ten title game. But if the Buckeyes had won, Michigan might've parted ways with Jim Harbaugh, and nobody at Ohio State wanted that. So, the loss was really just a three-dimensional chess maneuver aimed at preserving future dominance of the conference.
Playoff pitch: There isn't a team in America with more quality losses than the Buckeyes.
Kelly's take: "Now, I know they done lost to Michigan, but I do declare that offense is sweeter than the sweetest beignets in the Quarter."
LSU Tigers (6-6)
Championship Week result: LSU beat the team (Texas A&M) that beat Alabama, which, based on the "Kevin Bacon Rule," means the Tigers are essentially SEC runners-up.
Playoff pitch: Kelly struggled to bring his assistants with him from Notre Dame, but he should be able to at least bring the 11-1 record. Besides, if Kelly could win 11 games without SEC athletes, imagine what he is capable of with this team in a playoff? And even that lone loss shouldn't count here, since no SEC team would ever lose at home to Cincinnati (because it would never schedule Cincinnati).
Kelly's take: "Leavin' the Tigers out of the playoff would be like leavin' the peanuts out of a Coca-Cola. Heck, they oughta spell it P-L-A-Y-E-A-U-X-F-F. Go Tigers. Uh, I mean, Ti-gerrrs. Ti-guss? Dang it. I've been listening to old Orgeron news conferences while I'm on the treadmill. I'll get it eventually."
Heisman Five
As a Heisman voter, we're prohibited from revealing our final ballots, but we'll be taking a long look at a whole host of contenders, from the defensive standouts like Will Anderson Jr., Aidan Hutchinson and Jordan Davis to the top QBs such as Bryce Young, Kenny Pickett and Matt Corral to even some dark horses like Western Kentucky's Bailey Zappe. But for now, let's honor some other heroes of 2021 with our Animal Heisman Five.
1. The Pole Assassin's Monkey
In a year filled with unlikely storylines — from shocking upsets to big-name coaches changing teams — nothing tops the Texas monkey situation. And, of course, this was the last bite anyone at Texas showed this season.
2. The Miami cat
The best catch from Week 2 of college football didn't happen on the field – but in the stands – as a cat found itself hanging from a balcony at Hard Rock Stadium.
Ironic that the same school that saved a falling cat has left Manny Diaz hanging.
3. The Arizona State fox
A fox runs onto the field and flees into the tunnel during Arizona State's game vs. USC.
The fox actually ended up higher on draft boards than Jayden Daniels after this season. The New York Jets continue to scout it.
4. The Louisville dog
A fan's dog in the stands gets up in excitement as Malik Cunningham rushes in to score a 1-yard touchdown for Louisville.
Shockingly, the dog didn't put Malik Cunningham on his All-ACC ballot. Everyone's a Kenny Pickett fan.
5. Mission II
#MACtion pic.twitter.com/V8ukkd8mXk

— Bryan Fischer (@BryanDFischer) December 4, 2021
We were holding this spot for Uga X, but Bryce Young pulled the upset, so congrats to the Northern Illinois mascot. Not since Jordan Lynch has NIU crashed a Heisman party like this.
Under-the-radar play of the week
We will not tolerate any Matt Araiza slander here, but this play — was not good. Given Araiza's epic leg strength, however, we should all just be happy that the poor San Diego State blocker survived being hit by one of his punts.
San Diego State punter Matt Araiza kicks the ball off a teammate, and the ball bounces out the back of the end zone for a safety.
Under-the-radar game of the week
In the second round of the FCS playoff, Kennesaw State appeared poised to advance with ease, holding a 31-17 lead over East Tennessee State with just 5:02 to go. But the Buccaneers (gotta love landlocked pirates) marched 78 yards on 13 plays for a late touchdown, bringing the score to 31-24 with just 88 seconds remaining. ETSU then recovered an onside kick, scored again on a third-and-goal play and converted a 2-point try when QB Tyler Riddell connected with Nate Adkins to win 32-31. At least Kennesaw State had roughly nine hours of I-75 traffic to sit and think about what happened on the bus ride home.
ETSU overcomes a 14-point deficit with under two minutes left to stun Kennesaw State and advance in the FCS playoffs.