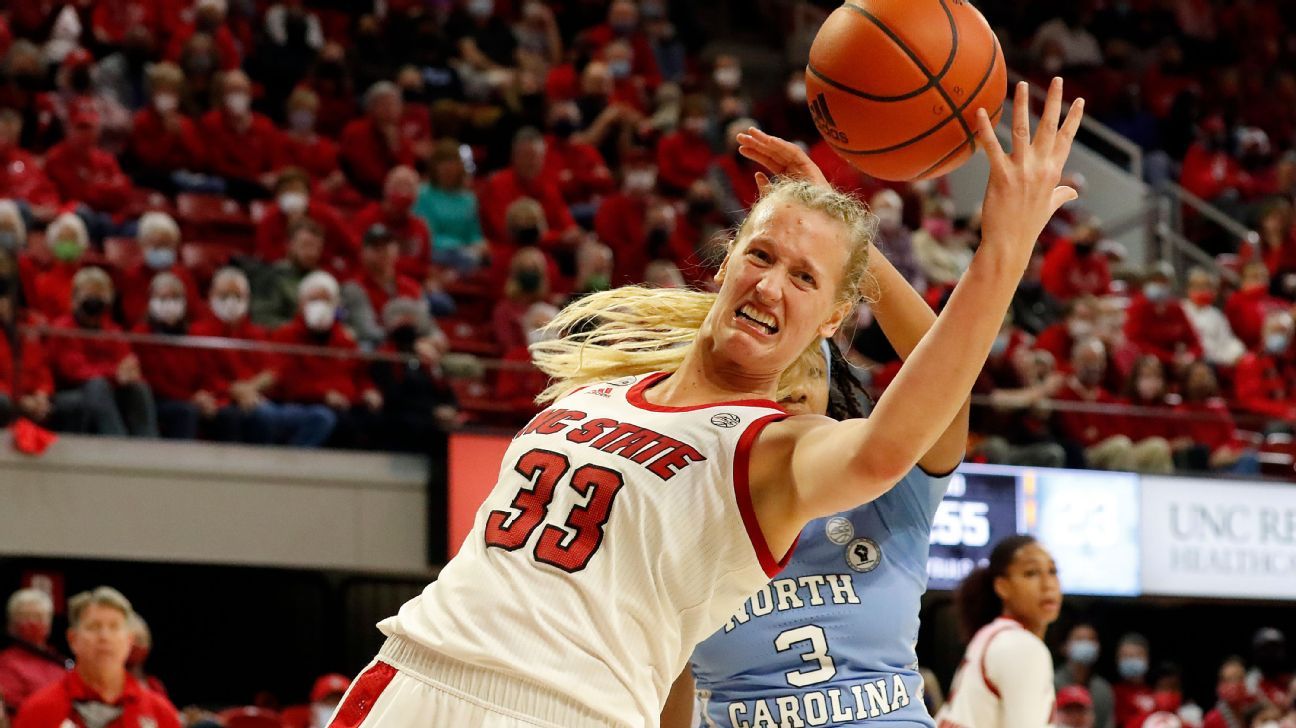 Coming into Thursday, there were three undefeated teams left in Division I women's basketball. But after No. 5 NC State's 72-45 victory over visiting No. 19 North Carolina on Thursday, only two are left: No. 4 Arizona and Colorado of the Pac-12.
The Tar Heels started the season 13-0, but had not played a ranked team until going against the Wolfpack. By contrast, NC State has now faced five ranked foes, and it dominated the contest in Raleigh, North Carolina. NC State, which never trailed, is now 13-2 and 4-0 in the ACC.
North Carolina coach Courtney Banghart inadvertently might have added a little fuel to the Wolfpack's fire when she was asked about the environment the game would be played in, since NC State's Reynolds Coliseum was an advance sell-out.
"It's a small gym, so it doesn't take a lot to sell it out," Banghart said on a pregame teleconference. "We'll play in front of more fans at other places."
The Tar Heels saw a few signs saying "Welcome to our small gym" Thursday at Reynolds, which was refurbished in recent years and holds approximately 5,600 fans now. There was nothing small about the Wolfpack's effort, as they outrebounded the Tar Heels 53-40 and held them to 23.1% shooting from the field.
NC State was led by All-American senior center Elissa Cunane with 19 points on 6-of-8 shooting and 13 rebounds.
"I guess we've got a small media room, too," NC State coach Wes Moore joked afterward to reporters. "When you're winning, you can be lulled to sleep a little bit. And I've been kind of disappointed in our defensive effort of late. And I was hard on them this week. Probably too hard.
"But I'm just so proud of the way they came out on defense. The energy they had, the urgency they had, the toughness they had. That's what we have too do if we're going to be successful in this league."
Sophomore Deja Kelly had 21 points to lead the Tar Heels, who will host Virginia Tech on Sunday. NC State travels to No. 20 Notre Dame on Sunday.
As for the remaining undefeated teams, Arizona (10-0) has not played since Dec. 17, as three games have been postponed or canceled because of COVID-19 concerns. The Wildcats are scheduled to play their first Pac-12 game Friday at home against Washington State.
Colorado (11-0) has had two COVID-19 postponements and hasn't played since Dec. 20. The Buffaloes are host to USC on Friday in what will be their Pac-12 opener.