Bollywood actor Priyanka Chopra Jonas, who is currently busy promoting her upcoming Hollywood film The Matrix Resurrections, was recently left baffled when a news article called her 'wife of Nick Jonas'. She asked for an explanation as to how this can still happen to women.
The former Miss World took to her Instagram stories, where she shared screenshots of the article and questioned if she should add her IMDb link to her bio. The article shared by Priyanka read, "The wife of Nick Jonas shared…" It quoted her speaking on Good Morning America about her co-star Keanu Reeves.
Highlighting it, the Bajirao Mastani pointed out, "Very interesting that I'm promoting one of the most iconic film franchises of all time, and I'm still referenced as 'the wife of…'." Tagging her husband Nick Jonas, the actor added, "Please explain how this still happens to women? Should I add my IMDb link to my bio?"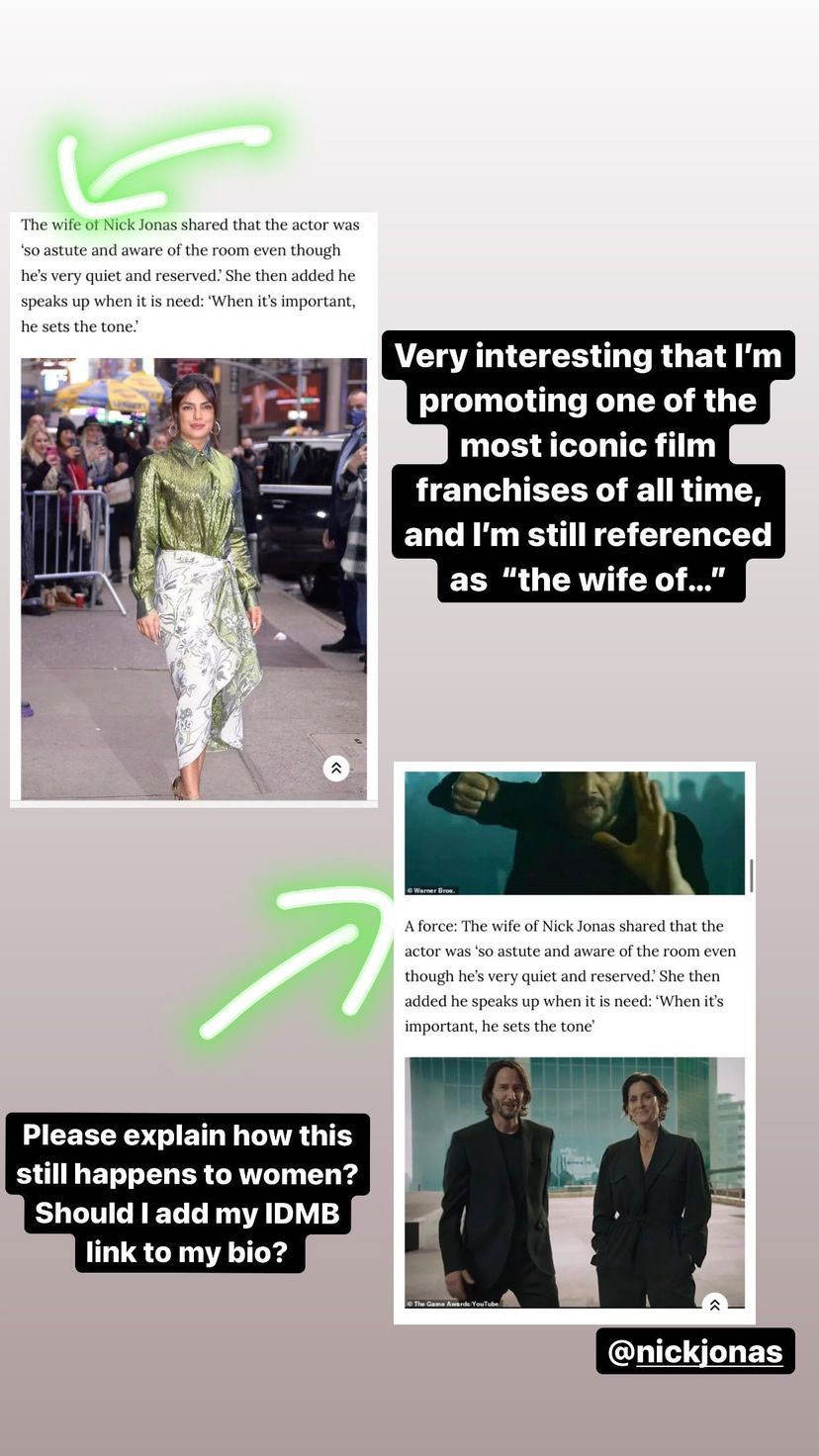 While the actor is known for making problematic statements, it's no secret that her work speaks for itself.
On the other hand, Priyanka has been very vocal about marital bliss in multiple interviews. The actor and her American pop-star husband celebrated their third wedding anniversary and she believes the key to their strong relationship is that they always have a "good time" together.
She recently told Entertainment Tonight, "I think just being honest and needing each other's company, obviously. Communication, having fun with each other. I think that's the most important key, is to be able to enjoy each other's company and just have a good time. "And it doesn't feel like work."
The actor will next be seen in The Matrix Resurrections, where she will share screen space with Keanu Reeves. She added how her spouse is a big fan of the franchise reboot.
She said, "My husband has seen the movie, so he loves it. And I think just for everyone, whether it's my mom, my extended family, my husband, I think it's just the excitement around being a part of something that we all sort of grew up on, it's an exciting time leading up to the premiere." Priyanka then added that she, herself, was thrilled to play exile Sati in the movie because she was such a big fan of the original trilogy growing up.
Have something to add to the story? Share it in the comments below.