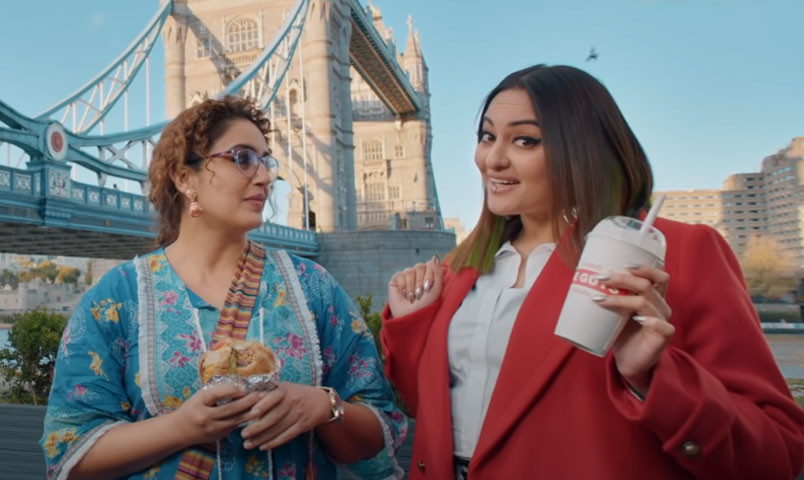 Bollywood actors Sonakshi Sinha and Huma Qureshi are all set to share the screen in an upcoming comedy, Double XL. The actors, who have been rather vocal about being fat-shamed in Bollywood, will be tackling the same issue in the film. In the introduction video, Huma introduces herself as Rajshri Trivedi from Meerut and Sonakshi calls herself Saira Khanna from Delhi.
As the video goes on, the Gangs of Wasseypur 2 star asks Sonakshi about how to reduce the weight the two have gained for the film, Double XL. To this, the Kalank actor replies, "Just like we did for becoming a heroine for the first time," while adding, "Have you forgotten the time when people used to say 'Huma Qureshi is too heavy to be a leading lady?'. Huma then asks Sonakshi, "And have you forgotten how people used to call you Motakshi in the comments section of your every promo and video?"
A confused Sonakshi then inquires, "Are we fat-shaming each other?" to which Huma responds, "Why not, people consider fat-shaming a matter of pride in our country." The Lootera actor questions, "But why? Because those who fat-shame us, their sisters, friends or mummies are also overweight. Don't they have a right to dream?" Huma replies, "They do have the right, partner. That's why it's important to tell the story of this film."
It will be interesting to see how the director of the film, Satramm Ramani, will be taking the much-needed conversation forward. Double XL is slated to release in 2022. 
Have something to add to the story? Share it in the comments below.