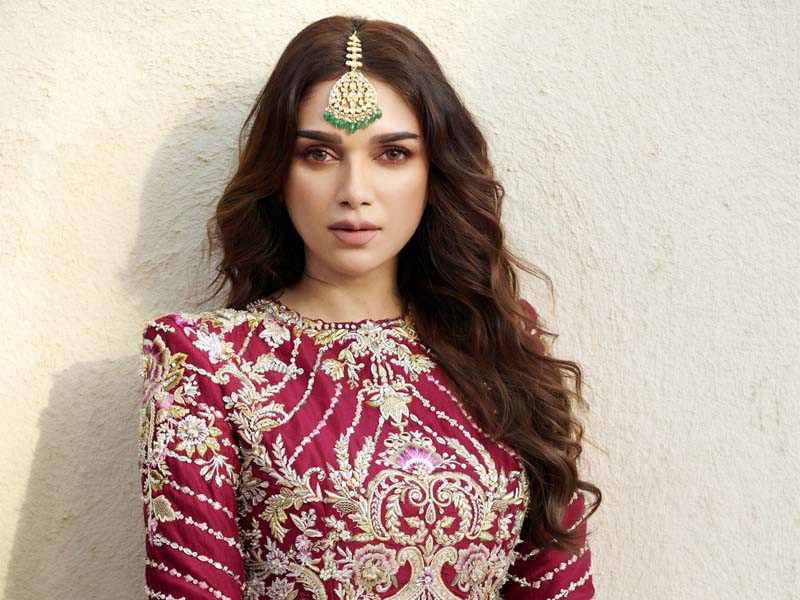 Waniya by Mehr Azam merges classic couture with modern, elegant, and chic touch to design unique and feminine attire for the modern woman. The brand's design philosophy aims to make classy yet extravagant and lineal attire. The unique feature of Waniya by Mehr Azam comprises a visionary approach to proportions, unique colour palette and delineation. Craftsman techniques and detailed couture embroideries are used to concoct the finesse of each design. Mehr's debut festive collection 'Mehrunnisa' is for a bride of modern heritage who has innocence to her yet she is strong and fierce. She's experimental with the innovation of new-age hybrid silhouettes that are a modern restatement of antique styles. The collection is an eclectic fusion of cultural heritage and contemporary ideas. Our vision is to give brides an opportunity to curate a diverse wardrobe. "Mehrunnisa, my very first bridal collection is very close to my heart. This collection is specifically designed for the modern bride who carries the ethos of tradition. Every ensemble has an individual voicing"- Mehr Azam.
Vasl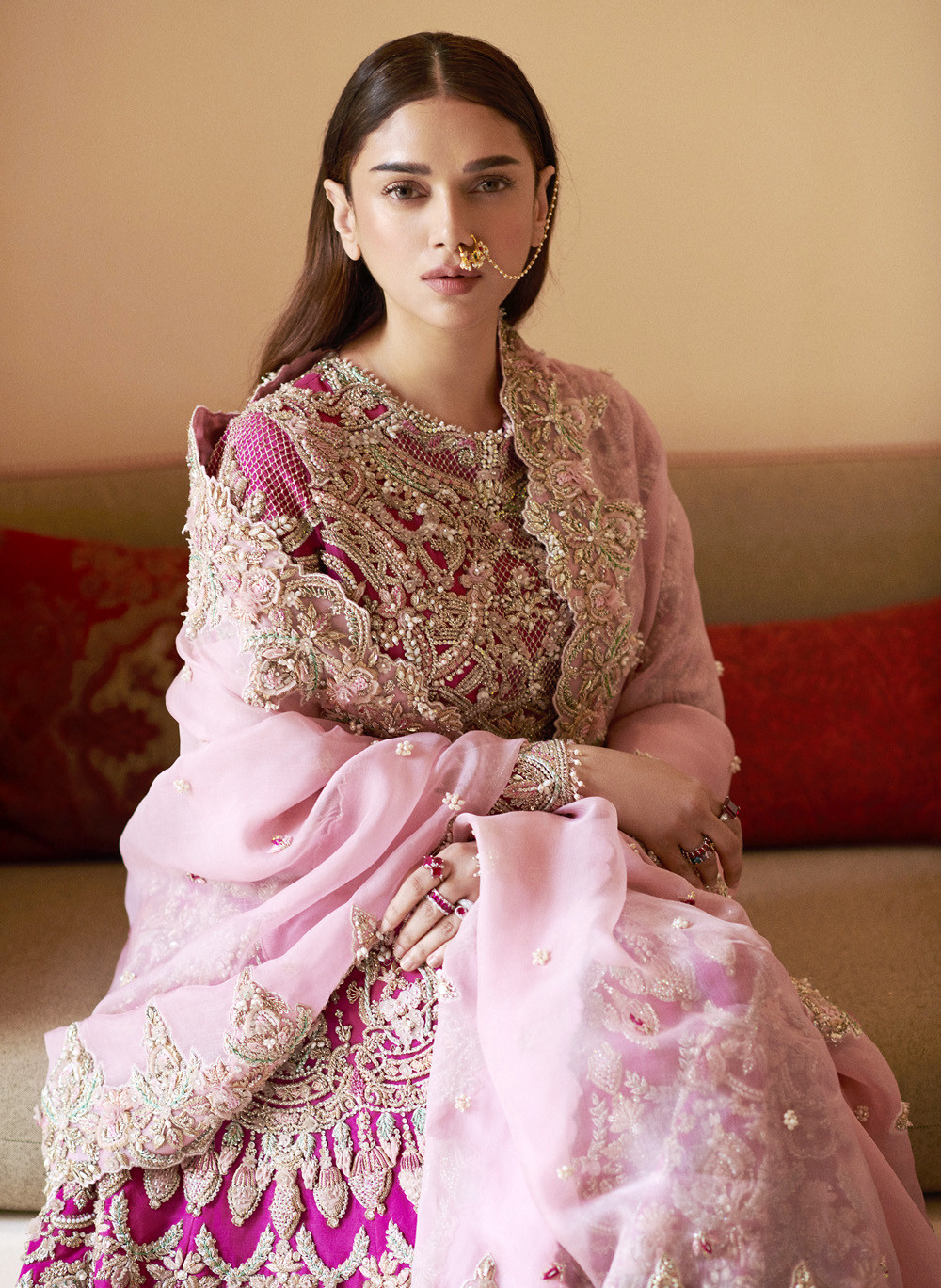 A magenta pink mono-toned three-piece pishwas set that embodies grace and ethereal elegance. The ensemble features whimsical embellishments of tila, sequin, kiran, dabka, resham threads, three dimensional floral encrusts gloriously worked geometrically. The outfit is paired with a blush pink dupatta with intricate details.
Raya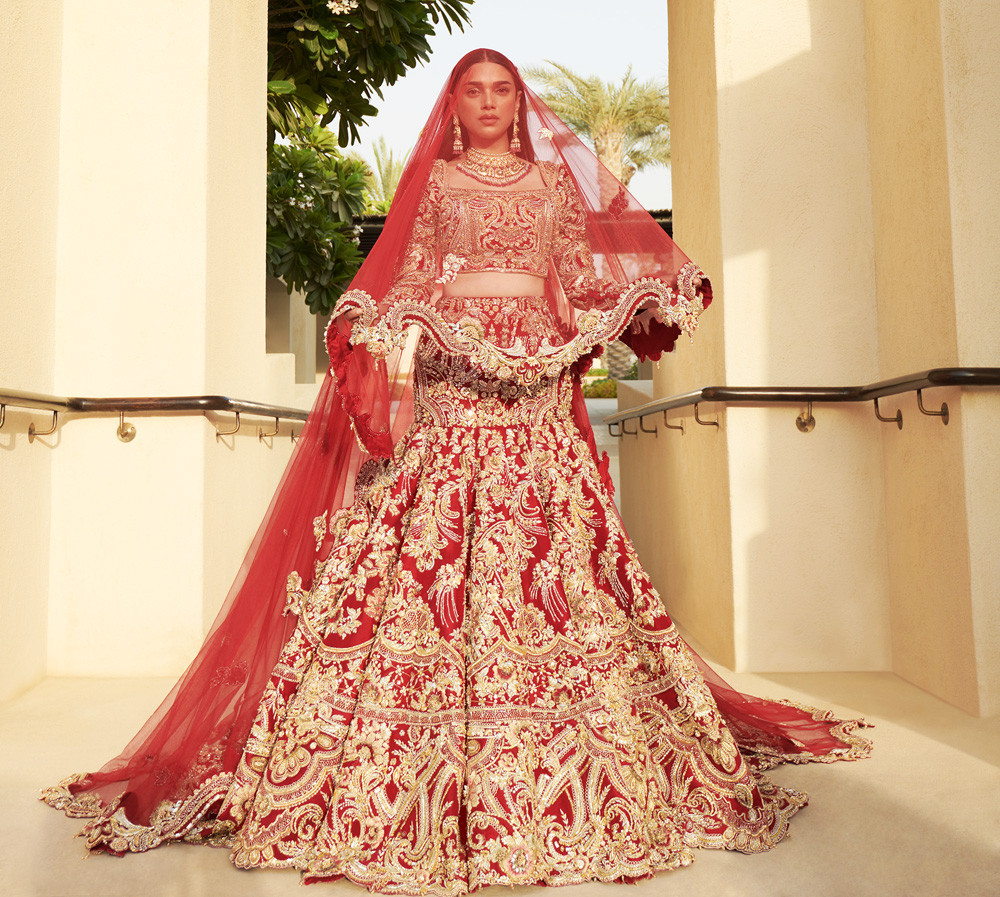 Breathing in our rich traditional craft and extravagant silhouette epitomising the heritage of bridal culture, Adiit Rao Hydari revels in an unparalleled charm of kiran, resham and dabka on this stunning lengha and choli. This ensemble is your marvel pick. Adorned intricately with a variety of dori, tila, and sequin which accounted for over hundreds of hours of diligent artistry- paired with a bodice that lends a modern edge and net dupatta with beautiful border all over.
Nuri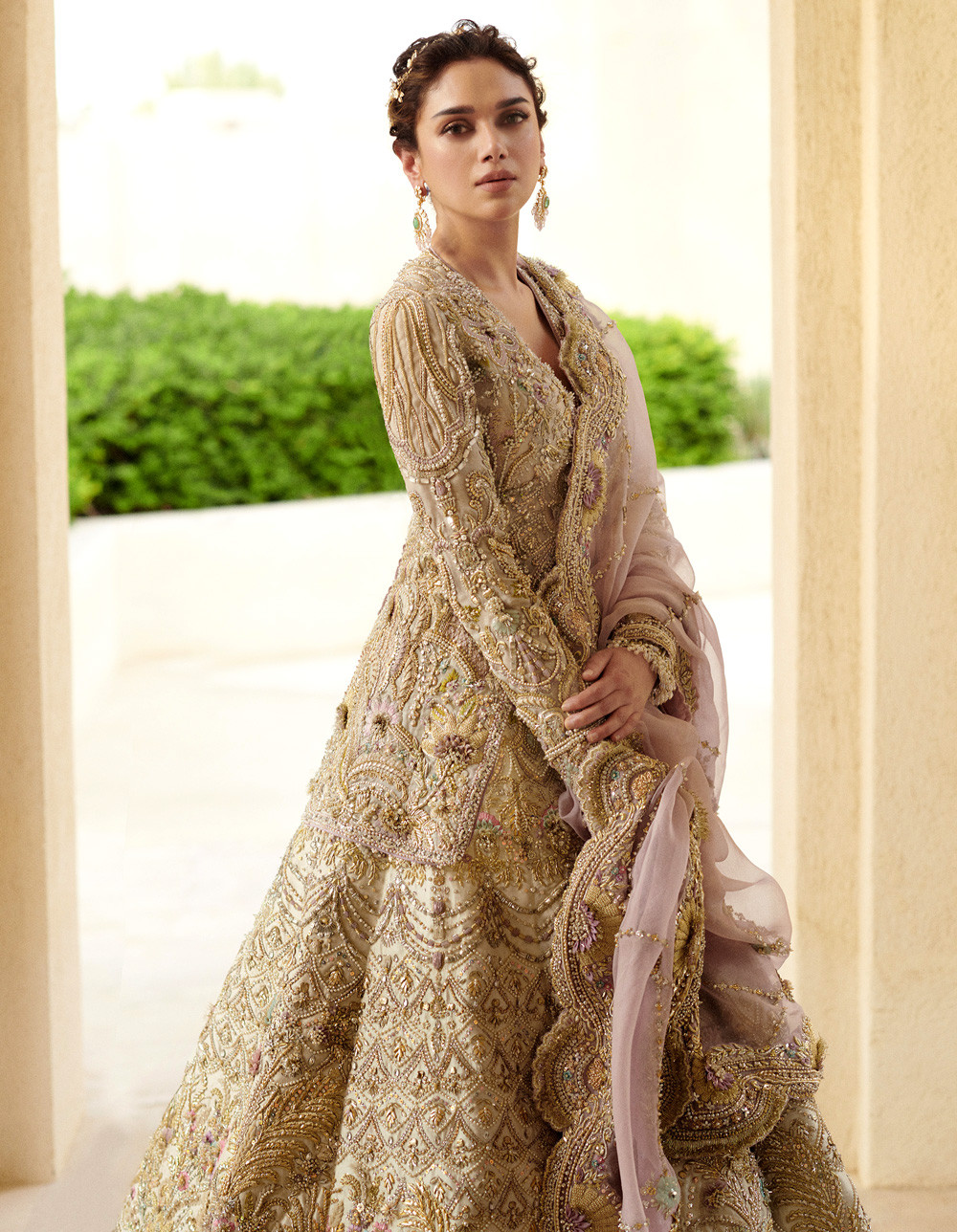 This lilac and dull gold lengha with short shirt is a sweeping ensemble of elegance and charm. Pastels have always been a bride's choice when it comes to adding subtle and elegance at the wedding. Nuri is exquisitely handcrafted with a variety of pearls, dabka, dori & tilla, a variety of sequin and three-dimensional colorful fabric petals for an intricate touch. The stunning lengha is paired with a sheer organza dupatta with adorned scallop edges.
Dahr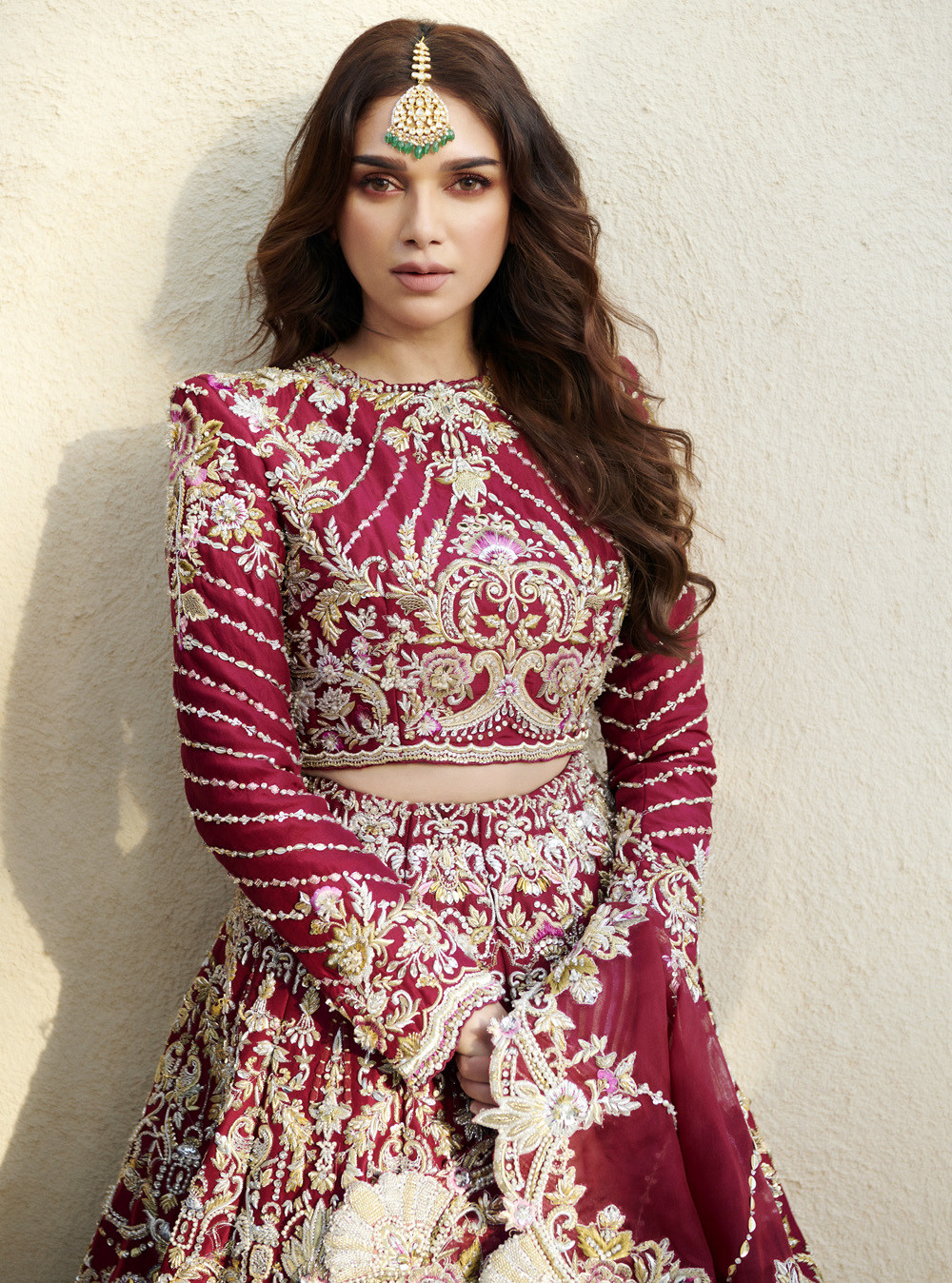 A red bridal ensemble in any and every shade is a classic for the bride. Here Aditi charms this red modern yet cultural ensemble luxuriously hand-worked with silver, and antique gold sequin, tila, fine pearls, gota, dabka, bakshi, resham, and kat dana enhanced with three-dimensional petals.The lehnga is paired with a contemporary cropped bodice & draped with an organza dupatta edged with heavy details.
Ruhi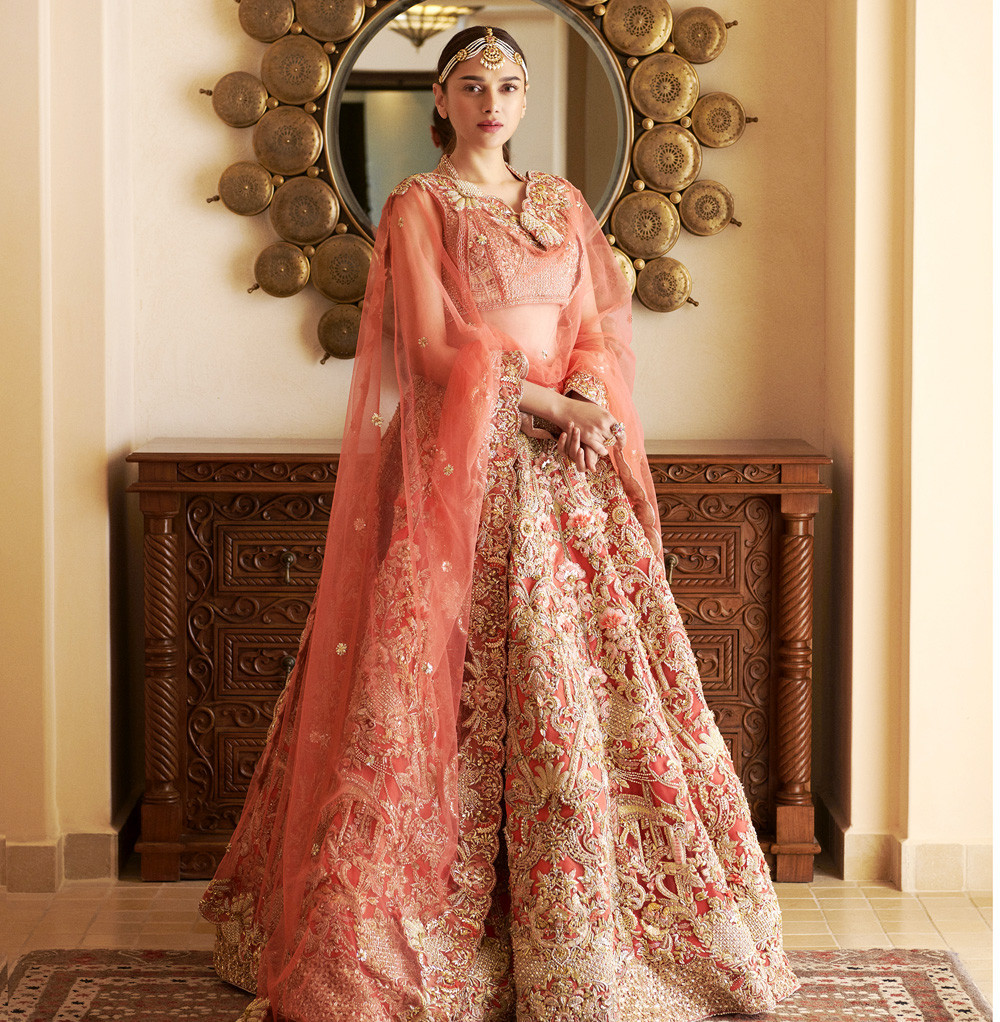 A blend of traditional and modern; the beautiful bright coral and peach ensemble is nothing less than a royal dream, a vision that thrives on entwining the old-world charm with modern-day choices. The lengha paired with a short choli and a net dupatta is enriched with embellishments and hand embroidery all over. For its sweet surreal charm, the peach palette lends an alluring vivacity to the attire gracefully adorned with dabka, peals, bethki, kat dana, and gota.
Maahru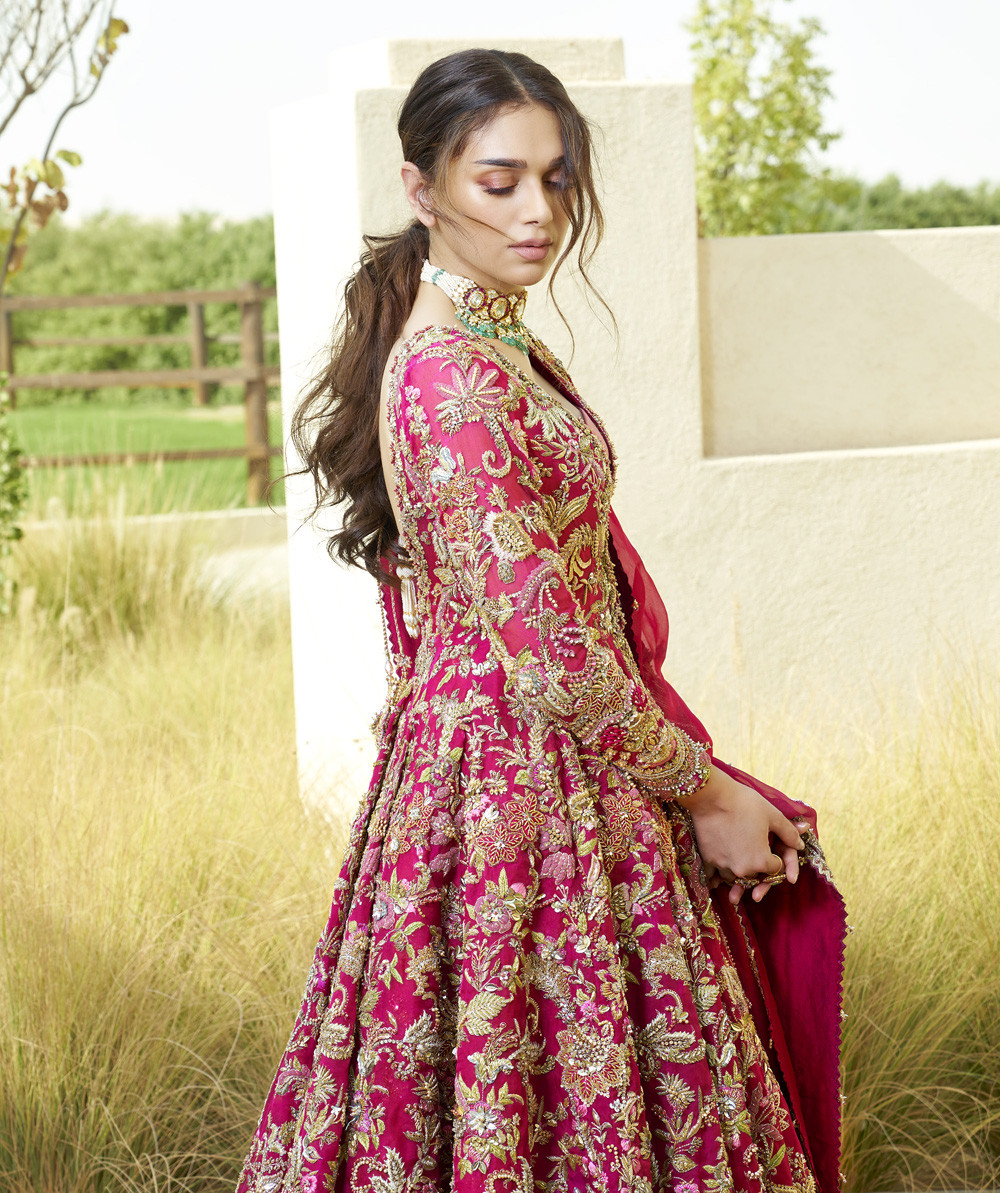 Poetic, opulent, and luxuriant in every way. This long angrakha style outfit paired with a lengha is perfect for the modern bride who wants old world charm to her wedding look. The multi layered pink-toned ensemble is draped in themes of the bygone era and speaks for itself. It is densely embellished with nakshi, dabla, resham threads, sequins, kat dana, kiran, gota, and enhanced with three-dimensional petals.