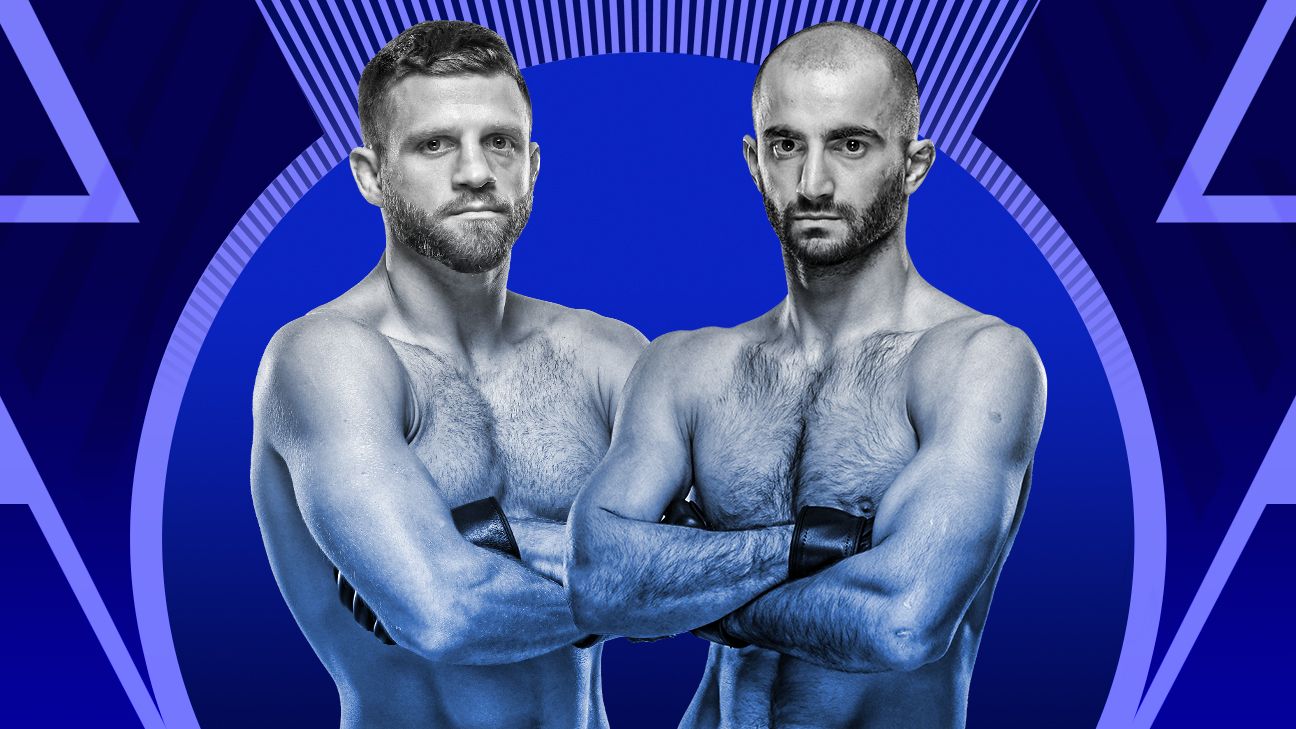 The UFC's first main event of 2022 is a big fight for the 145-pound division, as Calvin Kattar and Giga Chikadze look to bolster their featherweight title hopes.
Kattar (22-5) hasn't fought in almost exactly one year. "The Boston Finisher" had a rough night at the office in January 2021, when he lost to Max Holloway via unanimous decision. The 33-year-old contender has had ample time to rest and heal up, and will look to make a statement against one of the hottest fighters in the division.
Chikadze (14-2) is looking every bit the part of a title challenger. He's 7-0 in the UFC, with finishes over Edson Barboza and Cub Swanson in his last two outings.
Who has the edge in this crucial matchup? ESPN asked several experts for their breakdowns and picks.
James Krause, GLORY MMA coach and UFC welterweight
How Kattar wins: Kattar is more of a traditional boxer. He has good power in his hands, and he's just so damn tough. I feel like he's got to move inside, test Chikadze. The UFC has been matching Giga up with other strikers. This is MMA, man. You have to fit in and at least see, check the dude's takedown defense. Is it as good as he says it is? I would at least see. Giga comes from a kickboxing background, and a lot of times those guys aren't good in the clinch. I think the clinch could prove to be important for Kattar.
How Chikadze wins: He's a world-class kickboxer. Those body kicks add up, and he's been in there with some very high-level kickboxers. As far as technical kickboxing, he has the advantage — I mean, he's got a kick named after him. He has to be able to stay in the kicking range, though.
X factor: Range.
Prediction: Too close to call for me.
---
Marc Montoya, Factory X coach
How Kattar wins: Calvin is a really good boxer. He's going to want to put pressure on Chikadze. Stay in that boxing range, see those kicks come in, possibly threaten a takedown. It's really a range battle. Can Calvin keep it in a boxing range and half-wrestle, or will Giga keep it at a distance? Calvin's got to have Chikadze going backwards and he needs his own back to the center of the cage. He's got to keep Chikadze on his back leg and make him feel the pressure of the cage. It's not smart to throw kicks when you're against the cage because you have nowhere to go. It opens you up to the takedown, so that's where Calvin's boxing can really be effective, when he has Giga's back to the cage.
How Chikadze wins: His striking experience outside of the UFC is to his benefit. I think you'll see him finding a home for those kicks and either them adding up or him finishing the fight with one of those kicks. He's good at throwing kicks and then feinting that kicking motion again, and throwing punches instead after his opponents' reaction. Then ending that combination with a kick. He's very good at that.
X factor: Momentum. Calvin hasn't fought in a year. Where is he at mentally? Giga is on a roll right now. That could be an X factor.
Prediction: I think Kattar beats him. He does a good job of cutting off the ring and using wrestling to help his striking. Competition-wise, Kattar has also fought at a higher level.
---
John Wood, Syndicate MMA coach
How Kattar wins: Calvin's got really good boxing. He needs to manage that boxing range and stay away from those kicks. He needs to stay sharp and be able to counter the kicks, get to the inside, make it a dirty fight. His boxing is his sharpest tool, and I'd be leaning on that in a big way. He was outboxed by Max Holloway, but Max is a different animal. Max is one of the best strikers in MMA. If I was Calvin, I would maybe try to push into the clinch and try to dirty box. But so far, not many have been successful with that and Giga will be expecting that.
How Chikadze wins: This is his toughest test for sure. The guy is an amazing striker. We haven't seen him too much on the ground, and that might be because of his takedown defense. His setups and traps, the things he does, are among the elite when it comes to striking. His kicking, distance and versatility are what's going to win him this fight.
X factor: This is Calvin's first fight since Holloway. That was a brutal, brutal fight. Those are sometimes the kinds of fights that can change people. Now, Calvin is obviously so tough — but it's going to be interesting to see how he comes back from that.
Prediction: Chikadze by decision.
---
Eric Nicksick, Xtreme Couture coach
How Kattar wins: Feints, lateral movement. Knowing where Giga kicks the most, knowing when he drops into southpaw he's usually looking for that open-stance kick to the body. I really think Calvin has underrated wrestling skill. When you really break both of these guys down, I think Calvin needs to get to some offensive wrestling at some point because it might take away from Giga's kick game, if he's able to score some takedowns. If he's able to catch a few of those kicks and work takedowns off that, at the very least, I think Calvin should get into the clinch and dirty box this guy against the cage.
How Chikadze wins: Obvious answer is his kicks, but it's important to break down details of what makes his kick game successful — and I think that's the angles they come from and the way he's able to find the body. It doesn't have a loopy roundness to it, it's more of a linear kind of stab where it rotates at the end. Every kick that comes out of him almost looks the same. It's hard to know where his kick placement is going. He does it well by his head placement, eye placement and what he does with his chest. You can go back to one of his first fights in the UFC: He poked the kid to the body with the teep kick, then came right back upstairs with the head kick, and what he was looking for was the defensive reads. That's my biggest thing for him, keeping that kick range.
X factor: Distance management. Who keeps it at a distance needed to amplify their game the most?
Prediction: May the best man win. I'm biased. I know both guys really well and even worked a bit with Calvin. I don't think I can make a pick on this one.