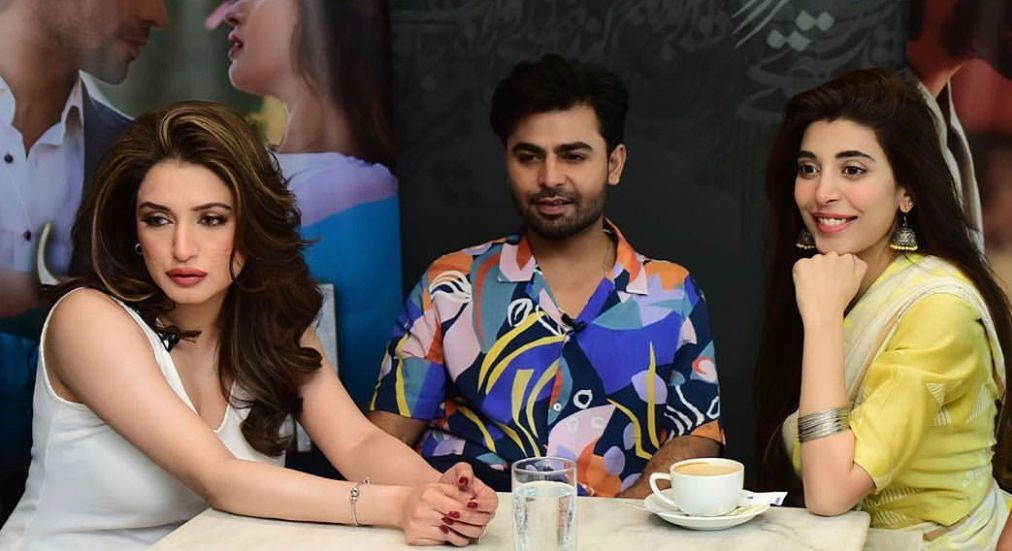 KARACHI:

For Urwa Hocane, putting on the producer's hat wasn't an easy task. But being surrounded by people she trusted made Tich Button a much smoother ride. The Udaari star is set to release her maiden production, which stars Farhan Saeed, Iman Aly, Feroze Khan and Sonya Hussyn in lead roles.
"I've always been behind the camera, but not really!" she laughed while conversing with The Express Tribune. "Even when I was working with Nadeem Beyg, Fizza Ali Meerza and Nabeel Qureshi, I would always go behind the camera and understand the procedures. I picked up quite a few tips and tricks from them. So, yes, it was a learning curve but one that I enjoyed immensely."
Tich Button, as she elaborated, is a complicated take on love, premised in a good ol' hearty Punjab. The Qasim Ali Mureed directorial sees two couples navigating through love, loss and heartbreak.
The film was initially slated to release in 2020, but with the pandemic and uncertain circumstances looming, they decided to push it further. 
A handful of firsts
"This story was written by Faiza Ji (famed for hit serials such as Sheher-e-Zaat and Matae-e-Jan), and we all just fell in love with it," the Meri Shehzadi actor commented. "There were several scripts at that time, but we all just collectively thought that this was a story to tell. As we went along with the process, everything just made more sense – we thought this song should come here, these dialogues there – it was all very organic."
Farhan, also making his big screen debut with Tich Button, added, "We decided unanimously to choose this script for the film. It is important for you as an actor and producer, to believe in the film and Tich Button proved to be just that. It will connect to Pakistani families. There were two or three kinds of cinema crowds in the country when I was growing up; our family would go altogether whenever we would have a Pakistani film coming out. That feeling was lost. It's now slowly coming back and I couldn't be more excited. I want everyone to watch this film with their families."
Qasim, who has worked with Farhan in much-praised dramas such as the recently concluded Mere Humsafar and 2020's Prem Gali, commented that one of the reasons he came on board was his ease of working with the duo. "Before Mere Humsafar, Prem Gali or even Tich Button, the three of us had worked in two music videos," Qasim recalled. "We've been friends since; we had that chemistry that was needed to work on a project like this. Farhan had that rockstar aura that just pulled me to say yes to the film. We started working on the film script. We all believed in each other when no one else did."
The director added, "The progression in the script was imperative – the twists and turns of the story, we aren't there to educate, we weren't just going to go onscreen and preach something; we are there to entertain. We just wanted to provide an audio-visual experience with the film. We're not just talking about songs and sets; it's beyond that; it's a vibrant, Punjab-based film."
Under the skin
Tich Button comprises a star-studded albeit unusual cast. Be it Feroze or Farhan, Sonya or Farhan and Sonya or Feroze, the film brings together actors who have never worked on elaborate projects. The Sajni crooner shared that the audience will be interested in watching how the chemistry between the stars unfolds onscreen. "When we were working on the film, the characters seemed to be tailor-made for everyone. Not just us; the senior cast as well," he said. Urwa chimed in at this point and added, "Sohail Ahmed Sahab, Samiya Ji, Qavi Sahab, Gul-e-Rana – everyone has a role to and they play it to perfection."
Iman, however, shared that she didn't really have to prepare for her character, Leena. "Oh, Leena is just me but onscreen!" the supermodel added. "She is just as fierce as I am; she is just as outspoken as I am. She also has a no-bullshit rule, which I apply to my life very religiously. She can't stand people who lie and always stands up for the truth. That all is me, so it was all so very relatable!" The Bol actor, however, shared that there are many layers to her character. "She's a Turkish woman; there's a lot of progression in her role throughout the film."
Iman went on to add, "I had a blast working with everyone. I previously worked in Khuda Kay Liye, Bol and Mah-e-Mir, which had very different flavours. Tich Button was entirely unlike my previous films. And I enjoyed it. I loved working with Farhan, specifically! It was a delight to work with him. He's a great actor; I was taken aback by his brilliance. I've done a few scenes with Feroze; my scenes with Farhan were elaborate. I know people see my and Feroze's interaction more in the trailer, but that's the twist! Feroze and I play friends in the film, but my scenes with Farhan are very intense."
Stars in favour
Urwa believes a lot of luck was also involved and things miraculously worked out for them. "You know, what I truly believe in? I think this film just got easier with time," she smiled. "When looking for the cast, we had certain actors in mind that would work well. Once we narrated the script to them, they all came on board immediately – we didn't even have to go to our plan B. Similarly, we needed to get particular locations for our shoots, a haveli if you will! And we just stumbled upon one on YouTube. Can you believe that? We've been very blessed!"
Urwa further spoke about releasing the film not during a cluttered slot. "We were very conscious about releasing this around this time. Why release multiple films simultaneously? It doesn't make sense," she said. Adding on, Farhan said, "I completely agree with Urwa here. This practice needs to change. If certain slots had worked, no Eidul Fitr film would have flopped. If we release films during normal slots, the film will work anyway; no one needs to wait for December or Eids."
Tich Button is set to release on November 25.
Have something to add to the story? Share it in the comments below.